"I want to help Newark, because Newark has been good to me," said Shavar Jeffries, who after being born in Newark moved to Los Angeles at the age of nine to live with his mother, who was then tragically murdered by an abusive boyfriend. Only ten years old, Jeffries moved back to Newark, where he was raised by his grandparents. Under their care, Jeffries went on to Duke University and Columbia Law School, as a scholarship student. Today Jeffries lives in Newark with his wife and two children, and is a Democratic candidate for Mayor of that city.
I walked with Jeffries and a group of his supporters last week as he canvassed Newark's South ward, which he does regularly, despite it being an extremely time-consuming effort. "People need results, they don't need rhetoric," said Jeffries. "I want to help people improve their quality of life -- that's why I became a civil rights lawyer and New Jersey's Assistant Attorney General and if I don't produce results as Mayor then I'll feel like I've failed the people."
Jeffries believes that Newark's biggest challenge is public safety. "People are prisoners in their own homes because of the violence in our neighborhoods," he said. "We can start by investing in developmental programs for young people by getting them out of bad neighborhoods and providing a positive environment.
The Newark Boy's Club had a huge impact on Jeffries's life and he went on to become its president, also serving in the same position on the city's school board. I've heard plenty of people complain about Newark, and while Jeffries is certainly aware of the city's problems, he's also quick to point out its many positive aspects. "We need to brand our city," said Jeffries. "We are strategically significant because Newark has one of the world's largest airports, we're home to the Prudential Center, a thriving train station and a large college town with 60,000 students and faculty and we ought to be a driver for this whole region."
Jeffries is a reformer who believes management skills are essential to lead Newark and condemns the political cronyism and patronage that has crippled the City. "I think it's critical that we have a Mayor with chief executive officer capabilities. The people's business needs to be handled in an efficient, cost effective way that produces results. Newark has a budget of $600 million with 2900 employees. We're going to need a Mayor who can manage those resources, both human and financial."
As we walked along Pomona Avenue one of his supporters told me that Jeffries not only has good intentions, but the skills required to actually help Newark. "He can look both ways," she said. "That's why I like him."
Towards the end of the day's canvassing, Jeffries approached a homeowner in a driveway and asked for her vote. "After I'm elected, give me a year before you start cussing me out," said Jeffries. "I'll give you 18 months," she said, and then gave Jeffries a hug.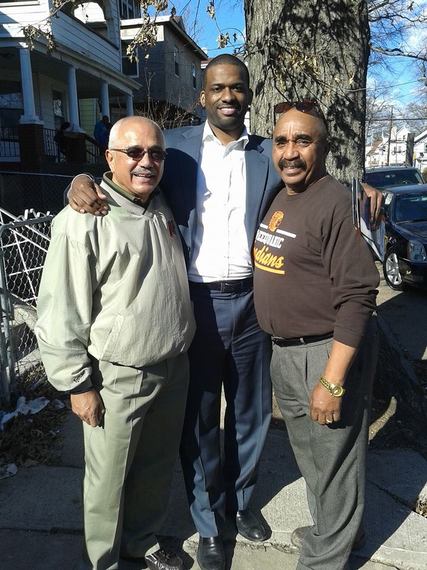 Shavar Jeffries (center) with supporters
(Permission from Shavar Jeffries for Mayor)