When listening to great music we always appreciate the performers playing the instruments but seldom consider the artists who build them. At the Steinway & Sons piano factory in Long Island City, many employees wear T-shirts with the following printed on the back: "I build the world's best piano."
Visiting the Steinway piano factory is to be transported back in time. Steinway & Sons has been building pianos for 150 years, and in today's world of prefab houses and mass-production, the expression "fine craftsmanship" is nearly as extinct as the dinosaurs, so visiting this unique setting was a rewarding experience. Sitting on 11 acres near the Robert F. Kennedy Bridge, there is a feeling of being at an old movie studio, and one expects to see a silent film star drive by in an old Duesenberg. It takes 12 months to build a Steinway piano and the day I spent at the factory everyone moved with great purpose, although they were never rushed or hurried.
"You don't buy a Steinway, you select one," explains Laura Littlechild, Manager of Custom Piano Projects for the company. "They all sound different -- each one has its own unique personality." A Steinway contains 12,000 parts so there are many different stages involved in the process of building one. Most of these parts sit inside the rim, which can withstand up to 20 tons of pressure. Some of the different departments or rooms I visited included: coating, action and veneers.
The action involves the mechanism that begins by depressing the piano keys which results in the motion of hammer (yes there's a hammer department), which strikes the strings and makes a sound. Steinway insists that the wood they use is perfect, so 30 percent of what they purchase gets recycled. Poplar is a lighter less dense wood used for the lids, while spruce is used for soundboards.
Many people have bought a Steinway to function as a piece of furniture, and that's understandable because the veneers (1/32") are all beautiful. I'm particularly enamored with the African Rosewood, and when I found out it's also known as Kewazinga Bubinga I loved it even more. The technical details that go into creating a Steinway are endless, but they are ultimately meaningless without the care and love the employees give these works of art.
One hundred years ago, Steinway & Sons produced as many as 10,000 pianos a year. This was a time when most homes had a piano and a family's social and cultural life revolved around music. Today, the company produces approximately 2,000 pianos a year and also builds custom pieces; every one built to the customer's particular specifications.
The majority of the world's concert halls have a Steinway concert grand piano. The 500,000th Steinway was built in 1988, and the world's greatest living pianists have signed it.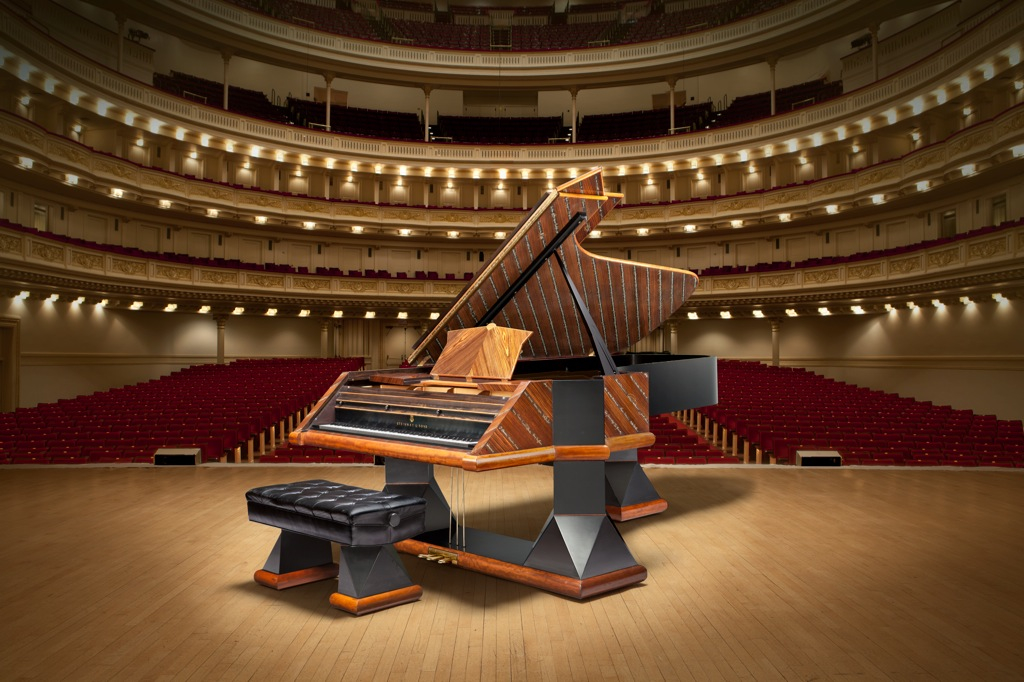 This photo has been supplied and approved by Steinway.
This extraordinary concert Grand has traveled the world and has been played by our greatest pianists. It is expected to sell in the million dollar range.
There is an unrelenting pursuit of excellence in everything they do at Steinway & Sons. I wish that were the status quo for everyone else rather than the exception to the rule.