Erin Brown and Kelly Tomins attend Duke University and their campus housing is known as the Bamblue Box. It's not a dormitory or sorority building but rather a tent in Krzyzewskiville -- aka K-Ville, the unique village populated by many Cameron Crazies, the 3000 or so Duke students who comprise the school's obsessive Bluedevil basketball fan base. Duke basketball games are played at Cameron Indoor Stadium, hence the moniker Cameron Crazies.
According to Tomins, last season during January and February students camped out in Kville for 20 straight days and nights. While this behavior may seem bizarre and obsessive to some, after spending some time with these kids, I consider what they do to be far healthier and more productive than the binge drinking and pointless partying I've witnessed in frats and dormitories at other schools across the country.
There are approximately 140 tents in Kville with a maximum of 12 students per tent. Brown and Tomins helped build their Kville lodging out of bamboo (hence the name Bamblue Box), to qualify for the highest level of "tenting" -- black. According to Brown, the criteria for a black tent is that you begin by building it yourself "to prove your dedication" and being among the first tents also affords you a spot near the bathrooms as well as a prime seat at the home games. Black tenting starts the earliest and demands 10 people in the tent during the evening and 2 during the day. Blue tents must have six people at night and one during the day while the white tents require a mere two people at night and one during the day. The students who oversee Kville are known as line monitors and Brown informed me that "they conduct tent checks at any time day or night to confirm that the rules are followed."
Line monitors also supply fact sheets about the opposing teams and players that are available online but require a password. One of the monitors must have suggested that NC State player Tyler Lewis looks remarkably similar to Bilbo Baggins (the title character of the novel The Hobbit), because during the game on February 7, the Cameron Crazies repeatedly chanted "Bilbo Baggins" during his first trip to the foul line and on subsequent free throws they focused on his youthful appearance by continually chanting "past your bedtime."
The Cameron Crazies represent a unique combination of a comic book nerd's intellectuality with the determination of the most rabid Boston Red Sox fan, so attending a Duke basketball game is a marriage of theatre of the absurd with the loudest sporting event imaginable. Cameron is 73-years-old and holds slightly less than 10,000 people but the Cameron Crazies seem to control every part of the arena other than the hardwood.
Attending just one game at Cameron is an exhausting experience both physically and emotionally but it's also addictive and my seven friends who came with me all agreed it was a trip for the ages. One member of our group was former professional quarterback Neil O'Donnell, who played in two Superbowls and has some familiarity with intense fans. O'Donnell summed up our adventure perfectly: "Cross another one off the bucket list."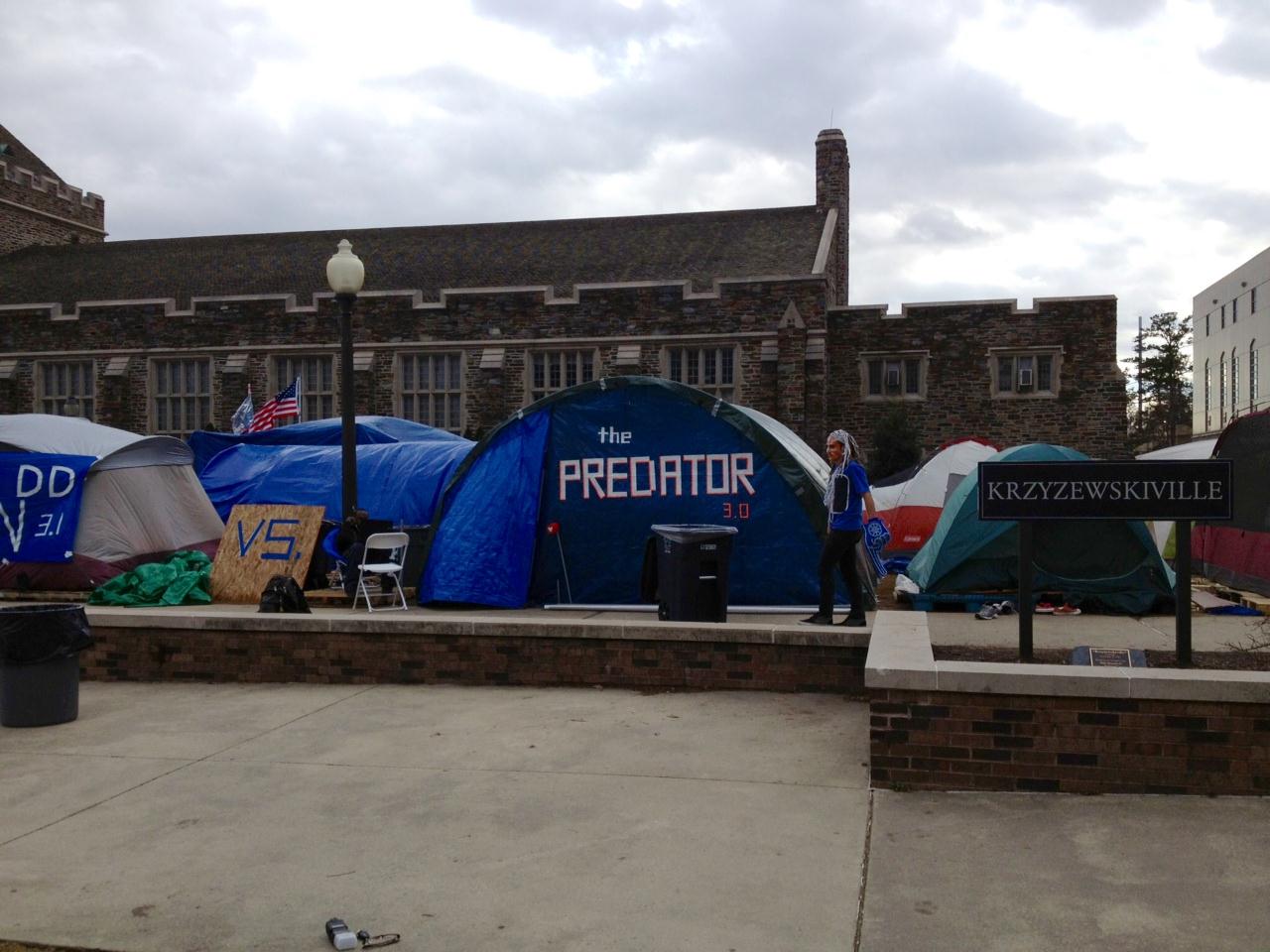 (Photo of Kville by the author)