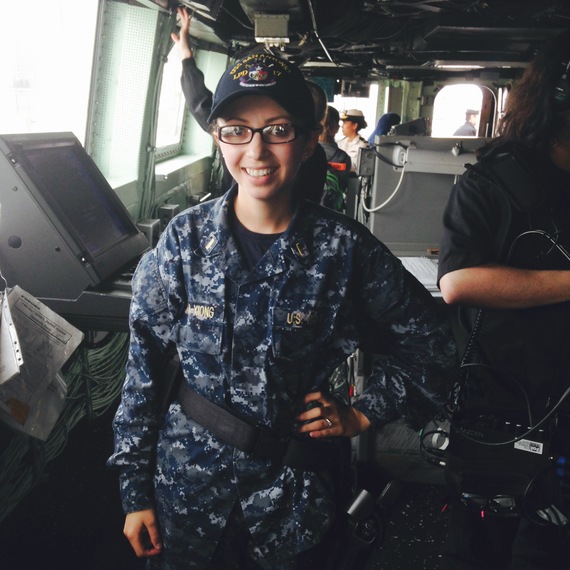 Ensign Bertha Favela-Xiong
Bertha Favela-Xiong is 23 years old and recently made her first trip to New York City during Fleet Week. It was not by plane, car or bus but instead on the Navy's USS San Antonio where she holds the rank of Ensign. I found Ensign Favela-Xiong to be confident, capable and personable as she gave me a tour of the bridge, which she explained is "where we drive the ship." The San Antonio is used to transport troops (up to 699 Marines) and equipment (helicopters, tanks and landing crafts) along with its own crew of 360 Sailors and 3 Marines.
I also met Captain Michael Patterson who thanked the City of New York for "welcoming us with open arms." "This gives you all the opportunity to see sailors and what they represent," he added. The San Antonio is remarkable in terms of what it can transport but the crew was what I found most impressive. I chatted with Britney Roa, a communications specialist from the Bronx who joined the Navy right out of high school. Her pride and enthusiasm was infectious and the maturity displayed by all of the sailors I encountered I was astounding. "The Navy gives us a great opportunity to learn discipline," said Ensign Favela-Xiong, who joined the ROTC in high school and plans on becoming a doctor. Roughly 20 percent of the Navy's sailors are women and anyone who has any doubts about women serving in the military should tour the San Antonio.
One of my recent posts on this site - Another Way to Serve -- discusses the importance of hiring veterans and after meeting such an impressive group of young people it should be a priority for all businesses large and small.