Like so many others, I've been inspired by the story of California Chrome. So much in fact, that despite not being a fan of horse racing, I decided to make the pilgrimage to Belmont Park at the urging of my friend, John, who sits in an area at the track reserved for horsemen -- people who own, breed, train, or tend horses (I looked it up).

My last experience with horseracing was nearly 40 years ago, during my college years, when I used to watch the trotters at the Meadowlands. I will never forget meeting Mickey Rivers (Yankees All-Star outfielder) at the track and he promptly asked to "borrow" some money. I was 20 years old and star struck so I gave him 15 dollars.
I didn't meet any baseball players, but Penn Station was unusually crowded, and the LIRR added trains to help accommodate the nearly 120,000 people who attended the Belmont Stakes. I've never seen so many people at a sporting event, and much of the excitement was focused on the owners of California Chrome -- Steve Coburn and Perry Martin -- a pair of jesters in the Sport of Kings. They greeted everyone warmly in the horsemen boxes and posed for pictures tirelessly. I snapped a quick shot of them together and Coburn quipped, "We don't even like each other!"
There was plenty to like about being at Belmont and after leaving Coburn and Martin I met James Pippo, owner of the Whitehall Stable in Albany NY, who invited me to sit with him and his friends. I explained to Pippo that I knew more about the hats and dresses worn by the women in the crowd than horses, so he gave me a quick tutorial.

Pippo clearly loves what he does and told me that owning a horse is "highly speculative, although just one horse can change your life." "But if you're in this for the money," he added, "then you shouldn't be in it. I'm here because horse racing's in my blood." We talked a bit more about college football and I moved on to mingle with the crowd, which was enormous. There was such a bizarre mix of fashionable women, passionate racing fans and wildly annoying drunken frat boys that I'm certain a new reality show is in the works.
I made a few bets (and lost) but California Chrome was the reason I came, and as the horse came onto the track my mouth got dry and my hands became sweaty. With so much anticipation and buildup, it's hard to reach any kind of happy outcome without a victory, and the entire crowd seemed disappointed. Nonetheless, it was a memorable day and I'm glad I made the trip.
As for Steve Coburn's post-race comments, I am not surprised by what he said. Coburn is certainly aware of the rules, so they shouldn't have come as a surprise to him, but he's not a typical horseman and probably doesn't have a media consultant, so he spoke his mind at an emotional moment, as his 15 minutes of fame came to an end.
There's a first time for everything, even trash talking at Belmont Park.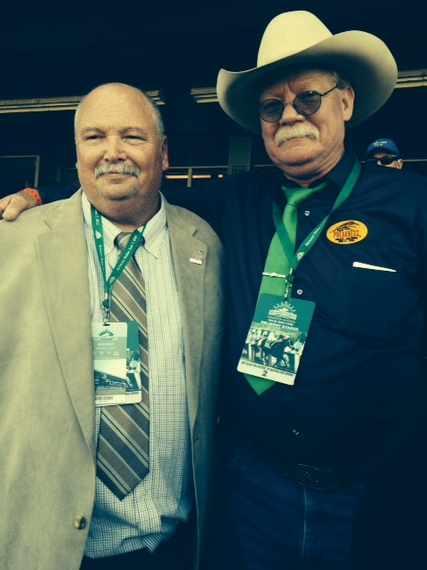 (Perry Martin & Steve Coburn pre-race)