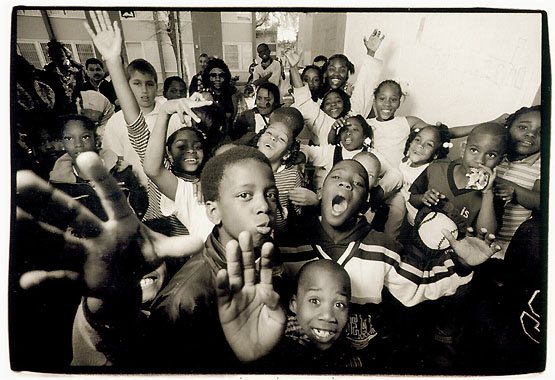 Usually on feature films, the mandate to the still photographer is to photograph only the actors and key filmmakers, but not extras and certainly not non-cast or crew members. This is both for budgetary reasons and to save work for those having to view and manage the many thousands of images upstream, such as those in publicity and marketing of the film.
On Training Day, because we were filming in a number of hard core neighborhoods around Los Angeles, I was actually authorized by the filmmakers to interact with and photograph the homies in such areas as South Central, Watts and East L.A., among others, for purposes of community relations and good karma. I come to be known as "Picture Man" and to have what one of the assistant directors refers to as a high degree of "clout" in the community.
"Hey Picture Man! Come take my picture!" I frequently heard, and with which I complied. There was powerful spirit and feeling present in the air and in the streets in making this film, in this experience, sustained in large measure by the intention, professionalism and commitment of all actors, especially Denzel, Ethan, Cliff, Eva and others, by Antoine Fuqua, David Ayer, Jeff Silver, Cle Slone and really, everybody involved, and I emphasize the word involved, including all the people in all the neighborhoods.
I formed one of my closest friendships in life with Salaam, a former gang-banger who did security for us and who passed away earlier this year. So many times young men, gang-bangers, approach me and tell me, "I just want a good, honest job." Whenever possible, I let children hold and try out my camera, and I hear their mothers saying "You can do that job too, if you want to!" This picture is one such instance when I asked, "Who wants to try my camera?" I hope that for at least some of them, a seed of possibility may have been planted, and that wherever they are now, they are OK.
info@kindsightfoundation.org
www.robertzuckerman.com
For more by Robert G. Zuckerman, click here.
For more GPS for the Soul, click here.