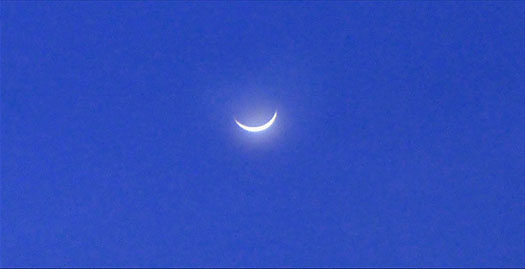 I exit the supermarket at dusk and there it is, beckoning me. Long have I wanted to give you a special gift, but haven't found it, until now, this jewel sliver of divine light, perfectly suspended in the deep blue early night sky. Though I do not own it, it is for me to share by virtue of attention and intent. And so, I bequeath this to you, what is really already yours, and perhaps the true gift is in helping you know just this, that the treasure is already yours. In the journey/experience of life, what are we here for if not to try to become better, not only as individuals, but as an inextricable part of overall life in this world? Long ago I wrote a poem asking, "Where do I end and you begin?" Alan Watts speaks of us being so much more than "skin encapsulated egos" and Rilke posits that "all this universe, to the further stars and beyond them, is your flesh, your fruit." Even the ancients in The Upanishads and The Bagavad Gita tell us that "self is everywhere, gazing out from deep within the eyes of all beings." Mom sits patiently in the car, while I'm in the parking lot making photos of the moon, varying the camera settings until I get it right. When one has practiced a craft or discipline for long enough, one knows when it's right. Satisfied, I put my camera away and look at the sky once more, thinking of you, then get in the car, filled with the feeling of this moment, and make my way home.
info@kindsightfoundation.org
www.robertzuckerman.com
For more by Robert G. Zuckerman, click here.
For more GPS for the Soul, click here.