Washington, DC - 01.20.09 - Those numbers, at last! The date that appears on a T-shirt I've worn many times over the past few years has finally arrived! The unnatural disaster named "Dubya" has finally ended. As I watched him fly over me in a helicopter early this afternoon, I felt a sense of euphoria, shared by literally millions around me.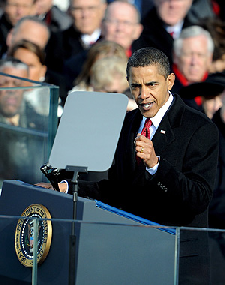 The marked contrast in mood between the huge assemblage today and the last massive congregation of which I was a part in this city, a little more than 41 years ago, illustrates the fact that a much longer chapter in our nation's history than that over which the Decider was the Presider has come to an end.
On October 21, 1967, I was part of a huge crowd (though well under a quarter the size of today's gathering) that came to the Mall and then marched to the Pentagon in opposition to the American War in Vietnam.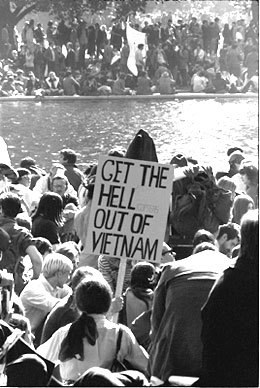 As it happens, I just returned last week from my first trip to Vietnam, where I saw firsthand the confirmation of what so many of us were saying in 1967: that war was utterly senseless. Vietnam today is not yet democratic, but it is communist only in name and its people enjoy more freedom than those in either South or North Vietnam had in the 1960s. The only thing that terrible war accomplished was to delay this happy development in Vietnam.
But that's another story. Today the long American nightmare that began with Vietnam seems finally to have ended. The anger and feeling of betrayal that was so evident on that warm, sunny fall day in 1967 were nowhere to be seen on this bitterly cold, intermittently sunny winter day in 2009.
The joy was so overwhelming that even a massive screw-up on the part of those in charge, which prevented thousands of ticket-holders (myself included) from getting into the main viewing area, could not dim it. Frustrated though we were, with gates closed and no way in for many who had been waiting since 5:30 AM--and no one to tell us what was going on--everyone I saw remained happy. So happy that when the loudspeaker announced "President George Walker Bush" many of the excluded around me burst into a joyous chorus of "Na, Na, Hey, Hey, Kiss Him Goodbye." So happy that when we heard Barack Hussein Obama take the oath of office, several women around me shouted, "Thank you, Jesus!"
As my daughter Allison and I walked toward the Capitol early this morning, two small African American girls walked in front of us, holding hands, each wearing a long coat that said on the back, "Change Has Come."
And so it has. I shall fondly remember this magnificent day, this day on which the promise of America was fulfilled, as long as I live.
This is America as it was meant to be. Ain't this America something to see?
Historian Robert S. McElvaine is Elizabeth Chisholm Professor of Arts & Letters at Millsaps College and the author of The Great Depression: America, 1929-1941 (Random House). His latest book is Grand Theft Jesus: The Hijacking of Religion in America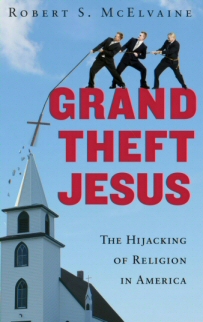 (Crown).