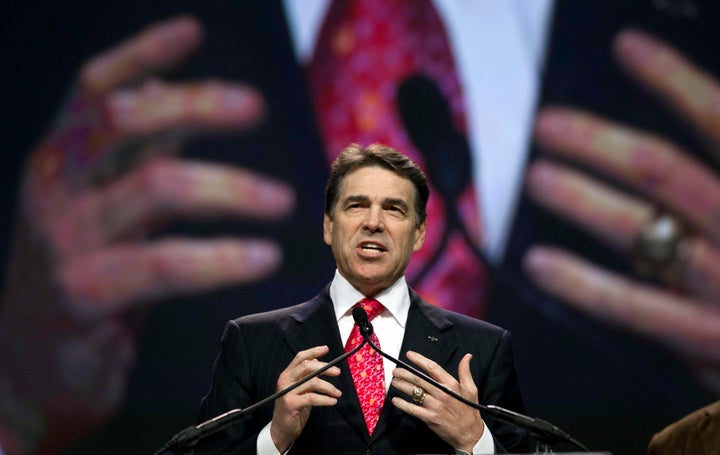 Consistency may not be a moral virtue, but when it comes to the religious right it qualifies as a political virtue, especially when it comes to the reproductive health and rights of women. Thus it came as no surprise today that Gov. Perry publicly reversed his longstanding support for requiring girls to be vaccinated against the human papillomavirus (HPV), a commonly sexually transmitted disease that is the principal cause of cervical cancer.
And that's where his support of mandatory HPV vaccinations got him into trouble with the religious right. By earlier signing an executive order requiring a vaccination against a sexually transmitted disease, he was admitting that there might be -- at least in this one instance -- a role for government beyond encouraging abstinence.
Wow, what was he thinking? Even some reproductive health advocates draw the line at requiring vaccinations for HPV rather than simply making them more widely available to young women.
A few weeks ago, to the relief of pro-life advocates, he had to execute another turn around. He suddenly backed away from declaring that abortion was a matter of "states' rights," by publicly supporting a constitutional amendment banning abortion.
Fortunately for all those who crave political consistency above all else, Gov. Perry's latest about face brings him solidly in line with the religious right on any issue relating to reproductive health and rights. Aren't you glad that's clear?
Now, when he's asked at political rallies about his position on government's role with respect to family planning or reproductive health, Gov. Perry can steal some immortal lines from Groucho Marx:
I don't know what they have to say,
It makes no difference anyway,
Whatever it is, I'm against it.
No matter what it is or who commenced it,
I'm against it.
Your proposition may be good,
But let's have one thing understood,
Whatever it is, I'm against it.
And even when you've changed it or condensed it,
I'm against it.