Michael's is the famous and popular lunch hangout for the high profile entertainment crowd, but on the evening of September 20th it opened its doors for another kind of special event. Tony Cointreau, who is the heir to the Cointreau French liqueur fortune, held a book party to celebrate his latest book, A Gift of Love: Lessons Learned from my Work and Friendship with Mother Teresa.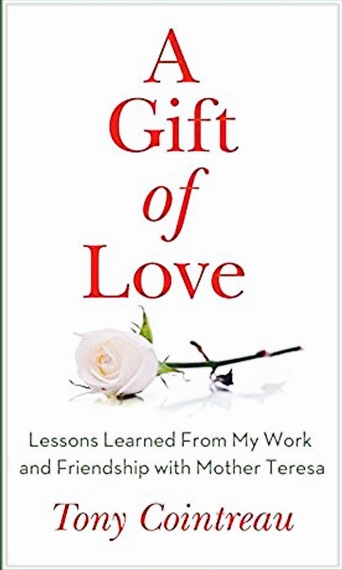 Cointreau spent his formative years living in the lap of luxury, splitting his time between a cavernous New York City Park Avenue apartment and an elegant chateau in France. He decided to devote his latest book to writing about a matter close to his heart: how to lovingly care for the dying and his unique friendship with Mother Teresa (recently canonized Saint Teresa.).

Cointreau's background is certainly a colorful and unique one. For many years he enjoyed a successful career in show business, which was launched by the famous French fashion designer Pierre Cardin as well as the renowned and legendary theater idol, Ethel Merman, whom he considered a surrogate mother.

Cointreau socialized with international socialites and celebrities. He achieved grand success as an entertainer and already had all the money anyone could ever hope for, yet he still felt something was missing. After seeing a powerful photograph of a dying man being carried by a volunteer for Mother Teresa's Missionaries of Charity, he immediately realized he had found his calling. Cointreau moved to join the cause after this "aha" moment.

Cointreau's current book, A Gift of Love: Lessons Learned from My Work and Friendship with Mother Theresa is a compilation of the lessons he learned over the 12 years he spent volunteering for Mother Teresa and her hospice (A Gift of Love) in Greenwich Village and Calcutta. While caring for indigent men dying of AIDS, he did everything from scrubbing toilets to singing to patients. No job was too menial for him during this time. By following Mother Teresa's divine guidance, he learned how to care for the dying with compassion and love. Over 100 AIDS patients died in his arms.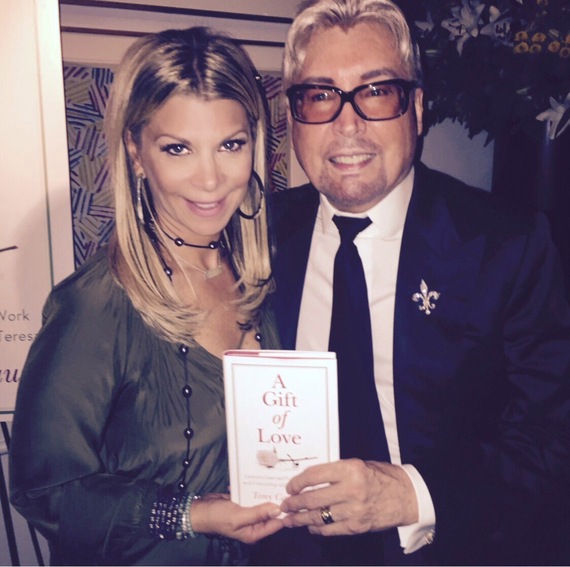 Dr. Robi Ludwig with Tony Cointreau at Michael's

During Cointreau's elegant book party, coordinated by his publicist and friend, Judy Twersky, he shared a funny story after reading a few passages from his book.
When Cointreau first arrived in Calcutta, he wasn't ready to lower his standards of living quite yet, so he checked in to a marble palace. After all, what else would a wealthy heir to a liqueur fortune do? After Mother Teresa visited Cointreau at his hotel, she asked him how much he was paying for his luxurious suite. When he told her the price, Mother Teresa quickly said she wanted to know the day rate not the weekly rate. Cointreau then informed her what he told her was the day rate and added that he did not take a vow of poverty. Mother Teresa then humorously replied, "No, YOU took a vow of luxury!" We all got a chuckle out of Tony's humorous Mother Teresa memory.

Tony Cointreau knows everyone, which was obvious at his book party. Some of his closest friends were there to celebrate his success including: Joan Benny (Jack Benny's daughter), Maria Cooper Janis (Gary Cooper's Daughter), Fran Weissler, and Francine LeFrak. Mary Higgins Clark was also there with her charming husband. Paul and Cathy Shaffer brought their daughter Victoria, Wayne Fisk, the Director of Network programming for ABC News Radio was also in the house. Legendary comedy writer Susan Silver, Legal Commentator Stacy Schneider, columnist Richard Johnson, as well as many other prominent New York City Society types were there to celebrate Cointreau's impressive accomplishment and happy occasion.

Tony Cointreau is a remarkable man with a remarkable story. He told me that he felt Mother Teresa's presence and support during the entire time he wrote his book. Cointreau said if he touches one person's life, who is lost or in a panic, while trying to help a loved one towards the end of their life, then his goal will be met. I think you'll agree that Cointreau achieved this goal as well as much, much more in his latest book, A Gift of Love: Lessons Learned from My Work and Friendship with Mother Teresa. Now available on Amazon.