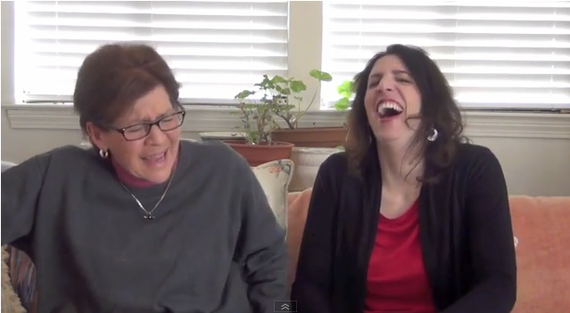 With all of the pressure of Valentine's Day fast approaching, I wanted to get some perspective on the Hallmark holiday from my funny Valentine: The coolest single lady on the planet, my 72-year-old aunt.
From aphrodisiacs to advice for single people, Auntie's got a sweet and hilarious outlook on modern love, and I captured it all on video.
Plus, she weighs in on where to find cheap cards, online dating and Tom Brady. Natch.
So whether you're single or in a relationship, we hope you have a wonderful day on Friday.
And if you're interested in Auntie, all she really wants for Valentine's Day is R-E-S-P-E-C-T. Oh, and maybe some dark chocolate from Trader Joe's.
------------------------------------------------------------------------------
Robin Gelfenbien is a NYC-based writer, comedian and storyteller who has written jokes for Rosie O'Donnell and starred in a commercial directed by Spike Lee. She has appeared on Vh1, Sirius Radio and AMC and is the creator and host of the monthly storytelling series, "Yum's the Word," (next show Feb. 18) that features her homemade ice cream cakes.
She is currently working on a memoir based on her critically-acclaimed solo show, "My Salvation Has a First Name (A Wienermobile Journey)."
Watch More Videos from Auntie and Robin
"Oy to the World" - Auntie shares the stories that made her say "Oy" in 2013
"Auntie on Mad Men" - Get Auntie's take on Don Draper
Coming Soon!
Auntie talks about the Olympics, the Oscars and more.
Follow her on Tumblr
Want Her Opinion on Another Topic?
Write it in the comments below.