I'm not sure why I've been thinking a lot about getting older recently. Maybe it's because my birthday is coming up and I can't remember if I'm going to be 35 or 36? Maybe it's because I'm seeing how much my girls are growing up and it makes me realize that we're all getting older (and in my opinion, better). Maybe it's because I'm watching from afar as my mom helps an elderly friend move into assisted living. I can't really put my finger on what's got me thinking about aging so much, but it's been on my mind.
I'll say this -- I'm not sure if I'm 34 or 35 (pretty sure I'm 35. I could do the math but I've got other stuff to do.) But I AM sure of this: I love life right where I am.
I wouldn't go back to 30 for a million dollars.
I wouldn't go back to my 20s for ten million dollars.
And for a magic genie and unlimited wishes there is no way in HELL I'd go back to my teens. Ain't no way.
I'm content.
I make faces at myself in the mirror to scrunch up the wrinkles on my face and see where that first round of Botox is going to go in a few years (right between my eyes) but so far getting older is pretty kick ass. My kids all sleep through the night, unless they are sick or have a nightmare. Everyone can put their poopoo and peepee in the potty (Glory to God in the Highest) and, best of all? They can all use words! No more screaming and crying for inexplicable reasons. My 4-year-old can simply say, "Momma, my ear hurts," and BOOM, just like that, I know we need to go to the doctor. I don't have to wait it out, call my friends, call my mom, call my pediatrician... wait, did she pull her ear? Nope. We just use our words.
I was in this sort of "HOORAY for getting older" phase when my friend Mandy Rose from one of my fave blogs, House of Rose, posted on her Instagram that she was going to start wearing real lipstick. She's adorable without a speck of makeup but her post made me realize that I never wear real lipstick. Even when I get dressed up all fancy to go somewhere with full make-up, I usually just wear lip gloss AND -- this is the worst part -- it's the same color I wore in 8th grade. That's not to say that Clinique's Black Honey isn't a timeless classic, because obviously it is. But I realized that if I was really a Grown Ass Lady, I'd wear real lipstick. Dark and dramatic lipstick.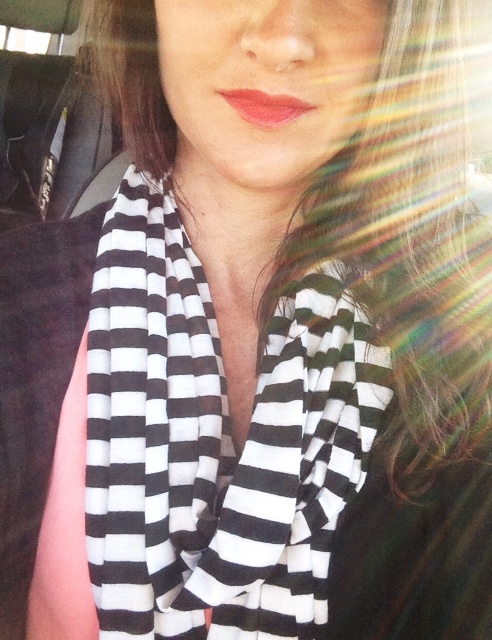 Mandy Rose
I remember a conversation I had with my Momma once. She was trying on lipstick in Sephora, something she only does when I make her, and she put on a dark wine color. I gasped. It was stunning with her gray-blue eyes and silver hair.
"It's too dark!" She argued, wiping it off.
"Are you kidding?" I scoffed. "Wearing lipstick like that is one of the reasons I'm looking forward to getting old! It would look cheap, trashy and sort of goth on me, but you just look classy! I can't wait to get old so I can wear bright red lipstick and huge diamond earrings. Hell, they'll probably be CZs but when you get older, everybody assumes they're real."
All of this was still rattling around in my brain when my friend Cecily posted on Babble with her top makeup tips for women over 40. I clicked through her slide show and read all of her tips and I thought she was beautiful. Her lipstick was bright and spoke to me.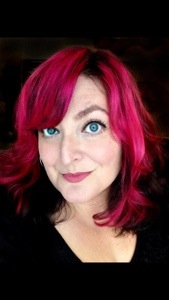 It said, "I'm not afraid of bright colors because I am a sassy and fabulous Grown-Up Lady."
Later that afternoon I was at the grocery store and I thought to myself, "Dadgumit. I'm gonna buy some real Grown Ass Lady Lipstick."
I wheeled over to the makeup aisle and trusting Cecily's recommendation of Revlon's Colorstay Overtime, I bought the reddest red on the shelf (Forever Scarlet.) I checked out and once I was in my car, I whipped out the new lipstick and put it on. I checked my reflection in the mirror and I'm not going to lie, my heart skipped a beat -- I looked just like The Joker. I fiddled around with my phone for a minute, responding to a few texts then checked the mirror again. It wasn't that bad, I guess after 20+ years of the same lip gloss, it just seemed so dramatic.
But the more I sat there and stared at myself, the more I realized that was exactly the reason I had bought it. Because I LOVE being 35. (Or 34.) I care less each day what other people think about me and this lipstick was bold and kind of awesome. I also realized that it was 2:30 p.m. and I was still wearing the workout clothes I wore to hot yoga at 8:00 a.m. It was highly probable that with a shower and a full face of makeup, my Grown-Up Lady lipstick wouldn't be quite so out of place.
Regardless, I decided, I wasn't just going to wear red lipstick -- I was going to rock the hell out of it, you know, the next time I was going to go somewhere which required underwire and makeup. I reached for a tissue and wiped it across my lips and was a little surprised when there was NOTHING on the tissue. That's when I noticed that the packaging promised it would last 16 hours.
SIXTEEN. HOURS.
I was committed but I was planning on pulling out the big guns for special occasions only-- not for running carpool. Which, as it happened, was exactly what I was supposed to be doing, I cranked my Patty Peck Honda Odyssey (wink) and headed to school to pick up Sadie. As soon as she got in the van she yelled, "WHAT HAPPENED TO YOUR WIPS MOMMA? DAT'S SO PETTY! Kiss me!"
None of it rubbed off on her, so I feel like Revlon was pretty damn serious about it lasting 16 hours. I posted on Facebook: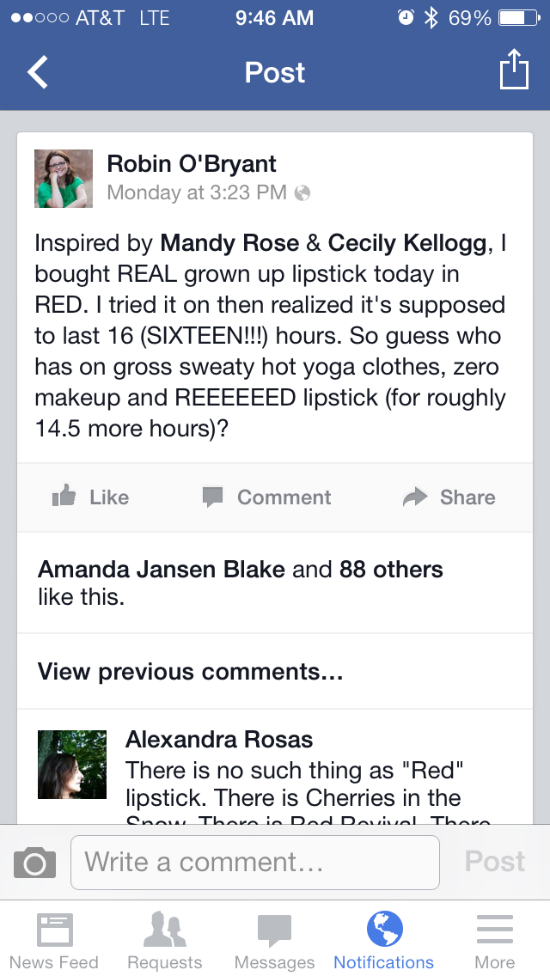 Shortly after, people began offering me tips on how to remove the lipstick. I was running errands with my kids and I felt pretty freaking suspicious in my sweatshirt, yoga pants, dirty ponytail and bright red lipstick. I considered swinging by my house and trying some of the suggestions but then I thought, "Screw it. I'm a Grown Ass Lady and I'll wear red lipstick with dirty sweats and greasy hair if I damn well want to."
And I do.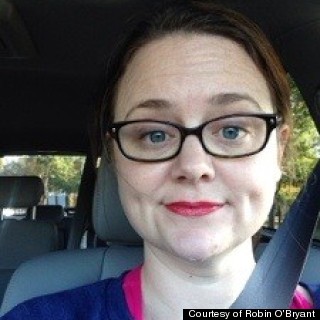 Thank God the Internet isn't Scratch N' Sniff, yet.
Getting older is awesome. I can't wait to be 36 (or 35 again.)