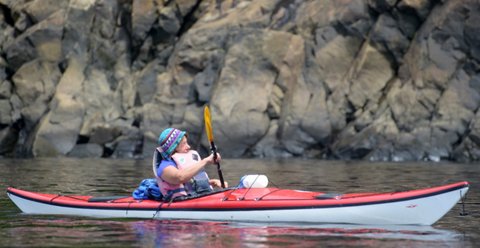 As the founder and producer of the Sports and Fitness Tech Summit at CES each year, I feel the need to take the tools of the high-tech outdoor sports trade out for a spin as often as I can. This year it was a six-day kayak trip -- 70 miles down the Saguenay Fjord in north-eastern Quebec province.
Note: A fjord is a U-shaped inlet that was carved by a glacier. The Saguenay Fjord is distinct because of the huge tide changes, up to about 20 feet, a diversity of sea life and the sheer length of it. Glaciers are carved out 1,000 foot cliffs. At the base are rocky seacoasts and tidal bays.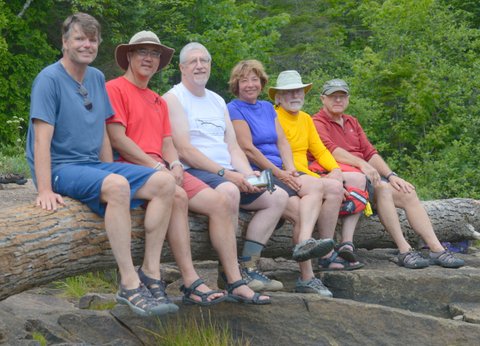 The six of us who traveled down the river together had a multitude of high-tech gear to make things comfortable, safer and more connected.
1. Satellite GPS Messenger. Our most important tool, and perhaps the most fun, was the SPOT Satellite Messenger. Since most of the Saguenay has no cell service (and when it does the Rogers Network is prohibitively expensive for Yanks), SPOT let us keep in touch with loved ones, signaling our location and sending out a don't-fret-about-us message daily. It works by communicating with satellites instead of using cell phone towers. A GPS in the SPOT messenger determines your location and includes that information in each message. You can create a preset list of friends/family and contacts that will receive emails or SMS messages each time you send a SPOT message. SPOT has a few built-in messages, but the most fun is to use a Bluetooth-connected smart phone to compose the message. Emergency contact services are also built in. Of course you pay for the device and the service (there are a variety of different plans) but for a remote trip, the peace of mind is well worth it. It doesn't hurt that SPOT is water resistant and it floats, too.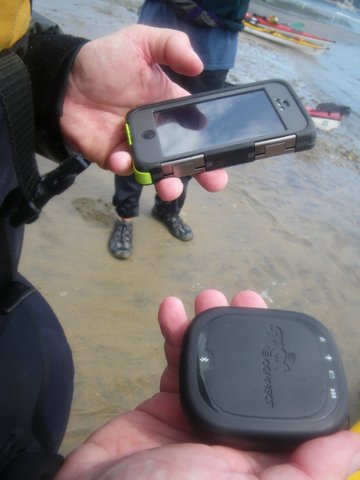 2. Marine VHF Radio: The weather on the Saguenay is more changeable than my moods. Small craft warnings, gusting winds and storm fronts come and go. We listened to the marine forecast each morning using our marine radios, so we could try to paddle when conditions were likely to be best. Most of us had a radio, including the West Marine VHF 155 and several models of Horizon radios. (The West Marine VHF 155 is no longer current, but it's similar to the newer VHF 160.)
3. GPS: We traveled from campsite to campsite, but it's a large and wide fjord, and the campsites are marked by a flag that's hard to see from more than about half a mile away. But we were prepared, and several of us had entered the campsite GPS coordinates as way points, which let us navigate directly to each site. My own Garmin is an older Oregon 450t model, but the gearheads on the trip seemed to like the Garmin GPSmap devices.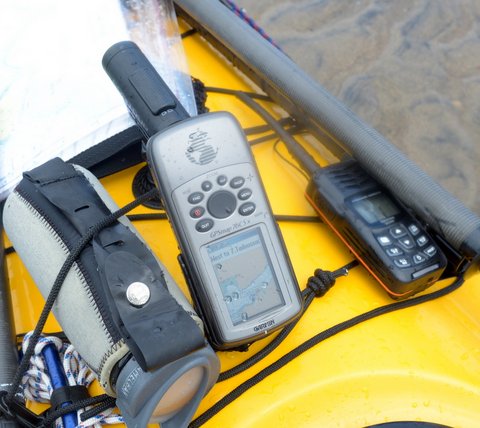 4. Solar Charger: Given that electronics are now a part of the outdoor experience, you can either bring a bushel of batteries or a solar charger. We chose the Guide 10 Plus Solar Kit from GOALZERO. The 'kit' contains the Nomad 7 solar panel, which folds to a compact size that fits in a kayak, plus the Guide 10 Battery pack and four rechargeable batteries. The idea is that when the sun is out you can charge the battery pack, and then use that charge later to juice up your iPad or smartphone. The battery pack ensures that all the power captured by the solar panels will be stored for later. We had mixed success. First, the Saguenay had some sunny days where the solar worked well, but also some fog. Plus we used the iPad more on the foggy days, so right away you may see the problem. And second, the two panels of the Nomad 7 only provide a modest amount of power. And third, unlike the Spot, GPS and marine radios discussed already, the Guide 10 was not waterproof. That's not a deal breaker, but it's something to consider. For providing a bit of extra power on a short trip, the Guide 10 Plus Solar Kit was helpful. But I'd still recommend that bushel of batteries. In a remote area like the Saguenay, you need to be absolutely certain that the marine radio and GPS will work for the whole trip, and that means you need to carry enough batteries to keep them going. We reserved the Guide 10 for charging the non-essentials.
5. Waterproof Sleeve for our iPad. Everything we carried that could be water damaged was in a dry bag. But for electronics you want to be doubly secure, so our iPads were also kept in a LokSak (the aLOK3-8X11). The LokSak is great because it doesn't need to be removed to use the device. Just slip in the iPad before the trip, use it as you want during the adventure, and then just remove the iPad when you arrive back home. We used our iPads for reading books, for exercise programs (I used SworkIt), for taking pictures, and listening to music, and all that felt much more secure because the iPad lived inside the LokSak during the trip (except when charging).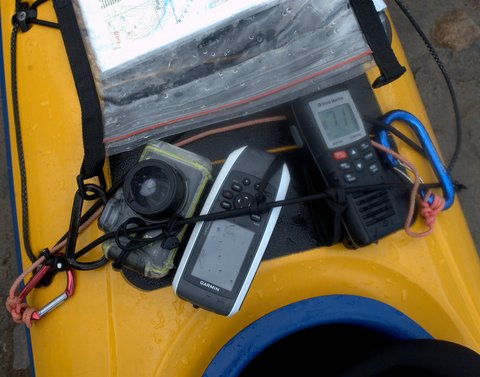 6. Otterbox: One of the best known names in protecting smart devices is Otterbox. They make a very wide variety of waterproof cases, and they also make cases that are rugged, which is a step beyond the LokSak that we used. We didn't actually have any Otterboxes on the trip, but maybe next time.
7. Waterproof Camera: There are waterproof point and shoot cameras, and also cases that make an ordinary point and shoot waterproof. If one of us had bought a new rugged, waterproof point and shoot camera for this trip, it probably would have been the Olympus TG-830 iHS. The TG-830 is enough of a camera for most people, plus rugged and waterproof. What we had instead was a Contour, which is a rugged waterproof camera for HD video. One of us had it on a deck mount, so it was ever ready on the water, and small and easy to use off the water.
8. Monster Camera. It's a pain, but D-SLR cameras offer the ultimate in image quality, lens options, and photographic control. But they are, well, really large and hard to use while sitting in a kayak. Nonetheless I took a Nikon D600 camera with three lenses (24mm wide, 35-70 mid zoom, and 70-300 stabilized telephoto) plus close up gear, two extra batteries, lens cleaning wipes, and an extra SD card. I'm glad I brought the camera along, and it had its moments, but I also understand pretty clearly why the diminutive iPhone is the world's most widely used camera.
The 2014 Sports and Fitness Tech Summit, one of the fastest growing lifestyle summits at International CES, will be held January 7-10, 2014 in Las Vegas. For more information, please visit: www.SportsandFitnessTech.com.