Not content with just dimming the lights or turning on the thermostat? New automation systems really get to know you.
Your smart home wants to understand you better. While earlier home-automation systems focused on boosting energy efficiency and convenience, today's versions go further, learning about your behavior and adapting themselves to your needs. The secret is in the sensors: little gizmos that track and measure events. In the not too distant future, thanks to rapid advances in sensor, mobile and cloud technology, your smart home will know it's you at the door, let you in, set the perfect temperature just for you and cue up your favorite music or show as soon as it detects your butt on the sofa.
But, the technology isn't always cheap. A fully wired custom setup can cost up to thousands of dollars. But you can also get DIY gizmos for as little as $10:
TEMPERATURE
The sleek, attractive Nest thermostat (pictured below), $249, was engineered by ex-Apple employees who thought thermostats were not just ugly but dumb. As the Nest learns your habits -- say, that you wake up at 6 a.m., are out the door an hour later and home by 6 p.m. -- it begins to adjust itself. If your routine changes, you can override the Nest's program with a call from your smartphone. Also, with Nest Protect (also pictured below), a new smoke and carbon dioxide detector, you can say goodbye to pesky beeping alarms. Nest Protect, $129, uses an early warning system called a "heads up," to alert you of a potential threat and allows you to silence unwanted alarms with just a wave of the arm.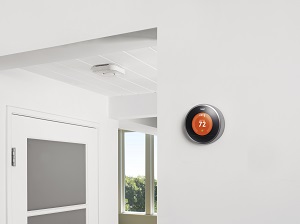 SECURITY
For $199 and up, Canary (pictured below), lets you keep tabs from afar on your house. If its multiple sensors (cameras, motion detectors, accelerometers) notice movement around your home, it will send you a message on your smartphone, "Are you expecting someone?" At the same time, it learns to ignore the squirrel on the porch or delivery guy on your doorstep.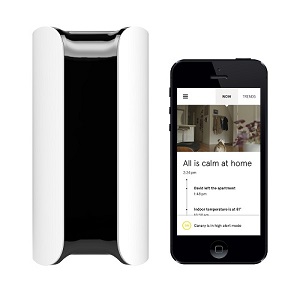 Lively (pictured below), from $149, is designed to help you monitor an aging relative from afar. Its sensors learn the when and how often of movement, for example, Mom opens her refrigerator door or her pill box, letting you know she's eating regularly and is taking her medication.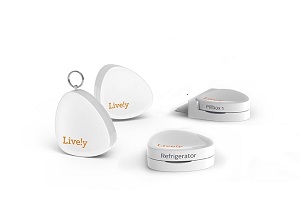 LIGHTING
You can use your smartphone to turn the multicolored, dimmable Lifx light bulb, $98, off and on. But the fun really comes in when it memorizes your favorite moods -- party, thoughtful, reading.
WATER
Place a Waterpebble sensor, $10, in your shower and it'll figure out how much water you use by monitoring how much goes down your drain. Then, using traffic light alerts, it will gently nudge you to cut down little by little, over time, so you don't feel deprived.

Smart homes and the Internet of things will be focal points and hot topics of discussion at the upcoming Silvers Summit, during the 2014 International CES on Tuesday, January 7 and the upcoming MommyTech, on Wednesday, January 8 at the Las Vegas Convention and World Trade Center (LVCC) in Las Vegas, NV.
Robin Raskin is founder of Living in Digital Times (LIDT), a team of technophiles who bring together top experts and the latest innovations that intersect lifestyle and technology. LIDT produces conferences and expos at CES and throughout the year focusing on how technology enhances every aspect of our lives through the eyes of today's digital consumer.