Stylish rockers are the nucleus of the classic rock and roll philosophy. One cannot survive without the other - a singer's personal style and his music are inextricably linked.
From 1960s British mods to soulful crooners to psychedelic guitarists, musicians from every genre have used fashion as a tool to amplify their brand and persona. Here is a look at eight male artists with standout, impeccable, and mesmerizing fashion sense.
Ronnie Wood, The Stone Dandy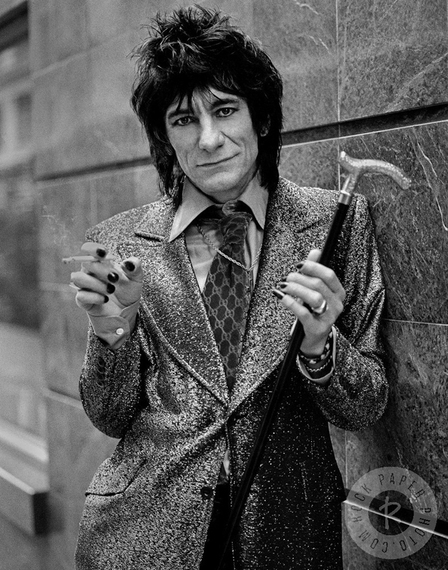 Ronnie Wood by Kevin Mazur
Ronnie Wood, the legendary guitarist of The Rolling Stones and ex-member of The Faces, exudes dapper charm in Kevin Mazur's black-and-white photograph. Shot in Montreal in 1989, this photo shows Wood dazzling in this slick ensemble, complete with a Gucci-logo tie, cane, cigarette, and his signature shiny black locks.
Rod Stewart, The Mod Dandy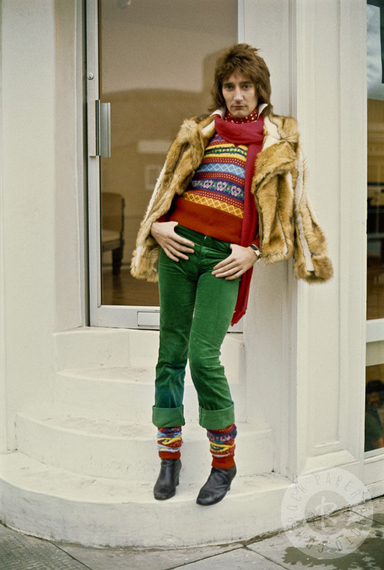 Rod Stewart by Steve Emberton
Rod Stewart, rock superstar and fellow ex-member of The Faces, accompanies Ronnie Wood on this list as another male style icon. Nicknamed "Rod the Mod" earlier in his career, the name apparently stuck due to his penchant for ostentatious and flamboyant garb. Pictured here in this Steve Emberton photograph, Stewart poses confidently in an "Oliver Twist" look topped off with fabulous fur coat.
Freddie Mercury, The Gypsy Dandy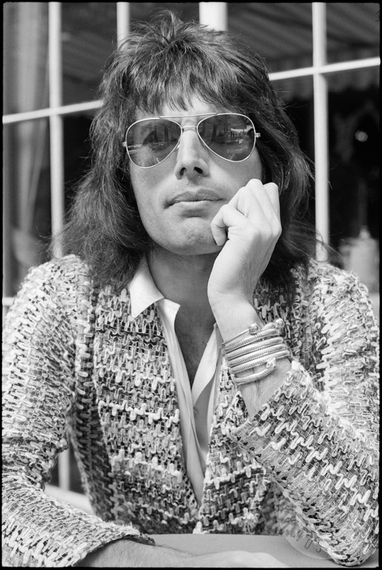 Freddie Mercury by Andrew Kent
With his exotic good looks and a flair for theatrical stage performances, Freddie Mercury of Queen stuns in this black-and-white photograph by Andrew Kent. Mercury poses in classic aviator sunglasses and sports a stylish shag haircut while hanging out in Beverly Hills.
Elton John, The Classic Dandy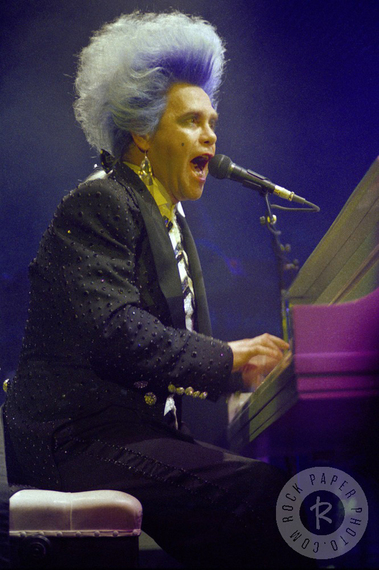 Elton John by Daniel Gluskoter
Pop singer Elton John, a true British dandy, is seen here in classic fop attire photographed by Daniel Gluskoter during a performance in Los Angeles. John has remained loyal to the rules of dandyism throughout his entire career, with his ornate costumes, gaudy accessories, and his affection for English haberdashery.
Prince, The Purple Dandy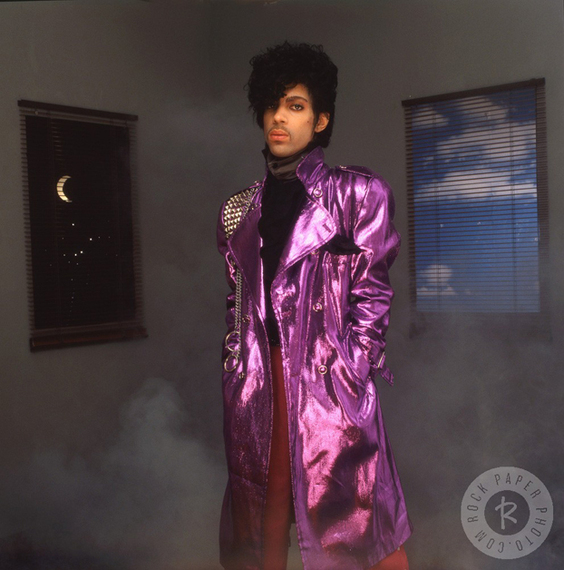 Prince by Allen Beaulieu
In this promotional shot photographed by Allen Beaulieu, Prince poses in full regalia showing the excess of his 'Purple Rain' era. With a strong affinity for all material things in the shade of violet, here Prince dons a purple lame, studded trenchcoat as a statement piece.
Jimi Hendrix, The Psychedelic Dandy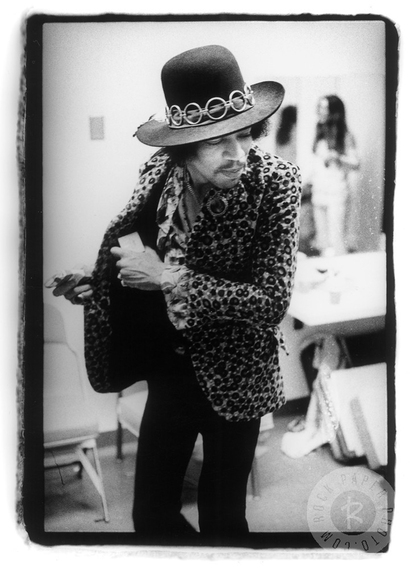 Jimi Hendrix by Ed Caraeff
This hypnotizing Ed Caraeff shot illustrates the essence of Jimi Hendrix - reckless, dangerous, and intensely passionate. Hendrix blows you away with elements of his unique fashion taste consisting of his signature wide-brimmed hat, leopard jacket, and slim black pants.
Bryan Ferry, The Post-Modern Dandy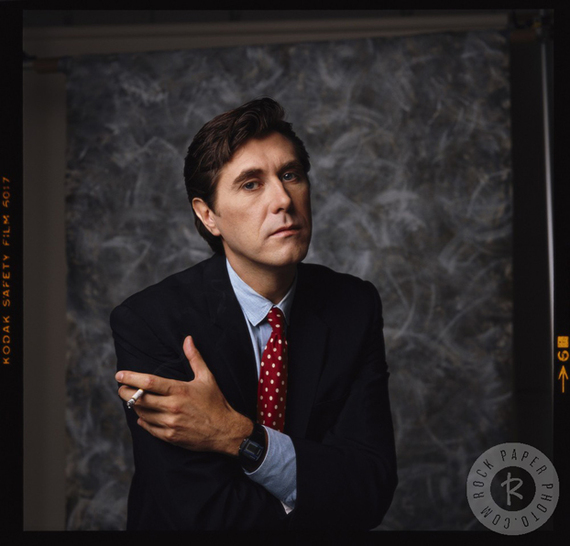 Bryan Ferry by Deborah Feingold
Bryan Ferry, best known as the debonair lead singer of Roxy Music, intrigues you with his matinee idol looks in this exquisite photograph by Deborah Feingold. Always impeccably dressed and well-groomed, Ferry complements his art rock/new wave musical sensibilities with his sartorial expertise.
David Bowie, The Androgynous Dandy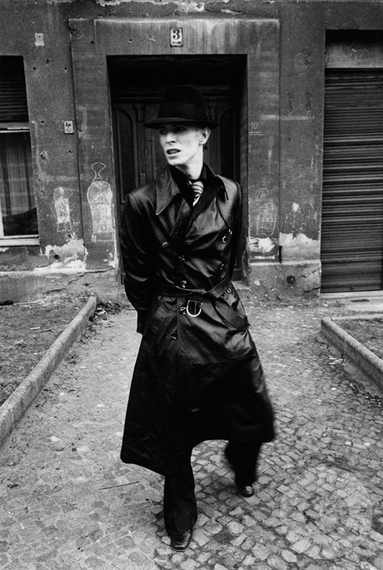 David Bowie by Andrew Kent
David Bowie is the ultimate rock-and-roll dandy of them all. During the span of his entire career, Bowie has shifted through various gender-bending characters including the alien-like Ziggy Stardust, to the more masculine and soulful identity during the "Let's Dance" period. Successfully executing each persona, Bowie's personal fashion choices have been front and center on every occasion. In this shot by Andrew Kent taken in East Berlin, Bowie resembles a 1940s film noir actor complete with a sleek leather trench coat and a black fedora.
This post was written by guest-blogger Jasmin Hernandez.