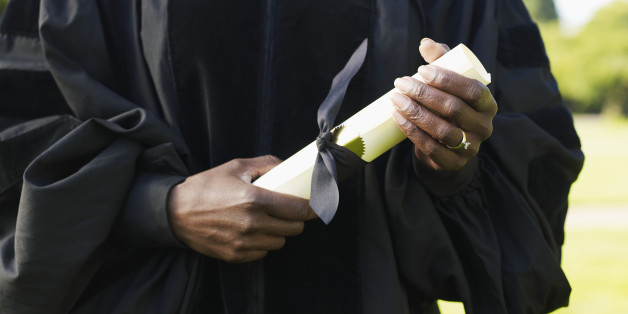 This time last year, all eyes were on Morehouse College as President Obama addressed graduates at its 129th commencement (see here). This year, all eyes were on another prestigious HBCU and another high profile speaker as Sean "P. Diddy" Combs took the stage at the 146th commencement at Howard University.
Combs's ascension to the podium was not without some pushback. Some wondered what message would a hip-hop, TV, and fashion mogul have for graduates of this historically black university? I mean this is Howard University, HU, you know? It is hallowed ground -- a bastion of African-American culture, history, scholarship, leadership, service, and prestige.
And this is Diddy. Though undoubtedly successful, his career celebrates a glitzy, hedonistic lifestyle that contradicts the prestige and values embodied by HU alumni. Yes, he did briefly attend Howard, studying for a business degree, but left after only two years to pursue his music dreams. Would his message to graduates undermine their hard work in earning their degrees? Would it be on par with luminaries of previous Howard commencements, such as Hillary Clinton, Colin Powell, Kofi Annan, and Shirley Chisholm?
Combs -- the man and the brand -- is second to none in influence on all things cool, swaggered, chic, and refined within the urban scene. While many in the hip-hop community, including myself, question the substance of his artistic output, no one who came of age in the late '90s and early 2000s questions his ability to get a party started. Diddy's influence was readily seen in the shiny, flashy, club-centered scene of the day. More than just music and lingo, Combs and his crew personified the cool club lifestyle, from what they wore -- their clothes and their "bling" -- to what they drank.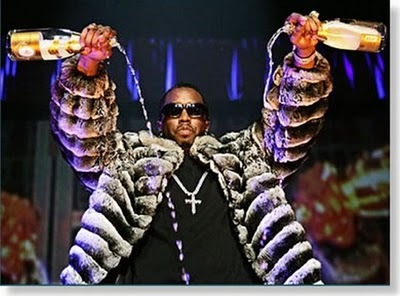 So, yes, I had reservations.
Then I took a closer look and changed my mind. Howard made a stellar decision. Diddy was a perfect choice of commencement speaker; and he is certainly worthy of his honorary doctorate. Here's why.
Combs represents and embodies so much more than is readily accessible in his lyrics, for instance. At the core of his flashy public-facing persona is a man with a relentless work ethic, who uses every drop of his God-given talent in the pursuit of something greater, something grander, and something unique.
In addition, the complexity of his career is appealing and realistic for millennials, whose likelihood of a lifelong career within the traditional 9-to-5 workplace of their parents is slim. Combs's narrative, complete with twists and turns, and the merging of seemingly conflicting interests and pursuits, maps onto what many new graduates seek in their own careers.
Combs came from humble beginnings and ascended to the top of the arts, fashion, and media industries -- and continues to give back through philanthropic concerns. With his music production at Bad Boy Records, his performances, his fashion and fragrance enterprises, his TV shows like Making the Band, his endorsement deals for Cîroc Vodka, his now-closed restaurants, and his acting credits, Combs has amassed a net worth estimated at $700 million. His charitable giving includes such well-known organizations as the Jackie Robinson Foundation and the Prince's Trust. He also supports charities involved with AIDS and breast cancer prevention and research, and childhood diabetes. In 2003, he raised $2 million for New York schools by completing the NYC marathon.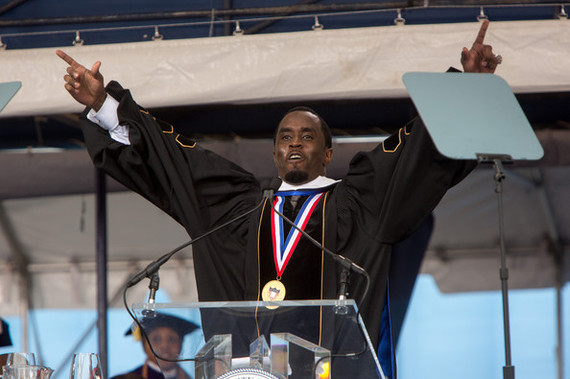 At the Howard commencement, Combs stepped to the podium with feverish, yet nervous energy and began to describe his life's journey. He smiled widely, pointed to the crowd and drank up the barrage of applause and delight imbued in his reception by the graduates and families amassed on "The Yard."
As the son of a street-oriented father and a single mother who worked four jobs to keep her son in school, Combs internalized these complexities and nuances. He toiled diligently to make a name for himself and subsequently catapulted himself and everything he touched to the front of pop culture.
Combs's American Dream was fraught with peril and missteps, and no college degree could have prepared him for the path he has taken. Had he completed his degree, he might have been more prepared to sit at the business table with music executives, but other than that, he appeared satisfied with his journey.
Combs implored graduates to be decisive and fearless, noting that the key to success is to "remember the power of you." He said theirs was the "most powerful generation this world has ever seen" and they should employ his trademark phrase "can't stop, won't stop" in their life's work.
I commend Howard for their selection of Combs and for honoring his accomplishments. Howard is where some of the best and brightest black youths have honed their talents to rethink how the world approaches any and everything across fields as varied as education, science, the arts, industry, religion, fashion, business, and the humanities. Howard's daughters and sons are trailblazers, and any graduate you talk to will attest to the priceless-ness of the HU experience and credit it as salient in their life's success.
Howard has been on the cutting edge of the black experience since its founding, and the commencement reflected how nuanced and wide the Black-American experience is. For instance, it opened with a skillfully executed choral and orchestral Beethoven piece, and boldly presented an honorary doctorate to one of the most important figures in urban black discourse. By doing so, Howard proves its ability to be "both/and." It is neither one-sided, nor monolithic. As complex and nuanced as the black experience is, so should Howard be, and thankfully it is.
By validating the nontraditional path Combs has traveled, Howard validates the complexity and nuances embodied in the black American college experience -- and the many possible routes to success.
So, cheers to you, Diddy, for your honor. I pray your speech inspires others, as it did me, and that your degree inspires you to continue working tirelessly to create greater art, transform industry, and give even more to causes that help people.
And cheers to you, Howard University, for creating another nuanced stitch in the patchwork of the glorious quilt that is black America. We've come to expect nothing but the best from you.