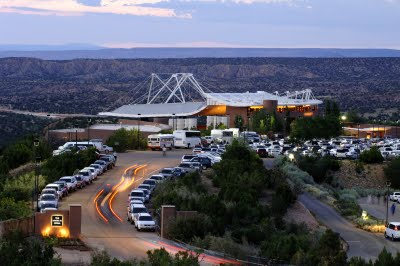 Santa Fe, New Mexico
Lightning and thunder struck a few days ago at the very moment when Rodolfo touches Mimi's hand in the dark of his garret apartment. No suspended disbelief was necessary for this early August performance of La Bohème. Real-life theatrics are par for the course at the Santa Fe Opera (SFO), perched high on a desert mesa with its theater sides open to storms on the nearby Sangre de Christo Mountains.
Now in its 55th year, the improbable vision of the late conductor-impresario John Crosby was dismissed early on as a wealthy man's plaything, but it has become a summer cultural and economic anchor for New Mexico's lively capital. (Founded in 1610, Santa Fe is the oldest capital in the USA and was a thriving outpost of the Spanish Empire when the Pilgrims landed precariously at Plymouth Rock in 1620.)
The SFO is the contrarian player in American opera. While big city companies -- New York, Chicago, San Francisco and Los Angeles -- have their seasons from fall through spring, Santa Fe runs its five productions during July and August. Many in their audience are not local commuters, but must travel great distances at considerable expense to this small mile-high city in the vast American Southwest.
Luring folks to the opera is its reputation for quality, its spectacular natural setting, Santa Fe's charms and historic importance, a thriving visual art scene, and the world-class rankings of New Mexican cuisine. All contribute to a mystique of specialness that attracts tourists to visit (and well-to-do retirees to stay).
As with Haydn's residency at Esterhazy, the semi-isolated SFO has thrived through innovation. Its apprentice program for young singers was begun in 1957, the year the Opera itself was founded. At first a means to provide inexpensive choristers for productions, it is now one of the most important incubators of new singing talent in the nation. The SFO's education program visits local schools and provides top-flight lectures before each opera. A dinner-cum-talk series with the charming Desirée Mays has become a sought-after (and sold-out) attraction for fifteen years.
What was a few decades ago a relatively isolated operatic activity is today fully integrated with programs in the major international capitals. During the current Wozzeck, for instance, one encountered on stage a partnering of two world-class Ring Cycle Alberichs, one from the LA Opera and the other from the Met Opera.
This report will take a critical look at two of the SFO's current productions: Gounod's Faust and Puccini's La Bohème. They are reviewed in the order each was introduced during the season, in three categories: the work itself, its production and its performance. Rating scheme: [**** Outstanding *** Solid ** Some Issues * Forget It].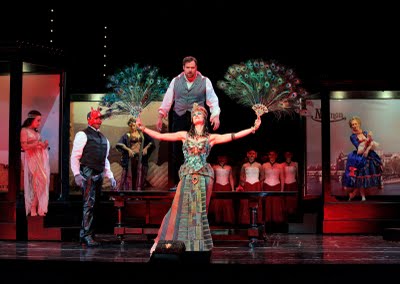 Overall rating (***)
Music: Charles Gounod
Libretto: Jules Barbier & Michel Carré
Performance reviewed: Monday, August 1
Performances run through Saturday, August 27
Work (**½) It was the world's most popular opera at the turn of the twentieth century, yet Gounod's Faust was never before produced at the SFO. Its love-and-betrayal story is adapted from Goethe. Catchy tunes abound in the oft-excerpted dances. Long Gallic lines float off the lips of Faust, Marguerite, and, most deliciously, the comically cynical Méphistophélès. Sinewy woodwind configurations add orchestral interest, yet the work's characterizations can be superficial and its musical structures conventional. It dates badly next to older confrere Berlioz's less theatrical 'dramatic legend', La Damnation de Faust, with its vivid harmonies and orchestral sonorities, now often produced in lieu of the Gounod in opera houses.
Production (***½) SFO pulled out all the stops for director Stephen Lawless' tongue-in-cheek La Belle Époque decadence, with well-staged cast encounters along Benoit DuGardyn's Parisian boulevards, night-lit by Pat Collins. Anchoring the scene was a central coffin from which Méphistophélès emerges and into which Faust obligingly retires, knowing Marguerite has been redeemed. Sue Wilmington's silk-and-satin Lautrec-era costumes sparkled in bright colors against jet-black window displays. Amusing scenes included the early fair with a functioning Ferris Wheel and a carefree Marguerite on roller skates; choreographer Nicola Bowie's courtesans and queens prancing (if not quite dancing) to Gounod's tamed down Walpurgisnacht music, with femmes fatales Helen of Troy, Cleopatra, Manon, Carmen, Salome and Delilah vying clench-clawed for doomed Faust's attentions; and at the end Marguerite's campy entrance into heaven, embracing Christ's pipe-bedecked celestial organ after her unfortunate encounter with Faust's impregnating one.
Performance (***½) A solid outing for all principals. Bass-baritone Mark S. Doss' barking trickster Méphistophélès was strained at the extremities of his voice but was to the manner born as the cynical collector of fallen souls. Bryan Hymel's plangent tenor lent suave urgency to Faust's yearning ruminations. Pretty Ailyn Pérez was in splendid voice as the victimized Marguerite. Matthew Worth's high, bright baritone (and graceful swordsmanship) lent nobility to doomed Valentin. Mezzo-soprano Jennifer Holloway's ardent-voiced trouser role as protective Siébel was all boyish charm and good intentions. Jamie Barton's amusingly available, ample-figured widow Marthe gave Méphistophélès a run for his conniving money. As the SFO's new chief conductor (and French music specialist), Frédéric Chaslin's well-paced conducting with Susanne Sheston's small chorus provided stylish, idiomatic accounts of the not-so-gracefully aging score.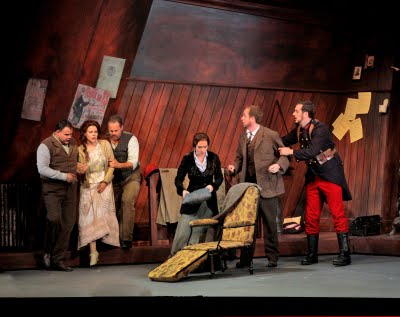 Overall rating (***½)
Music by Giacomo Puccini
Libretto: Giuseppe Giacosa & Luigi Illica
Performance reviewed: Tuesday, August 2
Performances run through Friday, August 26
Work (****) Puccini's break-through opera, one of the most popular in the canon, is ever fresh. The slice-of-life story of four bohemians in a Parisian Latin Quarter garret has an artist, a musician, and their inamoratas on the ins and outs with each other. Richly etched characterizations and poignant moments are wrapped in the composer's uniquely soft-grained Verismo style. Passionate melodies and evocative, pithy motifs abound and are skillfully recalled at later developments. Post-Wagnerian orchestrations and glinting harmonics capture each emotional incident with its own special expression. Puccini makes it all sound natural; any effort he may have extended is entirely concealed within his art.
Production (***) Paul Curran's nicely gauged direction was balanced between the story's poignant and droll moments. Kevin Knight's garret, its walls festooned with paintings and plays, felt like a cock-eyed, communal utopia of the arts with its slanted walls placed in the claustrophobic middle of the surrounding stage. It would later open like a hinged walnut-shell for Act II's Café Momus street scene. Knight's plain-clothed bohemians kept the story unfreighted with self-consciously precious elements as in Zeffirelli, though he spiced the ensemble nicely for the Café Momus scene of uniformed soldiers, baristas, patriotic flag-wavers and Musetta's usual flamboyance, this time in a lipstick-red dress. Rick Fisher's lighting shifted smoothly between carefree bright and care-burdened darker moments in the story.
Performance (***½) The standout was young Mexican tenor David Lomelí's Rodolfo, whose ardent, golden tenor awakened long-slumbering memories of Jussi Björling. The audience rewarded him with sustained applause after his "Che gelida manina." Ana María Martínez, a robustly vocal Mimi, held her own in the match-up. Corey McKern's jealous painter Marcello stewed while Heidi Stober's Musetta took a subtle approach to her "Quando me'n vo" waltz, beginning it as an intimate song within a small group competing with the melee, and growing it organically into crowd notice until she was spirited away by Christian Van Horn's stentorian Colline and Markus Beam's Schaunard. Double cast as befuddled landlord Benoit and stood-up politician Alcindoro, comic bass Thomas Hammons was humiliated twice. The final scene's tragic conclusion forged no new dramatic territory but was effective. Conductor Leonardo Vordoni maintained Italian lyric virtues in the pit.
Photo credits: 'The Santa Fe Opera on a Performance Night' by Robert Godwin, stage scenes from 'Faust' and 'La Bohème' by Ken Howard. Used by permission of the Santa Fe Opera.
Rodney Punt can be contacted at Rodney@artspacifica.net.