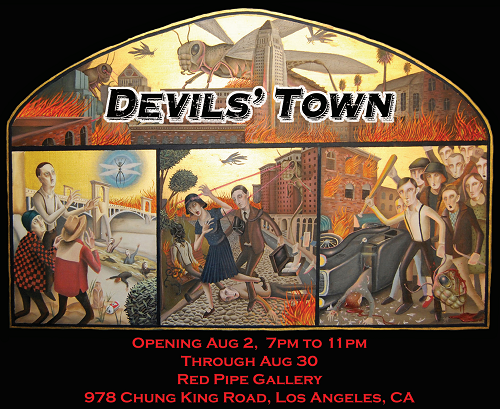 Los Angeles is a fragmented metropolis. Since the war of conquest when California was annexed into the United States and the village or pueblo of Los Angeles began its transformation into a city, it began its developmental process through an extreme scattered detachment of people. The 49ers, which were any Gold Rush seekers from all types of the world, came to the region to excavate for riches, the ones with the most skills were the experienced miners from Sonora, Mexico. Prior to the Mexican-American War, most of the Spanish-Mexican families in Los Angeles were from Sonora, and because of its close proximity, the miners traveled quickly into the area to stake out a claim. Today's Chinatown was once known as "Sonoratown" because of the Mexican inhabitants in this region, and the word "Sonoran" became interchangeable with Mexican.
Threatened by non-Anglo success, a policy was enacted and disguised behind a vagrancy statute -- The Greaser Act. If you've ever wondered where this derogatory term originated, in regards to the Mexican, you have your answer. I used to have a girlfriend in high school who lived in Torrance, half Swiss, half Portuguese, and when her father saw me for the first time he said, "Who invited this greaser to my house?" Fragmented.
Back in the 1800's, wealthy businessmen owned millions of acres of land from San Francisco to Los Angeles. Names like Leland Stanford, Mark Hopkins, Collis Potter Huntington, and Charles Crocker -- The Big Four, were the 1 percent and they monopolized the railroads, utilities, public car service, harbors, and other sectors of the economy.
They influenced public policy to their benefit and ran the state as a private entity. To protect their private interests, many vigilance committees were formed throughout Los Angeles. Since the state's legislators were in Sacramento, effective policy couldn't really be administered and lawlessness and chaos flourished across the burgeoning city. It became known as "Devil's Town" Los Diablos, and it was the most dangerous and violent city at the time with murders being reported daily. The violence reached a climax in 1871, in Chinatown, when 18 Chinese immigrants were lynched by a xenophobic and angry mob of about 500 mostly Anglo males who stormed the district. It was the first time the city of Los Angeles made it to the front page of the L.A. Times and international papers.
A new art exhibition is going up this weekend in Chinatown, in somewhat of a remembrance of not only this event, but others that mark the unsettling trajectory of our city. Several nativist artists within the dark progressivism genre including fine painters, graffiti writers, tattooers, and calligraphers, have responded to the call to create new work, while others searched their inventory to provide a piece that fits into the context of the theme. Los Angeles has a dark past and we can recall anything from lynchings, to deed restrictions, to internment camps, to riots.
Our present is blemished with concepts related to street gangs, gentrification, homelessness, and high density. We even have a dark and fragmented future as artists in several genres have pointed out in dystopian science fiction, disaster films, and apocalyptic doom. But, we are a world class city, it is ours, and we will fight and defend it tooth-and-claw. We've carved out our destiny in the fragmented metropolis and we demand respect and rights to this place like any other citizen. Chinatown will go up in flames this weekend in the throes of Devils' Town.
Photo Courtesy of: Jason Hernandez (Day of the Locusts) 2014