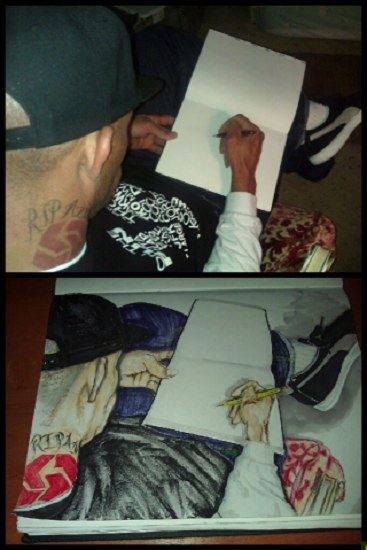 If you were around the underground graffiti scene in L.A. during the late 80s and throughout the 90s, you might remember the name Moezart from KWS, (Kings with Style). His stomping ground included: South Central, Watts, Compton, Lynwood, Southgate, East Los, South Bay, parts of the Westside, Central Los Angeles, Downtown, and a few others, wherever the transit took him. People would talk about him because of his fierce reputation, his mobbing consistency, his willingness to ride the RTD alone, and because he didn't back down from conflicts. Some never saw him physically and only heard about him through oral tradition like an urban legend. It's similar to what was said in Usual Suspects, he was something you would tell your comrades like, "Don't ride the bus alone because Moezart's going to get you." As a teenager, if you ran into a slim, 6'4", African American, light-skinned dude with green eyes in the back of the bus catching a tag, you better go in the opposite direction. In short, Moezart was the Bogeyman of graffiti, not to be reckoned with. In those days you couldn't show weakness though, people were always testing and putting pressure, especially down the mean streets of South Central where gangs flourished and graffiti writers were often looked at as substandard. Defending yourself and what you believed in was key to survival.
In the early 90s, two graffiti crews ruled the streets of South Central -- KWS and NBT (Nothing But Trouble), and unfortunately they were loosely associated and functioned within the gangs from the neighborhoods in which they developed. KWS with Eight Tray Gangster Crip, NBT with the Rolling 60s around Leimert Park, historically the longest and worst rivalry of two Crip sets that dates back to 1979. For graffiti crews it was difficult to dissociate from street gangs because many had relatives or deep connections with the gang, and sometimes it would take a small encounter to fuel a long-term conflict. In fact, both graffiti crews once got along swell, until an NBT member was murdered around 1990 in the Valley and the KWS crew was blamed. The NBT crew retaliated and soon members from KWS were also murdered in places like Inglewood and Lynwood, which launched a killing season. The way Moezart explains it is that taggers were never gangsters, they simply defended themselves against the gangs to protect their way of life. Taggers were mostly multicultural and championed heterogeneity and skill, while gangs were mostly homogenous and often closed to outsiders. There wasn't supposed to be serious rivalries amongst graffiti crews, simply friendly battles. Taggers were involved in criminal activity, mostly stealing and mobbing that created streaks of adrenaline, however, once the violence became more severe, many were swallowed by the strong grip of the street gang organization and retaliation. For KWS, the Maywood branch even formed their own gang, Krazy Wicked Sureños which spread to places like East Los and Cudahy, soon the rest of the crew adopted new enemies.
It wasn't always like this in Los Angeles though. Like many of us, Moezart grew up skating and wearing T & C Surf, Maui and Sons, and the Ocean Pacific label, he listened to new wave and dark wave bands like Depeche Mode, The Cure, and the Smiths, he wore tapered pants with creepers and monkey boots, and most importantly he was quite fond of classical music, which is where he got his moniker from. His friends would make fun of him because he would rack Mozart cassettes and they would joke about his striking similarity because of his strong European features. The name stuck. But as the years went by and teenage angst turned into violence and rebellion, the collective consciousness on the street became more aggressive. His home was just two blocks from the birthplace of the 92' riots and he wasn't going to be a passive observer watching it on the news. If the streets of Los Angeles were going to burn in an anarchic struggle, then he would play his part. He saw the local gang members, his friends, and others he knew from the neighborhood rioting and looting on the corner of Florence and Normandie as it became mob rule. That would soon lead to other types of criminal activity, but he was always comforted by the hundreds of friends he met from riding buses. The way of life, the tagging culture, the comfort of grimy neighborhoods -- these things he always held dear and never regretted. Often, we cannot pinpoint exactly where or how many wrong turns we've taken or where that will lead us, but it is an individual choice you must face. Shortly thereafter, Moezart caught a case and went to jail, then prison, until the recidivism philosophy triumphed over and over. Today, Moezart does tattoos, paints pieces and murals, and helps with the restoration process on some of the walls in South Central L.A. If you see a guy like the one I described above with an RTD logo tattooed across his neck, a crown on his throat with the words "Solo Dios Sabra" etched on top, don't be alarmed, because he's actually one of the kindest and most approachable people around.