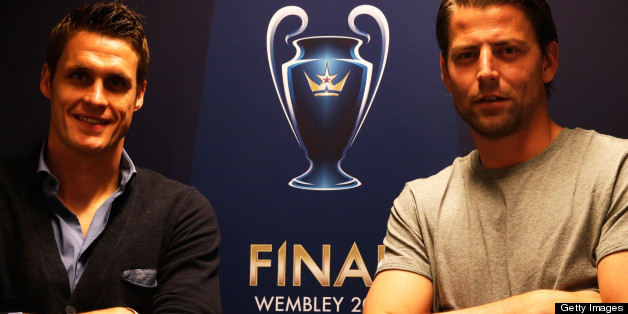 This year's Champions League competition has been revelatory in a number of ways. Two teams that many pundits picked to win it all (Barcelona and Real Madrid) fell short. For Barcelona, talk of the end of a golden era has been tempered by the fact that they retained the La Liga title. In the case of Real Madrid, failure in both the league and the Champs League has been truly catastrophic for their fans.
Let's not forget that Real's season has been all about getting that hallowed Decima (10th Champs League title). They thought coach Jose Mourinho was the man for the job. Besides the squad infighting that he relished in, not getting number ten for the Blancos was the final push that led Mourinho out the door.
Two German sides, Bayern Munich and Borussia Dortmund, will be competing for the Champions League crown. This is further proof of the strength of the German league. The Bundesliga has always been strong financially, but their showing this season amongst the best European clubs has really made the rest of the world take notice. Pep Guardiola, who won everything twice with Barcelona, would not have gone to Bayern Munich if that were not the case.
The two teams that will fight for this season's hallowed Champions League crown enjoy one of the biggest rivalries in the world. That's what happens when you are consistently the two best teams in the German league. These teams have never liked each other, and I am sure that will be on display at Wembley for the Champions League final. They played a league match a few weeks ago and even though it meant nothing (Bayern was mathematically Bundesliga champions by then) and they fielded mostly second-string players, the game got very snippy.
Bayern Munich is known as FC Hollywood because of all the superstars they have on their roster and the drama they bring on and off the pitch. It's ironic that the team, as the leading club in Germany, had an inferiority complex when it comes to the Champion's League. In past years, players of the caliber of Franck Ribery and Arjen Robben seemed to shrink on football's biggest stage. After a good spell in the '70s when they won the competition three times in a row, they had only won it once since, in 2000 against Valencia. This year, they turned it around and beat Barcelona, what many consider the best team of all time, to get to the final.
Borussia Dortmund are a young, exciting side coached by the enigmatic Jurgen Klopp. To give you an idea of how good he is, Klopp was mentioned as a possible successor to Sir Alex at Manchester United and is still being bandied about for the Real Madrid job. He has been able to take a team who pays less in wages than Queens Park Rangers (an English side that was just relegated) to second place in the German championship and the Champion's League final.
Let's not forget that Dortmund's best player, Mario Gotze, has signed with Bayern Munich for next season (there were plenty of Gotze jersey burnings in Dortmund after this announcement). His departure was announced right before their semi-final match against Barcelona, and surprisingly it did not affect their performance on the pitch. Now, Gotze is struggling to come back from an injury to start against his new team, awkward much?
Bayern's experience and ability to score from every midfield position will be the difference in the game. They not only get goals from Robben and Ribery, Toni Kroos, Xherdan Shaqiri, and Tomas Muller are also goal scoring threats. These players racked up an impressive total of 42 goals this season. This promises to be a fun, fast-paced match where some of the best players in Europe will showcase their skills. It will be close, but I predict Bayern will lift the trophy.