Illinois Governor Pat Quinn speaks at a press conference during the 2014 Council of Great Lakes Governors meeting at Shedd Aquarium in Chicago.
For the first time ever, eight governors and two Canadian premiers -- separated by borders but connected by the Great Lakes-St. Lawrence River Basin -- signed a Mutual Aid Agreement to work together to fight aquatic invasive species such as Asian carp. The agreement recognizes that if aquatic invasive species invade any one of our waterways, it will have a ripple effect on every individual, community and business that relies on the world's largest freshwater system. As one of more than 40 million people living in this region, and someone personally and professionally invested in protecting our Great Lakes, this was an exciting moment to witness.
In addition, the agreement seals the already collaborative effort to protect our shared resource while also empowering Great Lakes states and provinces to share staff and expertise to prevent the introduction and spread of invasive species.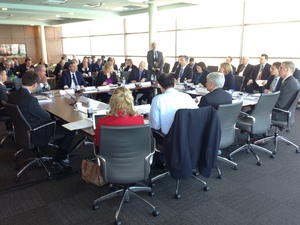 The first-of-its-kind agreement was one of many outcomes at the annual Council of Great Lakes Governors executive meeting held at Shedd Aquarium in Chicago. I was fortunate to attend this meeting and hear from leaders from across the basin, including Council Co-Chairs Illinois Governor Pat Quinn and Michigan Governor Rick Snyder, and also Wisconsin Governor Scott Walker, senior representatives of Indiana Governor Mike Pence, Minnesota Governor Mark Dayton, New York Governor Andrew Cuomo, Ohio Governor John Kasich, Ontario Premier Kathleen Wynne, Pennsylvania Governor Tom Corbett, and Québec Premier Philippe Couillard.
The group of Great Lakes heavyweights also developed a series of actions to elevate the region's global business competitiveness and better protect the environment. With the theme of the meeting all about accelerating progress, additional action steps include:
Launching a comprehensive strategy to improve the Great Lakes-St. Lawrence River maritime transport system and better integrate it into the multi-modal transportation system;


Creating an investment initiative to attract Chinese and other foreign investment to manufacturing in the Great Lakes region;


Taking executives from regional small and medium sized businesses to four exciting markets, including east Africa, eastern Europe, Mexico and Québec; and,


Improving water monitoring across the Basin.
At Shedd, we work closely with policy makers and other regional partners to protect our shared aquatic resources. For instance, we partnered with the Great Lakes Restoration Initiative - the largest federal investment in the Great Lakes in two decades - to develop a suite of digital tools to educate the Great Lakes community about the invasive Asian carp species and inspire people to take action. In addition, Shedd works with researchers at Loyola University and Western Illinois University to study invasive weatherfish in order to understand how this species might affect local wildlife and habitats. Collaborative efforts like these allow us to leverage our combined networks and resources to accelerate progress for the Great Lakes and the animals and people that rely on them for their quality of life.
We all love our lakes, and Shedd is proud to be part of the movement to better protect and preserve them. You can learn how to prevent the spread or introduction of aquatic invasive species by checking out new materials from each participating state and province.