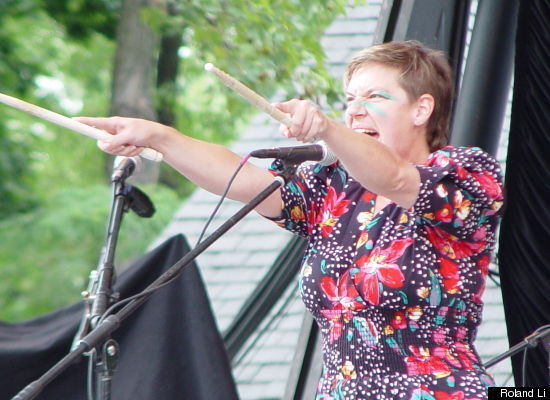 A friend asked at last Sunday's SummerStage show if the lineup had any relation to Lilith Fair. It didn't -- that show had rolled through town the night before -- but the acts provided three templates for young, post-millennium, female rock success.
Basia Bulat started things off promptly at three, her voice soaring above a menagerie of electric and acoustic instruments (autoharp! hammered dulcimer! ukelele!). Bulat was accompanied by an ensemble of help, including her brother on drums, but resisted the Canadian collective mold (Broken Social Scene, for example) by demanding the audience's attention with her warm banter and rousing vocals. The best songs were the churning, pop gems that gushed into Central Park's summer air.
tUnE-YarDs, the aggressively capitalized project of Merrill Garbus, was next. Garbus pounded two drum sticks while looping her voice -- alternating between a yodeling howl and an abstract chant. Although the Summerstage introducer said a full band would be appearing, the extra personnel -- including three drummers and some horns -- didn't show up for a few songs, and Garbus dominated the set with her voice and beats. Gleefully bizarre, she was melodic and chaotic.
St. Vincent, née Annie Clark, struck a middle ground between the surging pop of Bulat and the arty noise of Garbus, melding the two elements with songs from Marry Me and Actor. A dash of classicalism came in the form of woodwinds and violins, but Clark's rock star posture was most memorable as she shredded convincingly. And then there's her stunning, operatic voice, a majestic presence that puts the majority of indie rock to shame.
Afterwards, Clark was bummed, according to her Twitter feed, about the show's sound issues, but from here, everything sounded pristine.