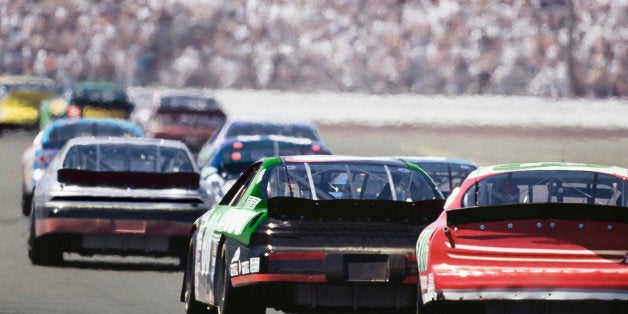 Much as Wisconsin's Brewer and Packer games feature the rituals of tailgating, NASCAR fans have their own take on preparing for races. On a recent weekend at Newton, Iowa's windswept NASCAR track, pop-up canopies in the parking lot displayed images of favored racers, smokey grills worked overtime, and enough light beer flowed to fill a couple of semi trailers. But as NASCAR veteran Rusty Wallace commanded racers to start their engines at the start of the Newton 250, I was already considering alternative beverages for our next trip to NASCAR.
It takes an inaugural trip to the races to realize what could make it better. My son Coburn and I had stockpiled sunblock, ear protection, water and sports drinks, and salty snacks for a long day at the short oval track. The race was the party: no alcohol desired. A day with my son was magic.
But on a different day -- with adult company -- and with a designated driver in the crew, a few wine selections would make for great pre-race sipping prior to the waving of the green flag. No need for fussing or for huge quantities of drink. Just great wines for a country cookout at the track.
At home, we drink a lot of old world wine, but a quintessential American pastime like NASCAR demands domestic choices. At a venue punctuated by the powerful aromas of the track, farm country, and grills, wines need to measure up and stand out. There's nothing wrong with icy cold brew before the race, but most water has more flavor than the light beer going around, and craft brew is perhaps too geeky for the NASCAR scene. The presence of wine encourages sipping rather than gulping, which is just what our pit crew recommends ahead of the race.
To wash down grilled Italian sausages we'll bring from Fraboni's Delicatessen in Madison, or the smoked Lake Tommy Hot Dogs made in Tomahawk, Wisc., and the all-vension burgers with horseradish and raw onion, I'll bring white, rose, and red. Simple, solid, NASCAR wines.
In the pole position, Matt Cline's wines from Three Wine Company, sourced largely from Contra Costa fruit, are like the old 1968 Delta 88 I learned to drive on; honest, powerful, prototypical. His all-Carignane rose from 100-year-old vines has the chugging V-8 power needed to back up a flavorful grilled sausage, alongside pesto pasta and a tub of spiced olives. Full-bodied and intense on the attack for rose, this is a unique style I favor over salmon-hued roses from Provence for the NASCAR setting. Grab a box while it's around as there were fewer than 600 cases made in the 2013 vintage. $15-16. This is rose made for the grill.
For a sun-drenched day at the track, Yakima Valley's Chinook Winery 2012 Semillion is versatile, savory, and thirst-quenching next to grilled fish or chicken sandwiches with avocado with black bean salad on the side. You'll have to order it from the winery -- or from Washington -- as Chinook is small and not widely distributed. But the wines are worth seeking out and would be an asset in any pre-race nourishment kit. About $16-17.
As tailgating isn't about eating and drinking for three, exercising moderation before a long day in the sun is the ticket. If you're smart about it, you'll be consuming more water than wine. Try Palmina's lip-smacking, picnic-perfect Dolcetto from Santa Barbara at about $20. Or look for the Buried Cane Columbia Valley Cabernet at $13-14 for straight ahead, lush Cabernet, saturated with dark-fruit: great with burgers, sour cream 'n onion chips, and fresh green bean salad before you walk off the meal and take your seat trackside.
There's nothing like a first race experience. And when you visit a track like Newton, 30 minutes east of Des Moines, Iowa, skip the light beer and bring along wines for the pre-race tailgate.
Ladies and gentlemen, start your picnics!