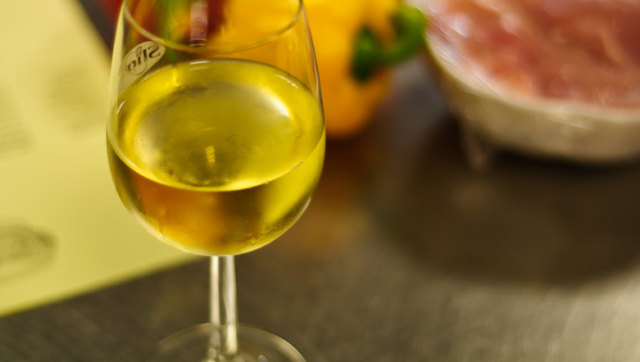 Not long ago, standing in the shadowy wine corner of the basement amidst a tangle of boxes and old racks, I dug out an intact case of 2001 Chateau Leoville Poyferre, a well-known property from Bordeaux's Saint Julien region. It was an evening in chilly late November; our daughter Nel's eleventh birthday. Without pomp and with flathead screwdriver in hand, I carefully pried the creaky lid off the wooden box. The bottles sat gleaming in perfect condition, looking as if they'd been labeled earlier that day. And so began a new tradition: drinking Chateau Leoville Poyferre for the last day in November. The wine was simply beautiful, firm Claret opened - by chance - at a stage ideal to our tastes, but not yet to Nel's.
It should go without mention that Nel's birthday ruled the day. We exchanged the gift of family time; my wife made cassoulet, I made dessert and we all enjoyed a cozy night together. Any bottle could have filled the glasses with dinner but a little planning years ago ensured we could serve wine from Nel's birth year. Thousands of options were available; by chance and availability we settled on this. In previous years, we'd had other odd bottles from 2001. There had been Argiano Brunello di Montalcino, Andrew Will Merlot, and Domaine Oratoire St. Martin Cotes du Rhones, to name a few. We are fond of these producers but the wines had no essential ties to us. The only link was the shared vintage.
In two simple points, these bottles differ from others we drink at dinner parties and holidays. First, they from a vintage particular to the event. And they are consumed on the day or close to the time of the milestone. An example might be a bottle from the year you were married, to be shared on the day of your wedding. Everything else about the bottle is up to you and serendipity.
To begin, ask yourself if the novelty is worth the investment. Beyond the fact that a wine was grown, harvested, and made in a year which has meaning to you, the exercise may be irrelevant to many celebrants. Most will be satisfied with the usual favorite wines or brew. There will be those who dismiss this as treacly or mired unnecessarily in nostalgia. But for many of us, it's a rewarding ritual as much fun in the planning as it is in popping the corks.
Once you've decided to try it out, here are a few things to consider:
Choose the occasions worth buying for. I've accumulated wines for the birthdays of our two children, for the anniversaries of the year I met my wife and the year of our wedding, and for the year we moved to our current home. It's only a few days each year we have bottles in this fashion. Other events could include any milestones meaningful to you or your partner: graduation, career, a loved one, health, home, or something dear in life. Add or take away occasions at any time, and celebrate for just one or for many years. Twelve years ago, I narrowly avoided a truck veering toward me on a country road near our home. The driver didn't make it; I escaped injury and upon arriving home, opened a bottle we'd been saving for the sort of moment you know only when you feel it. For a couple of years, I quietly toasted to life on that day and then moved on.
Choose the wines for the occasion. Vintage trumps the wine source, but you'll want wine up to the task. If there's a winery you've visited and enjoyed, that's a bonus. Keep tabs on strong vintage predictions in important regions or consult an experienced merchant before buying. Keep in mind a simple checklist before buying bottles or a case from the chosen year: the style, the aging potential, and your taste preferences. Strategize ahead of time as most reds are released in the years after the actual vintage. Buying early ensures getting the goods. A few retailers offer items on future's basis. Be prepared for poor vintages; there's no need to buy marginal juice just to have something around.
Choose the quantity. The selection and scope of the purchase is wide open. College graduation in the year 2010 might be cause for buying a first keeper case of wine. Depending on means and loans to be repaid, buying more than a bottle may stretch finances. If you can afford six to twelve bottles, Bordeaux could be a fitting way to mark graduation each year. Try twelve different wines or an entire case from a property. Decide how much you can afford for this exercise; it's extravagant to invest in wines you won't be drinking on a regular basis. An upside to buying a case; you'll marvel at how much you can learn about a wine when you buy it in quantity. Just make sure you like it enough to celebrate the milestones, and the wine.
Reds are generally more desirable for long term keeping and drinkability than whites. Pick the right wine for the right drinking time. You might like Beaujolais; don't buy it now for your tenth year anniversary. Some Cabernets get better with cellar time but it's not an automatic; not all vintages - even from the most age worthy estates - are suited for stowing away.
Unless it's late-harvested white like Sauternes or Barsac, take special care in selecting white wine to keep around. Fans of Chardonnay should pick a wine which may improve; a wine like Mount Eden Vineyard's estate bottling is an example. White Burgundy from some producers and sites ages very well. Pick six bottles of Chardonnay for the first six birthdays, and then drink reds in succeeding years. If Riesling is your thing, dry and late harvested wines from Germany can be great after years in bottle. Chenin Blanc from certain sources in France's Loire region can also age at a snail's pace.
Don't forget sweet, fortified wines like Port or Maury from Roussillon. In a scorching season such as 2003 - the year of our son Coburn's birth - many wine-growing regions around the globe experienced too much heat. In these vintages, winemakers are not always blessed with material to make great, long-lived wine. I decided to buy port from 2003.
Vintage dated spirits or those labeled as "ten years old" can stand in if wine isn't always your thing. A bottle of Armagnac, Scotch, or Calvados can be enjoyed over many months. Vintage dated beer is another option.
At some point, there is a risk of having too much of one wine now at peak drinking. Perhaps you have multiple bottles of a lovely Zinfandel first opened on your anniversary. It's five years on, and you know it's best drunk up. Don't feel beholden to the ritual if it means drinking tired wine. We saved a couple of bottles of Cotes du Rhone from our wedding reception and, although 1998 was a great in southern Rhone, the Domaine Segries wasn't built to last forever. If you bought too much, drink it up, and adjust your buying strategy the next time around; don't make this a chore. There's no rule mandating this type of ceremony must continue beyond your desires or whims.
Try it out and enjoy it for what is is; a joyful tie-in to important years in life and in the vineyards. If you do, there's a chance that you might be one of a few people around the globe clinking glasses of this particular wine. On a day which happens to hold historic import in your house alone.