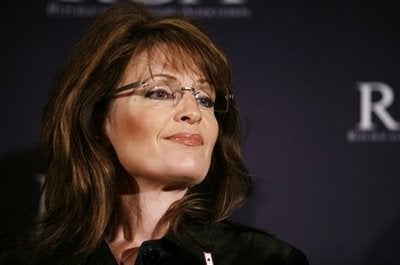 MIAMI -- Alaska Gov. Sarah Palin had an hour-long Q and A with CNN's Wolf Blitzer, spent another 30-some minutes with Larry King, hit a few more of the cable and network news outlets, chatted with local South Florida area broadcast and print media, took charge (much to the chagrin of her fellow GOP executives) of a party press conference and, in general created what appeared to be a 48 hour "media frenzy" at the Republican Governors Association annual two-day convention.
The confab at the downtown Intercontinental Hotel overlooking Biscayne Bay was supposed to be a "show of unity" for the GOP governors, as a follow-up to the devastating Presidential electoral thrashing the party took on Nov. 4. But, the Palin media soiree caught almost everyone off balance. Here was a governor -- one who no one really knew until three months ago when Republican nominee Sen. John McCain put her into national politics with a second spot on the ticket -- taking center stage.
Palin alluded to questions from several media sources that she had been "handled" during the campaign, thus keeping her away from many media interviews (after a disastrous Katie Couric encounter ) but she more than made up for her lack of press contact during the campaign during her two day stint in Miami. As one journalist noted, "she was everywhere." "It's Sarah Palin's Show at GOP Miami Meeting" headlined the South Florida Sun-Sentinel, over an article by political writer Anthony Man. Man called her a "hot commodity."

But, staffers connected to other governors on hand were less than enthusiastic, noting "she is not the de facto leader of the party."
Others -- many who spoke only on condition of anonymity -- called her multi-press interviews and broadcast appearances as "sucking up all the media oxygen." One governor, Mississippi's Haley Barber, however, came to her defense, shrugging off that description.
In fairness, the media seemed to be seeking her out for a comment at every opportunity.
However, the press conference on Thursday apparently caused the most concern, comment and replays on national television well into the evening Thursday and Friday morning. Backed by 13 other GOP governors as a show of party unity -- after a lengthy introduction by Texas' Rick Perry, Palin took over the microphone and attempted to answer all the questions (with her fellow governors looking awkwardly on) before the press staff shut the media conference down after ll minutes and four questions.
Palin also was criticized for adding to the tension because of her speech at the Miami meeting. It was supposed to be a call for unity and for the future of the aching Republican party. But instead Palin spent much of her talk about her experiences as the first woman on a national GOP ticket and a call to keep President-elect Barack Obama"in check." There were little details, but she reportedly was continuing to rebrand her image which she says was unfairly tarnished during the presidential campaign,
In her TV appearances, Palin also made comments about her party-paid-for wardrobe, purchases (she called them merely theatrical props), her pregnant daughter (who she said could be a leader in teaching teens how to avoid such situations), repeated some of her anti-Obama campaign criticism ("he palled around" with the wrong people), and continued to praise Sen. McCain as a national hero.
She also continuously denied blame for the GOP'S defeat. "If I cost John McCain one vote, I am sorry."
"I think the economic collapse had a heckova lot more to do with the campaign's collapse than me personally," she told NBC.
Several newspapers reported that host Florida Gov, Charlie Crist, had lost much of his luster when McCain turned to Palin for the number two spot on the ticket, despite his campaigning full steam for him in the primary. He welcomed the governor's group to South Florida with a call for unity.
Others on hand (and mentioned as potential candidates in 2012) included Gov. Bobby Jindal of Louisiana (notably missing when Palin held her press conference flanked by 13 other leaders) and Minnesota Gov. Tim Pawlenty of Minneota. And, some pundits have written about the success of several two-term winners in the party -- John Hoeven of North Dakota, Jon Huntsman of Utah, Jim Douglas of Vermont and Mitch Daniels of Indiana
Gov, Palin left the possibility of a 2012 presidential run or a Senate seat campaign as something she might consider, but said she would be devoting herself to her job as Alaska's chief executive.
Citing the Almighty as the ultimate decision maker, she noted that she would not appoint herself to a Senate seat if convicted Sen. Ted Stevens is ousted from the Upper Chamber, but said that if God should open the door to a special election, she might walk "through the door."