Ten years ago, I served as a judge for the International Mr Bear contest, part of a large gay/bi men's event called International Bear Rendezvous that was organized by Bears of San Francisco. Earlier this year, I served as a judge for the Mr Bear Boston contest held at The Alley Bar, sponsored by a relatively new bearclub, Massbearz.
Bear contests, like their components in the queer Imperial Court and leather scenes, often are held as fundraisers for the local bearclub and charities, creating essentially male beauty pageants performed by and for gay, bi, and queer men in the bear community.
I cannot help but compare my experience of Bear contests with my observations of a similar men's competition I witnessed earlier this year, the East Coast Beard & Mustache Championship held in the City of Brotherly Love, Philadelphia. The "Mr Beard" event is featured on the IFC series
Whisker Wars in its second season opener playing tonight, Friday, December 21st.
Preview of Whisker Wars season premiere: "Jack Passion Gets Booed"
At the event I ran into a friend who informed me that he was one of a handful of gay/bi bears involved with the Philly Beard Club. I knew that the contestants would mostly be hetero men, but I wasn't prepared for the outright homophobia of the emcee and sheer awkwardness of these men's behavior in this setting.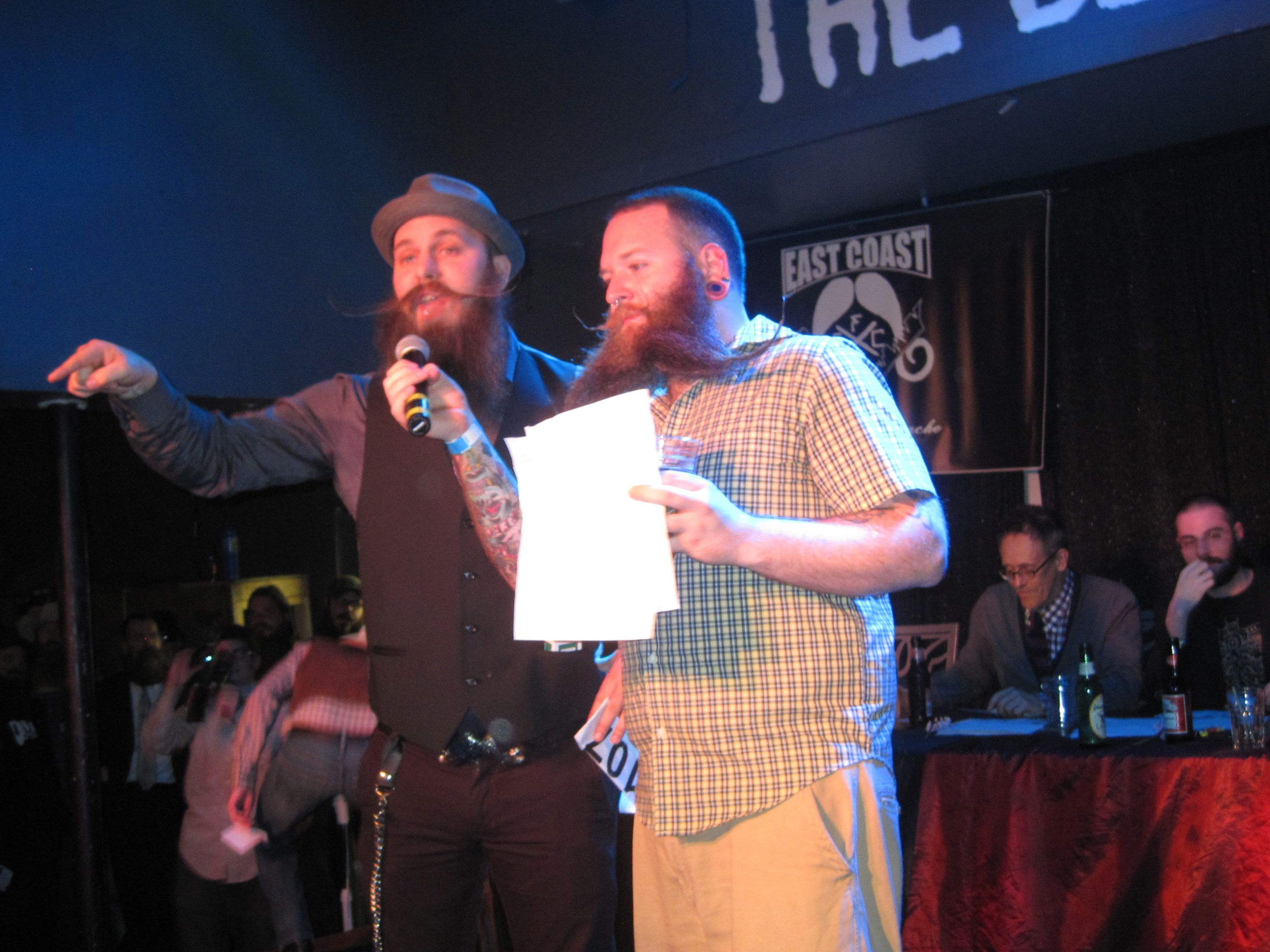 The emcee, who was drinking as fast as anyone would buy him a beer, seemed to think it was hilarious to make cocksucker jokes with the contestants. While it would be weird to imagine a gay Bear contest without numerous jokes about manly vs. faggy behavior, at the Beard contest it was quite alarming that the emcee would taunt contestants that way.
At any Bear contest, there are personality and talent components that are entertaining -- even though the contest usually goes to the best-looking bear. There are often butch-wear and uniform presentations, and quite often, drag performances, all of which plays with gender roles and pokes fun at our concepts of masculine behavior.
What seemed lacking in the Beard contest, but found abundantly in Bear contests, was a sense of irony or camp. At the Beard event, more than 100 contestants were introduced cursorily (and often with curses) to the audience and then told to present their facial hairdo to the judges.
Bear contests are often criticized as being silly, but the Beard contest was superficial beyond belief. Perhaps it was just this particular event's emcee's drunk/homophobic undercurrent, but it felt uncomfortable watching a group of straight guys parade their facial fur in front of a mostly male crowd, asking these men for direct acknowledgment of their looks and masculinity -- in a noncampy, nonsexual way.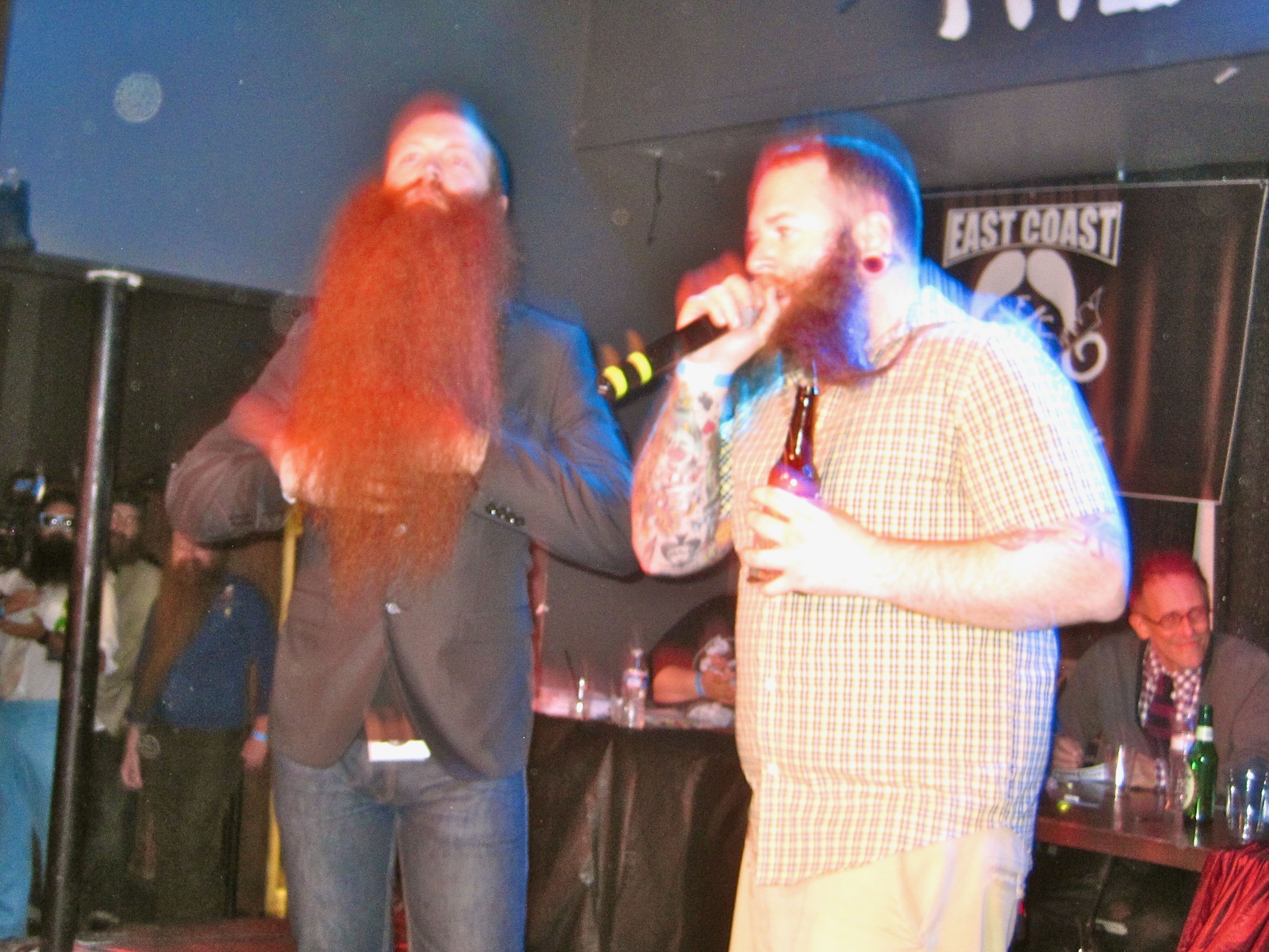 Certainly most of the beard & mustache men at the event, which also raised money for charity, are not homophobic. But it was fascinating to watch how some of the contestants interacted with the crowd -- one fellow ripped his t-shirt off to display his manliness -- and with each other in this context. The line delineating male physical affection that is acceptable because it is perceived to by either gay or not-gay got stepped on a lot that night.
To the credit of the Philadelphia Beard & Mustache Club, vice president Rob Wanamaker emailed me immediately after the event to apologize for the emcee's behavior. "He was very very drunk and to be honest talking out of his ass. We are not a homophobic club, in fact several of our club members are part of the glbt community, and are welcoming to all," he wrote, and I believe him.
I'd like to attend another facial-hair fetish fair such as the ECB&MC to see how differently straight guys act when the emcee is not drunk and talking out of his ass.
In any case, check out Whisker Wars, and you may catch a glimpse of me in the media area -- sporting a full bushy beard, of course.
Photographs of ECB&MC by RJ Suresha