Room to Grow is a nonprofit organization that impacts the lives of families raising babies in poverty from newborn to age three. Our unique, three-year program provides families with one-on-one parent education and support, essential baby items, and specialized referrals to vital community resources.
One of our program graduates, Angela*, was recently recognized by Room to Grow for her resilience and determination to create a loving home for her family. Originally from Ghana, Angela came to New York to build a better life for herself, and enrolled in our program when her son was born. When asked to share her experience, she described her personal struggles and growth towards self-confidence and empowerment through the support she found at Room to Grow. Here's Angela's story in her own words:
My journey starts in Ghana, West Africa. My mother passed away when I was young, and my father wasn't very involved in my life growing up. I was raised mostly by extended family. After university, I moved to another country with my boyfriend, but he left me. But believe it or not, things got even worse after that. There was a massive earthquake where I lived and many people died. I knew then that something needed to change in my life but I didn't know what or how.

Eventually, my father and his new wife reached out to reconnect and I came to New York to live with them, hoping for a new life. But I ended up living by myself and was barely making ends meet. I was struggling to make sense of my life, and I was extremely vulnerable. Looking back now, I'm frustrated with that version of myself and the circumstances around me. I felt like I didn't always have the confidence to be my best self.

It was at that time that I became pregnant with my son. I was working in a laundry facility, washing and folding towels for hotels, restaurants, and gyms. It was such hard work, and it got even harder as my pregnancy progressed. Every penny I had went towards the basic necessities. I was overwhelmed, and it was one of the darkest moments of my life. I felt completely alone, and I think I suffered from depression.

Luckily a case worker at the hospital was able to help. She said, "I think I know an organization that can assist you. It's called Room to Grow."

When I walked into their beautiful space, I immediately felt a burden lifted from my shoulders. It was the first time I felt at home and empowered. No one there criticized me, no one ever judged me. They supported me and treated me with warmth and respect. It was a completely new experience for me, very different from most of my experiences up to that time. I had options when scheduling appointments, my social worker worked alongside me to select baby items for my son, and if I ever needed anything, all I had to do was ask. From then on, they looked out for me and my son. At one point we discovered that he had a speech delay, and Room to Grow made sure we were accepted into an occupational and speech therapy program. And at each visit, my social worker was able to see how my son was progressing, assess his growth, and give me new advice. At Room to Grow, they believed in me as a parent. And as a person. They believed in my son's potential. So I came to believe in it too.

When I look at my son now, I see promise. He is so smart and his language is improving every day. I'm so proud of him! I want him to know that he can be anything he wants to be – a teacher, a doctor, a lawyer. No matter what his dream is, I will support him and be by his side.

Since graduating from Room to Grow, my life has continued to change for the best. I have a stable job and feel more financially secure than I've ever been. I hope to go back to school for a degree in human resources. Most importantly, I finally have the loving home with my family that I always wanted.

What I learned through my experience at Room to Grow is that anything is possible and that hope, encouragement, and friendship are important. You can be whatever you want to be. But sometimes, we all need someone in our life to tell us that. For me, that someone was Room to Grow.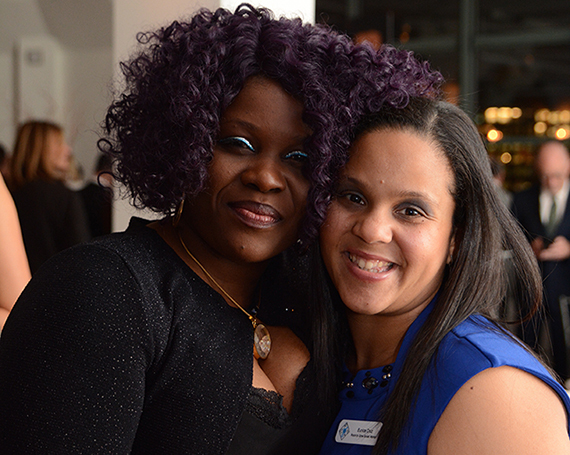 AMY PINARD PHOTOGRAPHY / COURTESY OF ROOM TO GROW
*Name changed for confidentiality