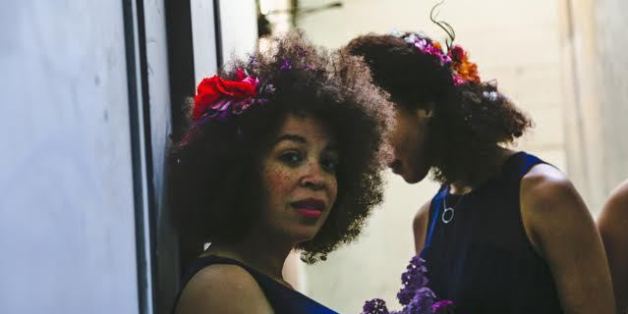 As I pinned flowers into the hair of three stunning natural-haired black women a week or so ago, we chatted about our hair histories, what it was like growing up with the hair that we have and when we realized that it was better not to fight it. There is absolutely no better icebreaker or female bonding topic than the subject of our hair.
As we chatted, I thought about the fact that there have been very few times in my career that I have had the opportunity to work with African-American hair. And I get it... I'm a white lady. We have different hair textures and very different hair experiences, and I don't even know the right words to use.
17 years ago in beauty school was the last time I had gotten to work with black women and their hair, and that was mostly because I went to a mostly-black beauty school. I was not a popular choice with the patrons of the training salon, who mostly referred to me as "The White Girl."
I had no experience whatsoever with the hot-ass burning combs that were heated in real ovens, let alone chemicals that could melt off your hair if you didn't apply them perfectly. This was way higher-stakes hair. I was beginning to understand the years of oppression and assimilation that my black sisters had faced regarding their hair.
It became clear to me that black women had a completely different hair reality than white women.
By the end of school, I could apply a virgin relaxer and a touch-up without overlapping. I could braid cornrows and I could do a press-and-curl in ½ hour or less, without a single singe to the scalp. Working with natural, textured hair made me a better hair stylist, and it helped me be more understanding of the sacredness of a black woman's relationship with her hair. It also taught me that we have a long way to go as a culture to create a greater reality of equality... And we can start with understanding each other's hair better.
In light of current political and social protests highlighting the fact that our mainstream society is still largely as racist, biased, and ignorant as ever, hair doesn't seem like a very important topic. But as a hairstylist and a woman, I can say with confidence that the topic of our hair experience an an axis of truth and empowerment for women of all colors and a gateway to greater understanding across the board.
A woman's hair is her confidence, her safety blanket... her thing. We can all agree on that. Unfortunately, in our society, there is a very narrow standard of 'beautiful hair,' let alone 'beauty' in general. We are raised to value our beauty as a commodity, the mecca which we crawl towards, but never reach. This unfair fact affects women of all color across the board. It is our duty as women to change this reality.
Fortunately, we can thank our black sisters for laying the groundwork for 'Hair Reform' with The Natural Hair Movement in the '60s, which has come back around in full, big-haired force. Women all over the world are disengaging with the fight to assimilate their hair to an unrealistic standard of beauty.
The Natural Hair Movement was a defining movement for black women and it continues to redefine beauty for all women in relation to their hair. It has helped pave the way towards a greater acceptance and understanding of ourselves, and a better understanding of each other. It has spread and empowered women, globally.
This gives me great hope for hair and for woman-kind. It gives me hope that the press and curls and relaxers of yesterday have become the twist-outs and deep conditioners of today. That all colors of women are learning to accept and love their hair, and that in the future, we will all be doing each others hair, in celebration of freedom and in search of deeper understanding.
The subject of our hair, and the notion of 'taking it back' is something that we can all do, together. It is great way for women to connect with other women across racial lines. We all have a hair story. We are in this together, each of us with our own unique history. Let's share our hair stories with our sisters and we can all elevate this movement together, and help change the narrative of race, beauty and women.
While we are at it, let's embrace the Floral Afro as a symbol of progressive change. Let's continue to strive together towards equality and greater understanding. Let's celebrate the unity of color, the acceptance of each of our unique beauty, and the solidarity we seek to stand together as women and fight the good fight together, backing each other up and doing each other's hair.