The energy resounding through Sundance this year was undeniable. 2011 has already proved itself a landmark year not only for record-breaking film sales at the festival, but also for the arrival of a new crop of American filmmakers. With a median age of 32 years old, the films made by this year's cohort of writers and directors collectively portray the ambiguous state of affairs for a generation grasping for solid ground within a contemporary landscape of skepticism, willful apathy, and cultural disorientation.
The films in Sundance's Next section, nearly all written and directed by a mid-late 70s, early 80s-born generation, act as a compass around my generation's consciousness. Described as films that "stretch a low budget to create big art," the films in Next are more aptly characterized as the films that cut straight into the pulse of contemporary American society. No quivering, no hesitation -- these movies are consistently the most brazen in the stories they tell and uncommon in their approach.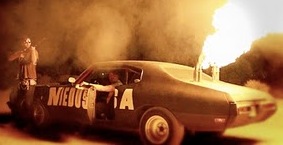 Toddling around when Reagan took office, my generation fed on the values of a free market, inevitable progress, and unbridled success. Now, we find ourselves in the midst of a nearly decade-long war, an economic collapse of global proportions, and environmental disintegration spun out of control. In Evan Glodell's Bellflower, two Southern California late twenty-something dudes are literally waiting for the apocalypse so they can finally rule the streets with their flame-throwing, imaginary gang, Mother Medusa. In stark contrast to this macho fantasy, Erica Dunton's to.get.her features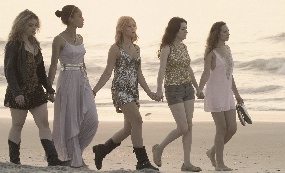 five seemingly privileged young college-age girls with everything going for them - beauty, youth, intelligence, charm, and all the time in the world- except that they literally see no future for themselves. What appears as a flippant girls' night-out-of-no-consequences reveals itself tragically to be the only avenue through which they can register a statement about the pressures of modern-day girlhood loud and clear.
We based our worth on what we could buy, and defined our personal power by the ease and accessibility of our technology. In Matthew Lessner's absurdist,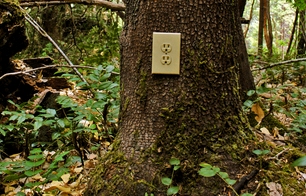 playful The Woods (which premiered in the experimental New Frontier section, but is ideologically in line with the NEXT titles), twenty-something's skip off into the woods to create a utopia - ladled with candy and all the gadgets they need for their happily ever after. But when the electricity is cut off, they spiral into a hipster-style Lord of the Rings chaos that leaves them helpless in nature, alien to their own bare hands. Ipads are cool, but they won't help you catch dinner.
So when we finally take that giant step back to take stock of who we have become, where we are, and what is left to believe in, it's not surprising that we first look to love. But that turns out to be a little, well, fatal. Barely surviving the harsh climate of North Dakota plains is the sole silver-lining to the creepy yet unnervingly romantic, starkly humorous, and startlingly composed drama Prairie Love. Dusty Bias directs this story about a 23-year old woman (played by co-writer Holly Lynn Ellis) who is released after doing seven years in a state correctional facility and is met by a man so desperate for a connection, he has no qualms about taking on the identity of her boyfriend pen-pal and conning her for some love. Even once she knows he's not the one (and that he's probably had something to do with her missing beaux), she goes along with the fantasy propelled by both their needs to be anything but lonely. Restless City is another bleak (if familiar) story about a young Senegalese immigrant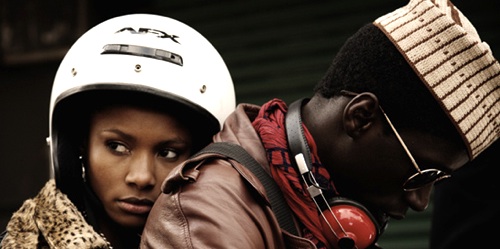 whose dreams of becoming a musician are quickly snuffed out for a beautiful woman in over her head. Directed by legendary photographer Andrew Dosunmu, the film is exquisitely lensed by rising star Bradford Young (winner of the cinematography award for another Sundance select, Pariah), and paced with a distinct rhythm you've never seen New York caught up in before.
But everyday life for most of us is not as life-threatening, contemplative, or cinematic. While most films are fueled by a situational or issue-based tension - something happens, someone dies, gets born, loses a job, gets sick, falls in love, breaks up, leaves, or comes back - some of the 2011 films deal with an internal struggle, provoking larger, ethical questions about our values and where they've landed us. Disorientation emerges as not just a theme - but as a way of life - in the films by this up-and-coming generation. Is the American dream just a delusion we bought into? Is the life we've been setting ourselves up for even going to make us happy?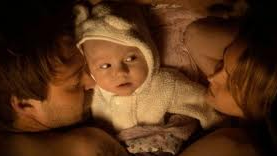 In Joshua Leonard's The Lie, a couple in their early thirties try to live the good, white life with their baby girl, but the wife sells out hoping for stability and takes a job with a pharmaceutical company; and the husband tells pathetic lies to skip work and record mediocre music amounting to squat. Facing the truth requires calling out personal fears and failures, so they can redirect their family from a drab future towards something else, something they can be proud of. They're not sure exactly what that direction is - and nor are we - but at least we're given a hopeful open-endedness. This is unlike the ambiguous place writer/director, performance artist Miranda July leaves us in the similarly themed The Future (showcased in the Premieres section). Returning to Sundance after her 2005 hit Me and You and Everyone We Know, July plays one half of a couple who by their accounts have only one month left to really "live" before they are encumbered with the responsibility of an adopted cat.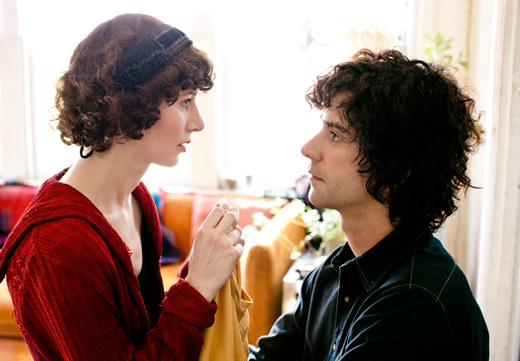 They figure that at 35 years old, they are only 5 years away from 40, which might as well be 60, and then you're practically dead. The pressure to live up to some great potential burdens them with so much anxiety that it can only be released in a magical realist moment where time literally stops. (Can it really be that hard to just shift gears? Is our momentum in this vacuous direction so powerful that magic is our best bet?)
Needing so badly to believe, it's no wonder we turn to science-fiction and become susceptible to cults. Within the context of the entire slate of 2011 films, Sound of My Voice is positioned as the ultimate center-mouth-piece for our generation.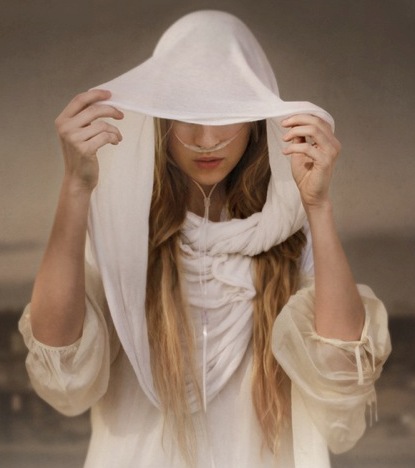 Director/co-writer Zal Batmanglij delivers a riveting story about two documentary filmmakers who set out to expose a growing underground cult based around Maggie (Brit Marling), a young woman who claims she is from the future and prepares her flock for a new world order. Humour and tension balance out the viewer's judgment, suspended between the protagonists who cling to their doubt as a way to remain "sane" and the believers who place their faith in Maggie's lucid teachings. Infected with doubt and willful naiveté, we can't help but wash down the apple of skepticism with the kool-aid. The alchemy of co-writer Marling's performance and Batmanglij's direction is palpable; Marling is the brightest star independent film has seen in decades - devouring the screen and leaving every frame in her absence desperately yearning for her return.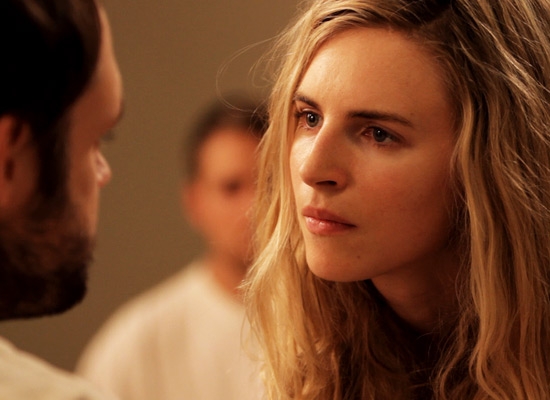 Reminiscent of the addictive storytelling that fueled The X-Files, Batmanglij's directorial debut inspires a crisis of faith that viscerally shuttles between reasonable doubt and the compulsion to believe for our own survival. By the film's tenth chapter, audiences are clinging to the edge of their seats, trembling with anticipation for the next hit -making Sound of My Voice just the start of a multi-season film or television series obsession.
Diverting from NEXT into the U.S. Dramatic Competition, another glance into cult-culture can be found in T. Sean Durkin's Martha Marcy May Marlene (premiering in the U.S. dramatic competition section). Martha is a young college-aged woman who escapes from a cult and seeks refuge in her big sister's weekend home in Connecticut. The "cult" is actually an almost idyllic farm where a small group of young men and women live collectively, each finding their place in developing a self-sustaining, burgeoning community. The film intercuts between Martha's current struggle to adjust to her sister and brother in law's "real world" of relentless consumption, inhibition, and individuation - and traumatic flashbacks of the negative experiences of her life at the farm/cult. Durkin places equal judgment on both the bourgeois lifestyle where Martha is just another directionless twenty-something and the brainwashing of the farm/cult where she comes to believe in herself as a teacher and a leader. Elizabeth Olsen skillfully performs the tortured middle ground Martha is stuck in - and the cliff-hanger ending makes it evident that Durkin isn't ready to make a call one way or the other.
These films are nearly all directed by a 1970s-80's-born generation and offer no definitive, moral answers in their assured interrogation into the values governing our anxious lives. In contradistinction, the U.S. dramatic competition (with the exception of Martha Marcy May Marlene, which stands out tonally from the rest of the U.S. competition) abounds with films by this same generation but almost entirely about teenagers. It is in this even younger set that we are able to discern a north-star glimmer for our future. Departing notably from the feel-good or angst-ridden teen flicks characteristic of the American indie arena, the teens in 2011 take accountability for themselves. Click here for my wrap of the U.S. Narrative Competition Films at Sundance - where teens learn how to be outsiders, willfully making their own worlds on the margins of society.
Photos courtesy of the Sundance Film Festival