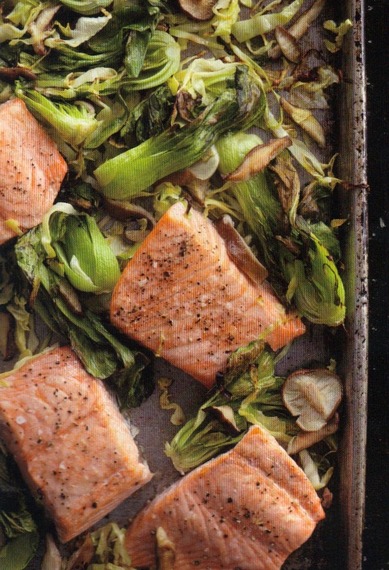 An article about cooking on a sheet pan in The New York Times today (2/5/14) reminded me of my own story, written for the March 2012 issue of Bon Appetit. Originally titled Dinner-On-A-Sheet Pan, my idea was to use a standardized sheet pan less as a tool or utensil but more as a methodology... a unique way to get dinner and its components on the table in one fell swoop. With synchronicity and speed, dishes like wasabi salmon on bok choy, red cabbage, shiitakes and scallion oil; crispy parmesan chicken atop a warm cashew "Caesar" salad, herbed pork medallions with roasted fennel, grape tomatoes and lemon, and even dessert, can be cooked with ease and require a modicum of clean-up.
Cooking on a sheet pan is a blast: A blast in a super-hot oven to exude, concentrate, roast, or caramelize ingredients to their most delicious end. It is also a blast to think about this as a new minimum-effort, low-fuss approach to cooking, with unexpected results. The idea was compelling enough for the Today Show to feature a few of the recipes cooked by Editor-in-Chief Adam Rapoport. I have devised the recipes so that its disparate ingredients are prepped and cooked to perfection. Many are restaurant worthy and bridge the gap between sophistication and comfort. Not until the entire dish is assembled on the plate will you remark at the professional "finish" of each dish and the multi-layers of flavor within.
I offer you two radically simple approaches to dinner tonight. Check in tomorrow for a few more ideas, including a blast of sunshine: Roasted Pineapple with Honey and Pistachios.
Wasabi Salmon with bok choy, red cabbage, and shiitakes

Preheating the sheet pan gives you a head start. If you cannot find wasabi paste, mix 2 teaspoons wasabi powder with 1 tablespoon water. Great with sauvignon blanc.
4 thick salmon filets, skin on (about 7 ounces each)
1/3 cup mayonnaise
1-1/2 teaspoons prepared wasabi paste
1 inch fresh ginger, finely grated
1 large garlic clove, finely grated
1 pound baby bok choy, halved
2 packed cups finely shredded green or red cabbage
4 ounces sliced shiitake mushrooms
1-1/2 tablespoons olive oil

Procedures
Preheat oven to 450 degrees. Heat a large rimmed baking sheet for 15 minutes.
Season the fish with salt and pepper. Mix mayonnaise and wasabi. Stir in half of the ginger and half of the garlic. Coat tops and sides of salmon evenly with wasabi mayonnaise. Set remaining mayonnaise aside.
In large bowl, thinly slice bok choy. Add shredded cabbage and mushrooms. Add olive oil and the remaining grated ginger and garlic. Toss to coat; add salt and pepper.
Scatter vegetables on one side of sheet pan across the length. Place salmon on other side. Cook 12 to 15 minutes. Place a portion of vegetables on each of 4 large plates. Top with salmon and more vegetables. Serve with remaining wasabi mayo. Serves 4
Herbed pork medallions with roasted fennel, grape tomatoes & lemon zest
Remove the bone from each of 9-1/2 to 10 ounce pork chops to get approximately 7 ounces of meat per portion. Crack open a nice bottle of pinot noir.

4 thick pork medallions, about 7 ounces each
1 large fennel bulb with lots of fronds, about 1-1/4 pounds
2 tablespoons strong Dijon mustard
1 cup fresh basil, plus small leaves for garnishing
2 large cloves garlic
5 tablespoons olive oil
16 large ripe grape tomatoes, halved
12 large yellow teardrop tomatoes, halved
1 large carrot
1 large lemon


Procedures
Preheat oven to 450 degrees. Season pork with salt and pepper. Remove fennel fronds from fennel. In food processor, put mustard, 1 cup basil, 1 clove garlic, 3 tablespoons olive oil, ¼ cup fennel fronds, and 1 tablespoon water. Process until smooth. Spread sauce evenly on top and sides of pork. Place pork, 2 inches apart, along long side of baking sheet.
Thinly slice fennel and place in a large bowl. Stir in tomatoes, 2 tablespoons olive oil, and 1 clove garlic, pushed through a press. Add salt and pepper. Arrange mixture on half of baking sheet. Bake 8 minutes, stir vegetables, and bake 8 minutes longer until pork is cooked through but juicy. Place a mound of vegetables on 4 plates. Top with pork and remaining vegetables. Grate lemon zest on top and garnish with basil. Serves 4
Photo Credit: Romulo Yanes
Rozanne Gold is a four-time James Beard award-winning chef and author of Eat Fresh Food: Awesome Recipes for Teen Chefs, Healthy 1-2-3, and Radically Simple: Brilliant Flavors with Breathtaking Ease.
Rozanne can be found on Facebook at http://www.facebook.com/rozannegold.