If you rush to your bookstore or computer, you can purchase these books for last-minute Christmas giving. There is something for him (How to Roast), something for her (The Kitchn) and something for folks eager to cook more fish in 2015 from the maestro of cooking from the sea (School of Fish).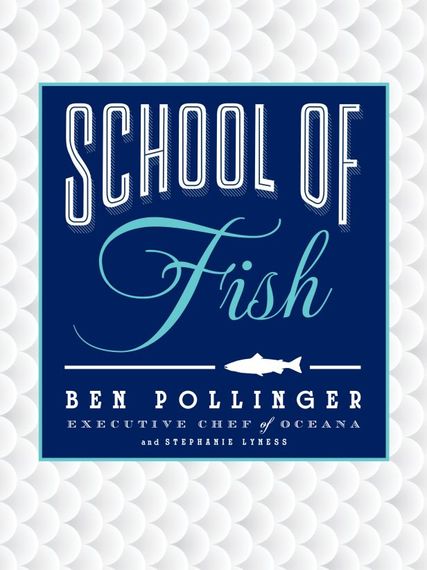 School of Fish by Ben Pollinger
Gallery Books, New York, Sept. 2014, ISBN: 978-1-4516-6513-0
Let's start with a book by a passionate chef, about a subject that unnecessarily scares many home cooks. As an instinctive fish cook, I'm thrilled to have the knowledge and skill of Ben Pollinger in my kitchen by way of his impressive first book, written with cookbook veteran Stephanie Lyness. I was asked to supply a blurb for the book's back cover which I did with great enthusiasm. "School of Fish rocks," I wrote. "Pollinger's stunning cookbook is the embodiment of his celebrated career as one of New York City's youngest Michelin-starred chefs and mentor to many. Pollinger is an inspired teacher: These recipes prove that simplicity should never be confused with lack of sophistication." This book is important now because we all should eat more fish, one of my resolutions for the New Year.
Someone confident in their basic skills will enjoy the great variety of recipes, each fitting into a category that emphasizes technique. There are chapters for steaming, broiling, baking (roasting), braising, grilling and poaching. And as befitting any school, a good teacher will begin simply (in order to encourage mastery) and then move on to more difficult or challenging exercises. The novice will enjoy making Ben's elemental Manhattan Clam Chowder (I love the addition of chorizo) and Steamed Cod with Ginger, Soy and Chinese Broccoli, while the more experienced fish cook will find great satisfaction in preparing Thai-style Bouillabaisse with Ocean Perch, Tamarind and Glass Noodles. No doubt everyone will love eating Ben's Salmon Burgers with Pickled Red Onions and Horseradish Aioli and his superlative pan-fried crab cakes which incorporate a cooked sofrito. Many baby boomers grew up eating fried fish, but rarely at home, so the chapter on frying is especially welcome. So is his instructive "fish-ionary" - describing more than forty-five varieties of fish available: If you don't feel like cooking, have Ben do it for you. He is the executive chef of the Michelin-starred restaurant Oceana in midtown Manhattan.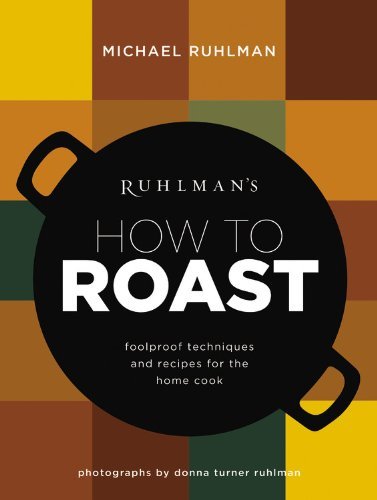 How to Roast by Michael Ruhlman
Little, Brown and Company, New York, Oct. 2014, ISBN: 978-0-316-254-10-6
It is sleeting outside my Brooklyn kitchen and I want to roast something lusty for dinner -- making this a good time to devour Michael Ruhlman's How To Roast. I have his "mandatory five tools for roasting" - side towels, a meat thermometer, a large flat-edged wooden spoon; a sharp knife, and a big, heavy cutting board. Since Michael is a noted cook and James Beard award winning author, I'm curious to learn how he roasts a chicken. I have my own crazy method (resulting in my recipe called "An Opinionated Way to Roast a Chicken") so I open his book: Ruhlman's recipe is even simpler than mine.
I'd happily roast a chicken this evening the Ruhlman way, serving it with his roasted Brussels sprouts and duck-fat roasted potatoes with onion and rosemary. But ever since I learned that my 18-year old daughter cooks bacon in butter, I'm going to try his porc a la poele, butter-roasted boneless pork shoulder strewn with aromatics and an unexpected tablespoon of tomato paste. The recipe, serving 6 to 10, depending on whether you purchase a 3 or 5 pound shoulder, makes leftovers a promise. I love cold pork with green sauce or even "tonnato" style (usually made with veal and a silken sauce of pureed tuna.) I have just sent my husband to the store. Don't forget the salt, I scream after him - this is certainly the sixth mandatory tool for roasting.
The book comes with a mission: to define roasting (which he says is not different really from baking) and then to share exquisitely detailed procedures for how to do it. Each recipe comes with several pages of "finer points" and instructional photographs. And while the idea of roasting conjures up images of huge hunks of animal flesh, his recipes include preparations for fish - halibut with browned butter and lemon, roasted shellfish with tarragon and thyme broth - an array of vegetables, and roasted fruit for dessert. Twenty succinct recipes tell the story. Cook them all and you'll be ready for Ruhlman's How to Braise, coming out February 2015.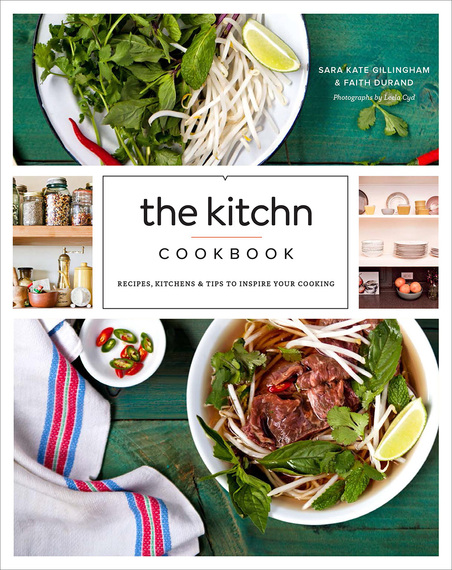 The Kitchn Cookbook by Sara Kate Gillingham and Faith Durand
Clarkson Potter Publishers, New York, Oct. 2014, ISBN: 978-0-7704-3443-4
Sara Kate Gillingham is one of the most devoted foodies in the biz. In 2005 she created, as a founding editor, Apartment Therapy's The Kitchn, an award-winning cooking website and online community. Sara Kate is very much about community as she has proven in two previous books, Good Food to Share and The Greyston Bakery Cookbook, which tells the story of a remarkable non-profit community in Yonkers, New York, which houses and trains people, formerly homeless, to bake and run a successful commercial enterprise. Co-author Faith, is the executive editor of The Kitchn website and also an author of Bakeless Sweets and Not Your Mother's Casseroles. These books are appealingly non-cheffy and The Kitchn Cookbook lives up to its subtitle: Recipes, Kitchens & Tips to Inspire Your Cooking. The book is built around interviews with "real people who cook" all over the country, and offers glimpses into real home kitchens, personal-perspective essays about what makes a perfect kitchen, beautiful photos by Leela Cyd, scrumptious recipes, and much, much more. You get a high ratio of useable info per square inch in this densely colorful book. There are original tips for creating a functional and beautiful kitchen. And the authors proclaim that a beautiful kitchen means better food. They suggest, for those who are backsplash bereft, to frame and hang an inexpensive print behind the stove. Other goodies: Five ways to "grow food" in any space; how to care for your kitchen and make your own homemade oven cleaner (who knew?); how to "season to taste," or adapt a recipe to the slow cooker. No other contemporary book does all this (it's a wonderful throwback to the household management books from the "old days"), plus offers more than one hundred step-by-step recipes that run the gamut from baked potato chips, to how to make horseradish ketchup from scratch, to fool-proof salmon baked with olive oil and herbs, to chunky chocolate cherry oatmeal cookies - perfect for Christmas Day.
Happy Holidays.
Rozanne Gold is a four-time James Beard award-winning chef and author of Eat Fresh Food: Awesome Recipes for Teen Chefs, Healthy 1-2-3, and Radically Simple: Brilliant Flavors with Breathtaking Ease.
Rozanne can be found on Facebook at http://www.facebook.com/rozannegold.