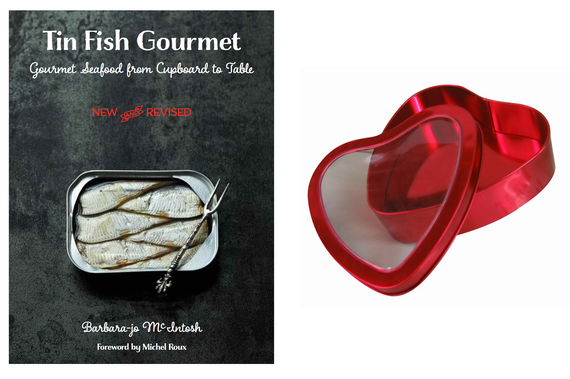 With Valentine's Day fast approaching, I thought I'd explore pairing champagne and tinned fish - no, not caviar -- but overlooked delectables like clams, anchovies, sardines, salmon, and crab with which to celebrate. Nice that Barbara-jo McIntosh's book, Tin Fish Gourmet, has been re-issued with striking photos and fabulous new recipes (including one of mine.) Barbara-jo is a good friend - and considered one of Vancouver's national treasures. Her famous bookshop, Barbara-Jo's Books to Cooks, is often a stop-over for celebrity chefs and best-selling authors - who all seem to wind up there (on separate occasions) for a cooking demo or book signing or both.
Some of the best eating I've done recently was at the home of our friend Gerry Dawes, Spanish food and wine maven, who seduces us regularly with his stash of Spain's extraordinary canned fish - sardines, smoked oysters, mussels, clams. They're unlike most canned fish you're accustomed to in the U.S., and in Spain are considered expensive delicacies. These products are so divine, and umami intense, that you wonder what's so special about caviar. They are best eaten straight from the can, on toothpicks, while you pretend you are at a tapas bar in Barcelona. But you can also buy some decent products at your local supermarket and cook with them, too. This is the very idea behind Barbara-jo's imaginative cookbook which adds great appeal to a very humble product - one that conjures up little more than childhood affection for tuna-noodle casserole and salmon patties.
I also have affection for the word "tinned" over "canned." It brings a bit of "other worldliness" - read: sensuality -- to a commodity. And that is precisely the point: The recipes in Tin Fish Gourmet were created by a professional chef and seasoned home cook (yes, Barbara-jo) promising pleasure with a can opener in much the same way that I feel with a corkscrew. Anticipation.
The categories of fish include anchovies, caviar, clams, crab, herring and mackerel, oysters (and one recipe for mussels!), salmon, sardines, shrimp, and tuna. I don't have any experience with canned herring or mackerel (or shrimp for that matter) and can't wait to get started. Think of all the omega-3 fatty acids. Great lubricant for love-making (and for good health, in general.)
This year I'm going to celebrate Valentine's Day for a week and I suggest you do the same. Seven days of bubbly --Champage, prosecco, cava -- or a lighter-style red like Saint Amour (so aptly named), pinot noir, or Hungarian Egri Bikavér, known as "bull's blood" (why not?) And I am going to try these luscious-sounding recipes: Rosemary Scalloped Potatoes with Anchovies & Garlic; Crab and Goat Cheese Strudel; Roasted Mackerel with Spanish Mash & Fried Leeks; Smoked Mussel & Chorizo Paella; Shrimp and Mushroom Toast, Swiss Chard & Salmon Lasagna, and yes, Wild Rice Pancakes with Sour Cream & Caviar. Good, too, for budget-minded students and non-meat eaters. Foreword by Chef Michel Roux. Published by Arsenal Pulp Press, 2014, Vancouver, Canada.
Rozanne Gold is a four-time James Beard award-winning chef and author of Eat Fresh Food: Awesome Recipes for Teen Chefs, Healthy 1-2-3, and Radically Simple: Brilliant Flavors with Breathtaking Ease.
Rozanne can be found on Facebook at http://www.facebook.com/rozannegold.