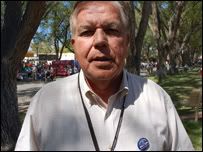 Bernalillo GOP chair: 'Hispanics won't vote for a black president'
The chairman of the Bernalillo County Republican Party resigned Thursday following comments reported on a BBC blog last week that most observers said fell somewhere between insensitive and poorly articulated to outright racist. The money shot: "Hispanics consider themselves above blacks. They won't vote for a black president," said Fernando C de Baca.
Bernalillo County, New Mexico's most populous with Albuquerque its major population hub, is 44.9 percent Hispanic and 3.0 percent black according to 2006 census estimates.
Though C de Baca contends his comments were taken out of context, members of his own party urged him to step down. "Mr. C de Baca's divisive comments this past Friday were inappropriate, they were offensive and the fact that they were even spoken was poor judgment at best," said state GOP chairman Allen Weh earlier in the week.
In an opinion piece in the Albuquerque Journal, C de Baca insisted he wasn't speaking for all Hispanics or even himself. "I was setting the context of why I believe, as a student of history, culture and government, that some New Mexicans of different ethic backgrounds -- cultural realities -- would view this historic presidential election differently," he said. "I do not believe that Obama shares his grandmother's thoughts any more than I share my grandfather's."
C de Baca pointed to similar comments made by Democratic state senator Mary Jane Garcia earlier this year as reported in the Rocky Mountain News: "I don't know one single Hispanic over 50 who will cast a vote for Obama...there have always been conflicts between blacks and browns," she said in August. Both C de Baca and Garcia are in their 70s.
Barbara Armijo attempts to sift through the comments to find the reality in a piece in the New Mexico Independent headlined "Racial tension between Hispanics and blacks is real." Juan Jose Pena, state commander of the American G.I. Forum of New Mexico and chairman of the Hispano Roundtable of New Mexico, acknowledges there may be simmering resentment among older generations of Hispanics. "It is nevertheless true that there were many disagreements and conflicts between Hispanos and Blacks during the Civil Rights Movement...The newspapers and TV stations were covering Martin Luther King and the Black Movement was bigger and stronger than the Chicano or Native American movements at the time," Pena, an Obama supporter, said in the article.
Sen. Barack Obama's real or imagined Latino problem sparked headlines during his primary battle with Sen. Hillary Clinton, but the Illinois senator holds about a 2-to-1 or better lead with Latinos in most recent polls. The conclusion: the Latino vote was pro-Clinton, not anti-Obama. But this doesn't mean race is not a factor with some voters, Latino or otherwise. A somewhat controversial poll earlier this week concluded that absent racial predjudices, Obama would poll 6 points higher.
Out of a job and still bemoaning the lack of context offered in the controversy over his remarks, Republican C de Baca equates his clumsy (mis)statements with triggering the same type of discussion on race as Obama's landmark Philadelphia speech. "In retrospect, I am glad these issues have arisen. They should be discussed, and openly," ended C de Baca's opinion.
Thanks, Fernando.