Ask most guys if they enjoy shopping, and you probably will hear an unsurprising, flat, "no". But, that doesn't mean guys aren't into looking nice. Now more than ever, men in general seem to care about their appearance almost as much as women.
It could be because men -- especially of the millennial generation -- are realizing that they are judged based on their appearance.
"If we see a candidate who takes pride and effort in his appearance, we take that as a sign that he will do the same with his work", says an HR manager at a Madison Avenue Ad Agency.
It is also a way for younger guys to look credible. Whether you're looking for the attention of the pretty girl at the office or hoping for the boss to take notice of your work, dressing well certainly doesn't hurt your chances of success.
The issue is execution. Shopping is no day at the beach for a lot of guys. The crowds, the bags, the unenthusiastic sales associates -- even being greeted with "are you looking for anything today" can be vexing. That's why more retailers are taking on an e-commerce approach, especially brands targeted towards men.
Take Bonobos for example. The largest Internet clothing brand in the United States, Bonobos takes all the hassle out of shopping. Specializing in fit -- which for most guys can be an issue--the menswear line launched exclusively online in 2007. While still operating as an e-commerce store, the brand has opened several guideshop stores throughout the country in last few years. Visit any of the eight e-commerce stores and witness a distinctive, crowd free, shopping experience.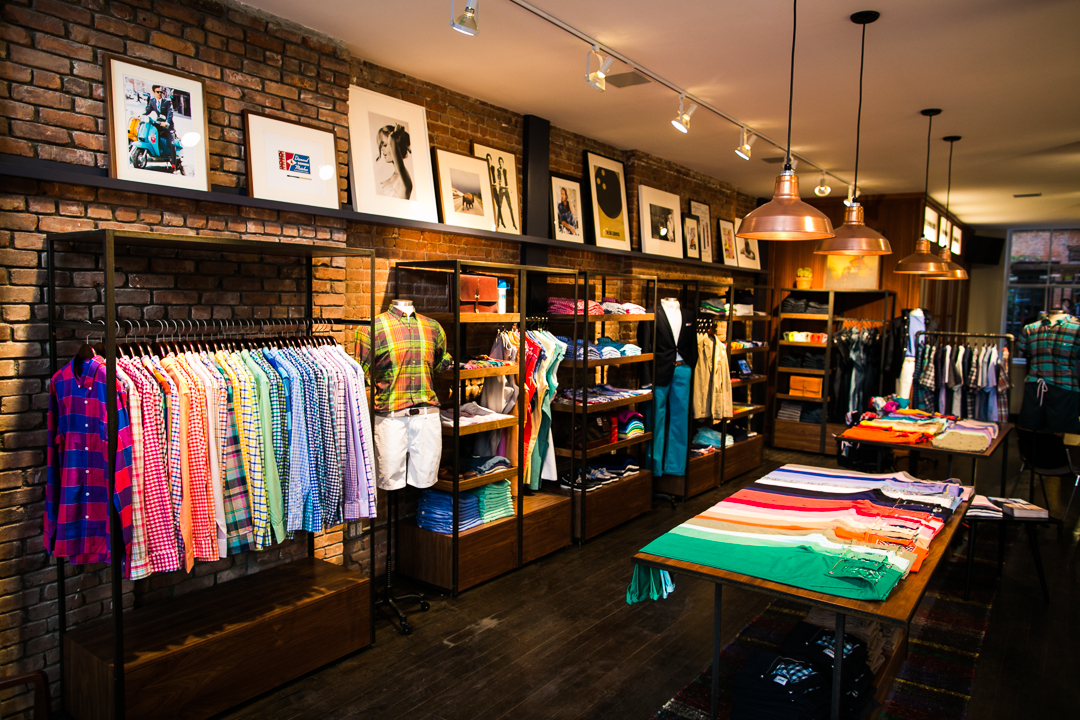 The store matches customers up with Bonobos Guides who take the time to find the perfect fit and style for the individual. For the "get in and out" type of customer, make a complimentary appointment.
Because the store acts as an extension of the website, everything purchased at the guideshop is custom ordered and then shipped to you for free...which means no slugging copious amounts of shopping bags around and weaving through pedestrian traffic, a huge plus for city dwellers.
Too busy to visit a guideshop? As an online brand, website visitors receive the best customer service with the help of "ninja's," representatives who are on hand to answer any questions via Internet chat.
Another bonus is that, as an e-commerce business, Bonobos is able to cut down on production costs and focus on delivering a high quality product. Note: their suits fit like a custom piece worthy of James Bond, without the killer price tag. For those Bonobos virgins out there, start with their signature chinos... they are best sellers for a reason!
Bonobos approach to business caters to their buyers -- guys on the go, who would much rather spend their Saturday on the golf course than in the mall. Speaking of which, the company recently branched out to golf-wear.
"What they are trying to do is bring a comfortable clothing line to a younger demographic...it's not your father's brand of clothing. If you get a large, it's not going to be a tent. It's youthful," says Matthew Accetta a brand-marketing designer at Sports Ilustrated.
Bonobos Guideshops were spawned from the realization that customers still want to touch the product before they purchase -- something you can't do online. The idea of using guidshops, is similar to eyewear company Warby Parker's showrooms. Both brands create a space where people can try on, touch, and view the product -- yet still offer an e-commerce transaction. The store selling $80 dollar glasses to the Clark Kents of the world, boasts higher sales per square foot than Tiffany's at their New York Store.
Like Bonobos, their showrooms are clean, and welcoming and purchases are shipped. The store also offers a great return policy, and allows you to test out several pairs of glasses at a time. This is particularly convenient for men, who often take wearing glasses seriously. Trying out different styles and seeking advice from co-workers, spouses, and peers is often a positive lead towards customer satisfaction.
But it's not just glasses and pants that are jumping in the e-commerce pool. Take something as simple as a men's razor, for instance. Harry's -- a company that sells razors, razor blades, and shaving cream to men -- is another one of these e-commerce companies that is geared towards guys. If you have heard of them, it's probably been from Facebook. The company has strategically used social media to spread the buzz on their small online shop...and it has worked. Created by men for men, these high quality razors are redefining what it means to shave, and it's no surprise that one of the founders of Harry's is a co-founder of Warby Parker.
Bonobos, Warby Parker, and Harry's are just some of companies who are helping take the anxiety out of shopping for guys, leaving little excuses not to look sharp. And their e-commerce approach gives you a better product for a better price. It's really a win-win...and lets face it, as guys we love to win.