Best feature: "her eyes."
Worst feature: "cat hair on her shirt."
And because I was too "tall", laughed "too much" and was too "independent" in my replies, I didn't pass the traditional matchmaker's test.
"You don't fit the criteria of any of the men on my list," she tells me, scribbling in all the above next to my name into a small brown notebook.
I was sure I had removed all traces of my cats' hair using one of those lint rollers, and so I couldn't help but ask her how did she know it was cat hair.
"There was one suspicious looking short and golden hair on your back," she said. "And then my suspicion was confirmed when I spotted some canned cat food inside your bag when you opened it to pull out your mobile phone to put it on silent."
And here lies her secret to a successful, long career of matching over 154 couples. She swears that, so far, she has had only one failure. Only one couple broke up soon after marriage from the ones she matched over a span of 12 years.
"You know why? Because one of them was not 100 per cent honest in what they wanted in a partner."
I met Um Hassan when I was doing a story on traditional versus modern matchmaking, and out of all the people I met, she seemed to be good at what she was doing. She also had a way of analyzing people that made you feel you were sitting with a sort of a "Sherlock Holmes of the hearts."
Matchmaking is a profession as old as love itself. One of the oldest matchmakers can be found in the Bible, in the story of Isaac and Rebekah, who were matched through Prophet Abraham's faithful servant, Eliezer, who was sent out in search for a wife for Abraham's son Isaac.
More often they are portrayed as the stereotypical busybody woman, who made it her business to match couples up in an age when unchaperoned dating and freely choosing partners were frowned upon.
As a profession, matchmaking has largely vanished from from western cultures, to be replaced by online matchmaking websites and services. But in the Arab world, such as the UAE and Saudi Arabia , matchmaking is still prominent, with different communities having their own set of matchmakers.
When I went out fishing for matchmakers, a "Khateba" as they are known in Arabic, I used word of mouth as well as modern tools like broadcasting a message on the BlackBerry Messenger. And within minutes, I had a list of numbers of women who match-make, and the nationalities they usually deal with. There were a few who match-made people from certain religious backgrounds, and others didn't limit themselves to any group or specifics.
Um Hassan was one of those who was willing to help "anyone and everyone" who was looking for "real love."
But she comes with a warning: she takes time as she investigates all the parties involved, and yes, she even Googles and checks up on them using social media. She contacts friends, colleagues and even schools and teachers of those wanting to be matched.
The 55-year-old is lethal, and she misses nothing. Um Hassan is a mother, a grandmother and a housewife. She also has a great sense of humor.
I pretended I was looking for a potential husband and made up a list of things I would like in a man, and she saw right through me.
"You are a vegetarian, aren't you?" she mentioned out of nowhere. I don't recall talking about food at all, but somehow, she was dead on.
"Perhaps we should set you up with a garden?" she said with a big smile.
I smiled back, because having a big garden is actually one of my dreams.
She studies your body language, your eyes and even your shoes. Her deceptively gentle demeanor and mild manner opens doors and gets you talking. So beware when you meet Um Hassan.
She says her life's mission is "making people happy."
"When you see this couple happy and that sparkle in their eyes after a successful matchmaking, it is one of the most gratifying feeling that warms your heart," she said.
Many young people first try to find someone on their own, without family intervention, and when they fail, they come back to the family asking for their help; and when that fails, the matchmaker is called.
You can laugh, but matchmakers are quite active within conservative communities worldwide.
Here in the UAE, some of them charge for their services, between $1,500 and $3,000.
But Um Hassan doesn't, she actually enjoys doing it. She has three mobile phones to help her cope with the volume of calls from hopeful singletons from the UAE and other Gulf states. She has even had a few calls from the U.S. and Canada.
Whether young, old, rich, or "not so rich", divorced or widowed, the mother of four has traveled across countries and beyond in search of the "perfect match" for those seeking her help. 
If you are a "playboy" or have a dirty little secret hidden away somewhere, she promises she will find out.
In the middle of the interview, a man in his 40s calls her to ask for help in finding a a young wife, within the age range of 15 to 18.
"Shame on you," she says, ending the call with the advice to remember his age. I wish more people spoke out against old men that marry girls young enough to be their grandchildren. It is not just shameful, it is abuse.
One of her conditions -- and it is also a test of sincerity of those involved -- is for the man and the woman to meet the first time with their families present.
Imagine how awkward that is. But perhaps this pushes people to take a relationship more seriously from the start?
At the same time, one of the obstacles women face here is that they have difficulty being accepted if they are both traditional and modern.
"Many men will say, yes, I like my future wife to be both modern and traditional, but when you really dig further, they want a traditional stereotypical wife they grew up hearing as the ideal wife," said Um Hassan.
So what is this "ideal wife"?
Based on what she and other matchmakers have complied over two decades in the UAE, it is a beautiful woman, thin/slim, fair skinned, funny (i.e. laughs at his jokes), a good cook, motherly and intelligent. Education is important, but it shouldn't be a higher degree than the potential husband's degrees.
The list for the ideal husband is almost similar, he must be "good looking" or attractive, tall, fit, not "too dark", funny or has a sense of humor, makes a good living and can afford a house, fatherly and intelligent. Education is also important, and the women would prefer their husband's degrees to be equal or higher than theirs.
"But it comes down to chemistry between two people and what they want at that particular point of time," she said.
So it is about the right time at the right place for many of those looking for love...
And then, you have stories like these.
She told me a story of a man -- who was divorced with four children -- and who insisted on the phone that he wants to marry a "virgin."
When Um Hassan told him that there are plenty of great divorced or widowed women, he slammed the phone on her. Before he shut the phone, he told her how insulted he was that she would "dare" set him up with a woman who was "already used."
Shocking as it may sound. I wasn't surprised at all. The double standards in the Arab world and conservative societies are well known.
"That is the problem. A woman must be pure, a virgin, who has never talked or even seen a man in some cases, while the man can do what he wants and his reputation remains intact. It has been this way for hundreds of years."
But it would be unfair to say this happens only on this side of the world. A woman in the West very easily gets labeled as a "slut" or worse, when titles like that don't stick as often or as long to men.
As people struggle to find the "right person," it is great to know there are people like Um Hassan who help some along the way. She is also very discreet and protects the identities and the "secrets" she discovers.
But at the same time, from what she and other matchmakers have noticed, it is harder these days to find the right person.
"It is difficult these days, as there are far too many expectations by both partners, where they think a marriage solves all their problems," said Um Hassan.
The 'happily ever after' following a wedding is a lot of work, and despite their best efforts, no matchmaker can guarantee true eternal happiness.
As my grandmother used to say: "Marriage is a bit of salt, a bit of sugar, a touch of pepper and often too much chili powder. Honey is only at the honeymoon."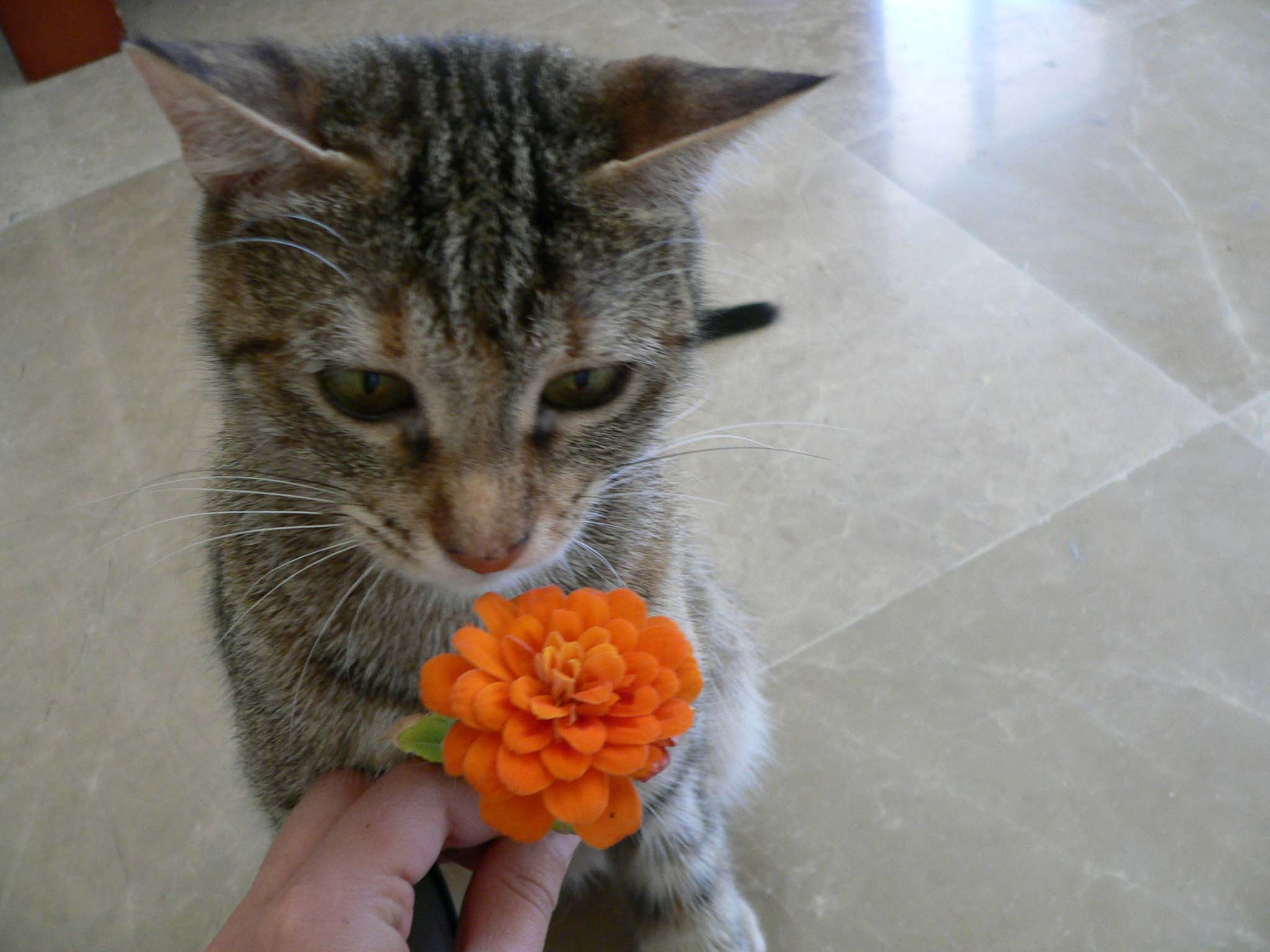 Above, Tiny and her "golden hair" that gave me away to the matchmaker.
Rym Tina Ghazal is a senior feature writer and columnist for The National Newspaper.