"You can have any photo but this one... " said my grandmother, snatching it out of my hands before I had a good look.
At first, she refused to show me this black and white photo, dismissing it as "silly" and not worth looking at. But as I insisted on viewing it and she finally gave in, I saw what I have never seen before -- I saw my 80+ year old grandmother blush.
A bit tattered at its corners but overall in a good state, the photo was of a couple dancing in the moonlight (in a somewhat provocative embrace) on the ledge of what looked like a gushing fountain.
I blinked a couple of times. I just couldn't believe my eyes. The photo was like a snap shot from some romantic classic movie.
Even though I have never met him, I recognized my grandfather immediately from the other photos. Looking quite handsome and broad shouldered in his officer uniform, he was beaming as he twirled and led my petite grandmother, who in her own right, looked like a star. She was glamorous in a 1950s evening gown, coupled with a short hair style that fell somewhere between an 'Audrey Hepburn' and a 'Grace Kelly' hair fashion.
"It was our last tango," she said.
I pulled this photo out of a pile of forgotten photos in a shoebox that I came across inside a drawer. It was my first visit to a family home in Damascus, the capital of Syria, and I admit I was snooping around the place for clues into my family's past.
My grandfather had been a general in the Syrian army, he lived and fought many historic wars before his sudden death in 1974. But what happened to him and why is not the topic of this post.
Too much has been said about death and Syria, and so I wanted to focus on life and Syria, and those who have seen it all and understand it best, like my grandmother.
After she put the photo away, she said: "They knew how to do nice elegant hair styles back then, not like now."
She gave my own hair a disappointed glance as she said that.
My grandmother would never be seen in public with bad hair. Actually, one of her widow friends does her hair and the hair of all her close friends.
My sweet but strong Teta.
Teta is grandmother in Arabic, and this form of address is less formal than Jadati or Al Jada.
I can't help but smile remembering that map of hers that she carries all bundled up in her purse.
Last time I sat with her, she was carefully drawing in a red dot over China. The heavily-creased map has lots of dots. Each time she visits a place, it gets a dot. Europe and the Middle East are completely colored in; parts of Asia, Africa and both North and South America have scribbles here and there.
"Next trip we are going to Cuba," she says with a big smile. By "we," she means her group of ten widowed Arab women friends, who together travel to a different country each year. Her neighbor's teenage son helps them find travel bargains online.
Being single myself, I want to take a moment and reflect on a different group of single women, one often neglected by the rest of us: widows. And there are many in the Arab world and conflict zones around the world.
When a man loses his wife, especially in the Middle East, he is comforted and often is quickly remarried under the insistence of his family and close friends.
For women, though, it is a different story. My grandmother has been single for about 38 years.

Most of the women in my grandmother's group had also been married to senior officers in the Syrian or Lebanese armies.
They all lost their husbands as a result of wars or political assassinations.
When grandfather was alive, my grandmother's life was one of privilege, with invitations to all the best parties and social events.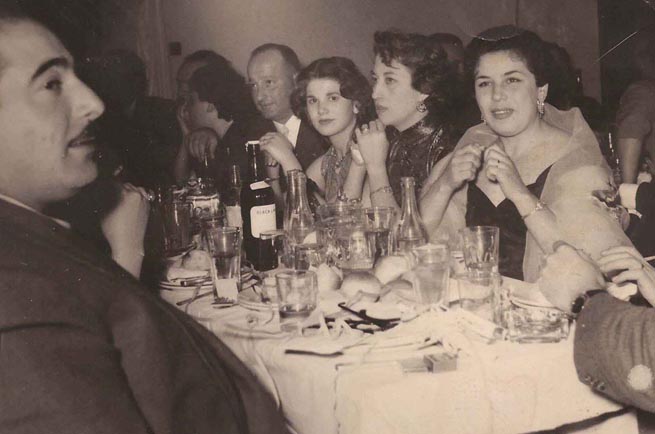 That all changed when the news of my grandfather's death was published in the local newspapers.
"When you're widowed, you don't get invited to big parties. You get isolated; it's like you are contagious," my grandmother explained. "I think other women are intimidated and threatened by vibrant and independent widows like myself." She said that with a wink and a smile.
That unwavering ability to laugh off even the worst of times is my grandmother's trademark.
Instead of complaining and feeling sorry for herself -- as I catch myself doing sometimes -- my grandmother and her group of friends hold "Tarab" parties where they sing popular old Arabic songs, copying legendary Arab singers like Um Kalthoum and Fairouz. A grandson or two play the oud as accompaniment.
Of course, every time they meet the talk quickly turns to the "good old days," and the "golden age" in countries like Syria, Iraq, Egypt and Lebanon, where poets reigned and the army was dominated with "men of good families."
It's the same when I go to visit. The photograph album comes out and my grandmother goes into reminiscence mode. "We would eat along the beaches during the day and dance all night," she said.
"Your grandfather was sent off to Russia and France during his career and would come back speaking a bit of Russian and French and wearing the best clothes," she tells me. This was the case for many top officials and officers in the Arab world.
Despite their travels, life for my grandmother and the others is not easy. They struggle to live off their state pensions, no more than between U.S. $50 and $200 a month, and save for their trips.
Now these pensions and other state-dependent payoff are inconsistent and under threat with the ongoing conflict in Syria.
I like to call and check on her every week as you hear of widows being targeted by burglars, and my grandmother was attacked once by a man with a knife as she was walking up to her place. Her neighbors came to her rescue when she screamed.
However, sometimes the same neighbors also bully the widows.

"They think I don't have a man standing behind me," she once told me. So my uncles have to intervene to "remind" people in the community that there is a man standing by my grandmother.
After such a long life (she has been "80" for some time now) she always offers lots of good advice.
Like: "Never get too caught up with politics and wars, as they come and go."
To prove the point she tells me the story of one of her friends who was once her political enemy. But the same woman later smuggled food to my grandmother and her children when they were under house arrest by lowering a basket from the roof.
Looking at a photo of my grandmother posing on the Great Wall of China with her friends, it's not so hard to imagine her in her glory days, chatting on her balcony with legendary Egyptian writer Naguib Mahfouz or late Egyptian president Gamal Abdel Nasser (once, as a child, my father even played in Nasser's lap).
She is a survivor of a different age -- though she still plays poker with the likes of actor Omar Sharif when in Egypt.
I only hope that when I am her age, I can handle single life as well as she does -- and have such a close-knit group of spirited friends.
(Photos: grandmother & grandfather, and other men whose names have been lost with time. She wouldn't give me the tango one.)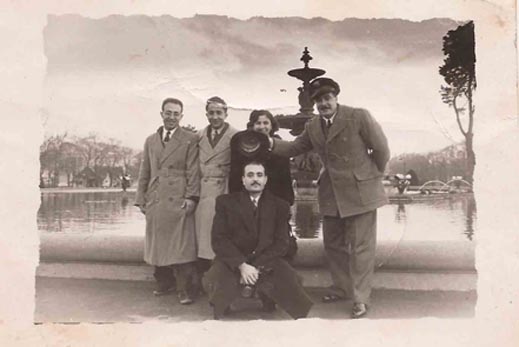 Rym Tina Ghazal is a senior journalist and columnist for The National Newspaper.