I ruptured my right calf muscle lugging too many bags down stairs in Athens. Being the sophisticated traveler that I am, I strap an ice pack to my injured leg, stick it out the window of our SUV, and bounce awkwardly in my seat to Stevie Ray Vaughan during the three-hour drive to Southern Greece. My foot turns in the wind above the passenger side-view mirror, my running shoe a disturbing neon yellow blight on the stunning views as we near the coast.
In the charming village of Kardamili on the shore of the Messinian Gulf, turquoise seawater laps the rocks next to my dinner table. A remarkably clear, starry sky hovers overhead, listening as a jazz band plays, and one woman turns a small space into a dance floor. I'm the immobilized spectator struck by her presence. She is sophisticated. And chic. Like her turban, her dance-moves are from a different era. Everyone watches.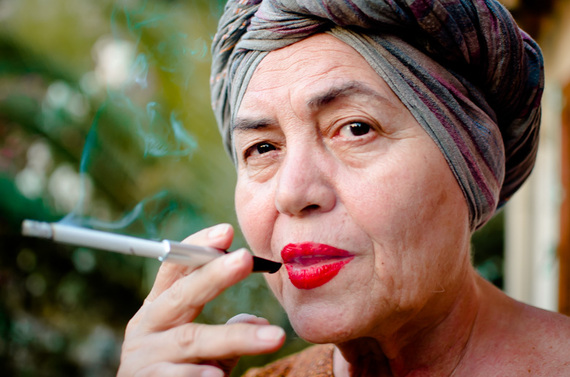 "Don't worry, it won't leave a mark," she says as she busses my cheeks with her chalky red lipstick. "It's the stay-on kind."
Fainareti Xydi is her name, but everyone calls her Phainie. She exhales the translation with a lazy stream of cigarette smoke.
"Xydi means vinegar," she has the deepest female voice I've ever heard. "I'm Mrs. Vinegar."
Madame Vinegar once mesmerized another observer on the dance floor. It was back in the 1970s, at an Athens club called The Trip, before the junta shut it down. He invited her to try something she'd never heard of.
"I said, 'I have no idea how to do that," Phainie explains. "He said, 'I'll teach you.' "
Phainie memorized 50 songs a month. The Jackson 5, Mongo Santamaria, Otis Redding, The Temptations, The Rolling Stones, The Mamas & the Papas, Led Zeppelin. At age 25, Phainie would "feel the grooves and connect them," cueing up the turntables in a vocation recently imported from the United States called disc jockeying.
"I was quite daring," she admits. "I used to play music, go down from my little box, dance and go back again, just in time to put in the next record. I love music. I love dancing."
When The Colonels fled in 1974, the club scene heated up in Athens. Phainie was a DJ in demand at places with names like Odyssia, Architektoniki, Annabella & Dimi's and 9 Muses. People dined on linen table clothes to proper music, before working up to club dancing.
She recalls the anchorwoman who presented her as Athens' First Female Disc Jockey.
"She had to explain what disc jockeying in a club meant."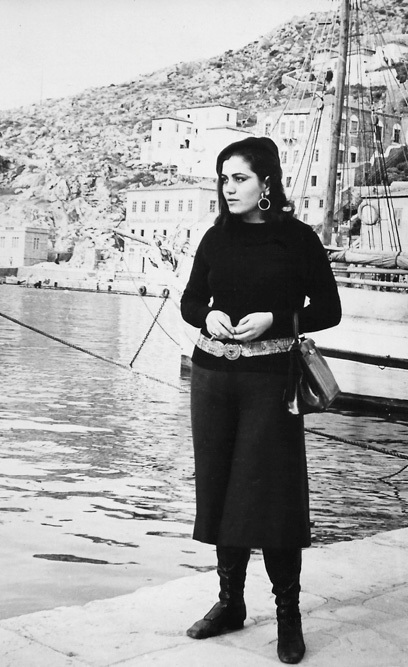 The way Phainie speaks reminds me of Patricia Neal's character in the movie "Breakfast at Tiffany's." I expect a drawn out "Daaaaaahling" but it doesn't come. There is nothing darling about her. She's exotic. She's opinionated. She's wearing a turban to conceal her roots.
"I'm at ease," she says. "Traveling does that to you. One acquires a wisdom, a practicality. One's more adaptable. You can parachute me anywhere with my French and English, a little Italian ... and I can survive."
Phainie was born in Athens, educated in Morocco, Australia, Greece and Switzerland. Her father was a diplomat who disapproved of her working at night. Her mother was a "petite coquette" raised in Egypt.
"She always worried that I had too big a foot and wanted to put me in smaller size shoes. She worried that I was too round and put me in corsets. I almost fainted." Phainie is indifferent. "She couldn't take the fact that I was big."
Phainie made what she calls a small fortune in her 20s as a disc jockey. Her 12 career changes included radio producer, film and television character actress, and shop owner in Hydra, the posh Greek island where her mother paid $3,000 for a house in 1956. Phainie and her brother still spend time at the home today.
When she sends me this black and white photo of her younger self in Hydra, I tell her how much I love it and promise to frame a copy when I get home. A week later, I visit Hydra and spend the day trying to strike my own dramatic pose in the famous amphitheatre port. I want to be exotic, too.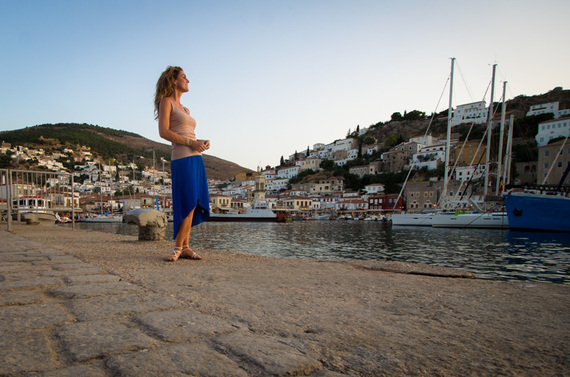 She makes sure I understand that she waited until her 40s, and not a moment too soon, to marry. She chose the chief mate of a cargo ship to be her husband because "he wasn't ambitious." She wanted "good company not a man with ambition." They spent up to six months at a time together on the ship exploring ports around the world. Montreal to Algiers, Kalamata to Antwerp, London to India.
"A mahout is a man who looks after elephants," she explains. "And in Bombay, like midtown New York, he's trying to park his little elephant between two cars. Parking his elephant the way you park a car. There's no way you can't fall in love with that kind of contradiction. That's why I fell in love with India. It's full of contradiction and color."
When I tell her I live in Seattle, she waves the hand holding the long cigarette and the smoke swirls. "Oh, no," she says unapologetically. "I have no desire to visit Seattle. There's not enough pollution there. And where there is no pollution, there is no life. That is my view."
Which explains why she spends four months of each year in her beloved India.
On my last night in Southern Greece, I see Phainie again. She's dancing. I want to tell the spectators about her fascinating back-story. But just watching her, they'll know enough. When I'm 70, I hope the same things are as evident in me. She shatters convention, she's completely at home wearing herself, and despite disapproval, she turns any small space into a reason to dance.
First, I'll need to walk. Watching Phainie, I'm inspired to drop my heavy baggage and stop tripping down stairs. Graceful globetrotters do not pack ice.