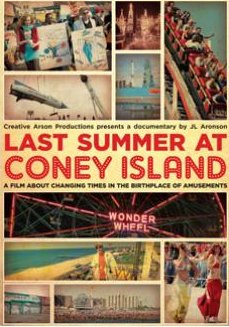 As I walked along Surf Avenue, first as a boy with my dad, then as a teenage, tough guy wannabe with my friends, I could feel Coney Island seeping into my pores. To not be intoxicated by its wheels of wonder, that ocean of possibilities, the best hot dogs in the world and of course, the stray freak, was an impossibility. Yet even as a young boy, I recognized the sadness of Coney Island and the ghosts of Brooklyn past.
Coney Island is magical, and that magic exists because of its history. The legendary waterfront playland of yesteryear thrives on the energy of its visitors who, whether they realize it or not, come to experience the glory of Coney Island's long gone heyday, something it is presently struggling to maintain. A neighborhood in desperate need of housing, Coney Island sits at the heart of two arguments, one fighting for gentrification and the other, fighting to maintain its history. JL Aronson captures these emotions exquisitely in his film Last Summer At Coney Island.
As a Brooklyn boy, my interest in Aronson's film is deep-rooted. I began watching this film with skepticism, and with critical guns cocked and loaded. But just 5 minutes into this glorious documentary, my skepticism was out the door, and I found myself in a beautiful trance. I fell in love with all involved. From the passion of Charles Denson, a man whose dream was realized when, after growing up documenting the town where he was born and raised, saw his book Coney Island: Lost & Found published to critical acclaim, to Kelly, a man who can't afford Nathan's hot dogs, so he buys "the dollar franks up the block," and the daily satisfaction he experiences when opening up his carnival game. Aronson's film is a love-letter to Brooklyn and its people, and yet manages to present every argument with grace.
There is the great antagonist in Joe Sitt, the real-estate mogul whose visions of Vegas-like, condo monstrosities have Astroland owner Carol Albert scrambling to save the jobs of her employees, as well as the park she saw her husband Jerry keep alive through its most harrowing times, as he followed in the footsteps of his dad Dewey, who co-founded Astroland in the early 50's with Nathan's Hot Dogs owner, Nathan Handwerker.
I can't say enough about Last Summer At Coney Island. This is a very special piece of work; one that captures the legend at its best and worst, as well as its characters, whose time, love and colossal personalities, make Coney Island more than just another amusement park.
A one hour cut of the film will be airing on the following PBS stations:

NJN - New Jersey Public Television - Tuesday, June 21 - 10pm
WLIW/21 - New York - Tuesday, June 28 - 10pm
KQED - San Francisco - Saturday, July 23 - 6pm
KQED - San Francisco - Tuesday, July 26 - 11pm
On Tuesday, June 21st, IndiePix Films will be releasing the full 94 minute cut on DVD, which features an additional hour of extras, including "Since Last Summer," an epilogue to the film and introduction to Coney Island's next manifestation. It will be available on Amazon.com, as well as directly from IndiePix.
This is a no-brainer for all you Brooklyn peeps. And as long as I have the floor, let me say, Last Summer At Coney Island, may just hit the rest of you in a very special way.