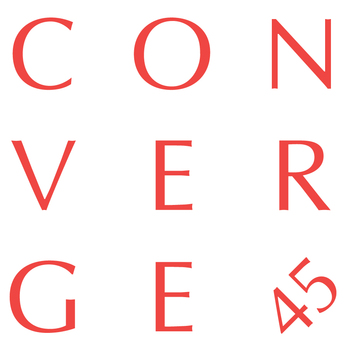 These are strange and hard times that we live in that call for humanity to converge! Who better to take in what is happening in the world and reflect with, then Artists? What better place for the first CONVERGE 45, for the stars to align for such a gathering-a three-day Artists' Congress and a citywide participation of galleries, museums and venues-than in the lush and fertile northwest soil of Portland, Oregon!
Liz Leach, Portland's leading contemporary art gallerist, founder of the Elizabeth Leach Gallery, and a well known figure in the art world in the U.S. and abroad, told me about the moment she had,"an other worldly experience.The wind was blowing. It was summer and warm. It felt magical to be in Portland." 8 years prior to that, her son, Tyler Rivenbark, (see in photo below), had planted the idea, "Mom, invite the world to Portland and that will make it a stronger base for art." Liz knew that the right time had come. It took three years of planning for the first annual CONVERGE 45 to come together in Portland, Oregon, this last 29th-31st of July 2016, establishing this great northwest city as a global go-to meeting place for artists and thinkers interested in Contemporary Art and Ideas.
Liz was amazed at how everything came together for CONVERGE 45 to happen." We are in a place in this world and we need to come together and look deeply at important ideas that affect all of us. Obviously, there is a zeitgeist. I believe in it, a kind of energy that is collective, and if you feel it, you do something about it. That is what happened with CONVERGE 45. I have never seen anything get so many volunteers so fast. We have such a strong board. We have foundations and individuals who funded it. Portland is a major cultural art based city. We met our budget. It is hard to fund something. Our ideas manifested. We came out of the black. Sponsors have increased their participation for next year and many are giving 5 times as much."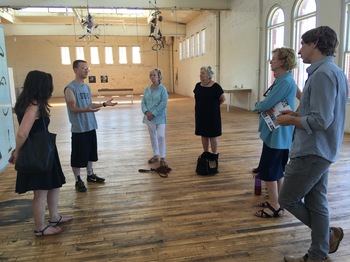 A group of collectors from New York visiting the Yale Union run by Curtis Knapp and Aaron Flint Jamison (in photo)
"This is an international conversation about our world and what everyone is experiencing. It will touch our hearts. We are looking at global ideas. It is a Big Conversation. Some of the artists who participated are very well known. Some are known locally. The artists are reflecting what the world is going through, offering reflection or solution. That's what art does."
So what happened? I went! It was geographically extensive, yet all interconnected, inspiring to experience a city coming together like that, which was awe-inspiring, making for a deeply, rich experience of art and cooperation. It was an opportunity to participate in a collective appreciation of art in a multitude of expressions and representations, see exhibits in a number of galleries, museums and venues all over the environs of beautiful Portland. Liz Leach, and she is right, said, "In many ways, Portland is like a European city. The architects who have come here refer to "alleys and piazzas." There are lots of connectors with parks and trees. There is a magic to the urban landscape, just walking around you get that sense."
There was a three-day Artists' Congress that featured Oregon artists alongside selected artists from around the U.S., and abroad, led by CONVERGE 45 Inaugural Artistic Director and Guest Curator, Kristy Edmunds, Artistic and Executive Director of UCLA's Center for the Art of Performance. Edmunds' curatorial theme for CONVERGE 45 is: "You in Mind." The discussions that took place in the first Artists' Congress set a tone and sparked ideas. Edmunds will bring to the Northwest, national and international artists, curators, and collectors to engage with regional artist, arts professionals and collectors, to explore the theme. The work produced over the course of this year will be in the exhibitions and installations for CONVERGE 45 in 2017.
Needless to say, CONVERGE 45, was, and is, a highly ambitious undertaking. Remember though that Portland, is where NIKE was founded and is headquartered. People up there, just do it.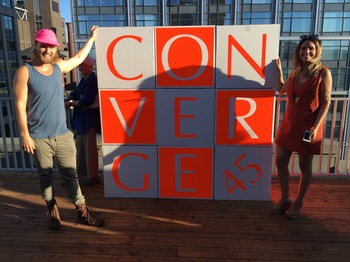 Tyler Rivenbark and Frida Ticehurst up from San Francisco
A lively crowd attended the launch event at Wieden & Kennedy, surrounded by an exhibition of art, curated for the event, titled, "E & A, Empathy Affect," curated by Meagan Atiyeh, Mack McFarland, and Stephanie Snyder. Kristy Edmunds, and Liz Leach, spoke at this rooftop party filled with local philanthropists and art lovers, curators and collectors from New York, San Francisco, Los Angeles and Santa Fe, and abroad.
Four of Portland's top chefs provided excellent food for the Benefit Dinner event Saturday night. The After-Party kept the spirit going to into the evening.
As with any major production, it is the work of many that make it possible. Ideas do have an origin though, and there often is a collective energy about the ones that take form. As Liz Leach said, a "Zeitgeist," things happen in their time for a reason. CONVERGE 45 is here, in our time.
Liz wrote, "Converge 45 was an exceptional first-of-its-kind contemporary art event in Portland. An unprecedented collaboration by the Portland arts community brought together the full force of our major museums, non-profits, galleries and a host of up-and-coming spaces and artists to showcase our vibrant arts scene and raise our community's national visibility.
The vision for Converge 45 is to create a unique experience of art and ideas in Portland. The inaugural gathering presents a solid foundation upon which to build for years to come."
Mark your global calendars to be in Portland, Oregon, the second weekend in August 2017 for the second annual CONVERGE 45!