Like Don Quixote, my quest finds me in Spain, dreaming my (perhaps not so) impossible dream (as immortalized in the musical "Man of La Mancha"). Quite unlike him, however, I am minus a sidekick; this passionate pursuit my solo venture. While I have touched down in Spain, my journey is still in its early steps here in Barcelona.
Close your eyes and imagine Barcelona -- what is the first image that comes to mind? Okay I'm an architect, so, for me, this one is a no-brainer of sorts. Gaudi. Gaudi. Gaudi. If Barcelona had a language it would be called Gaudi, so representative of the living, breathing, mesmerizing architecture he devised that certainly signifies the intelligent whimsy of this grand city. Literally everywhere one might look there is evidence of his genius. I wanted, truly needed this time in Barcelona and spent hours in the Gaudi museum listening to his speeches. This great artist shared about the ordering of light and that the essential work of art is the harmony architecture provides by the ordering of light. Curves are the perfect forms of geometry and simplifies the construct synthetic medium of perfect vision of the object. It was not lost on me when it was shared that he was made fun of and laughed at, but nothing held him back from his pursuit, his dream. I felt strengthened by Gaudi's dedication to his work. Gaudi succeeded; I would succeed.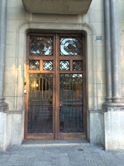 My swift immersion in everything Gaudi was a welcome distraction, though my reasons for being in Spain were far from tourist-driven pursuits. Barcelona was the first leg of my journey to Girona where I was selected to present on a subject that is my signature passion: universal design. A daunting engagement awaited me in Girona, which I traveled to in amazing comfort and speed via elegant train passage. I have served in many capacities with regard to the writing of bids for the Olympics/Paralympics Games -- most recently for the 2014 Sochi Winter Games, and the 2018 PyeongChang Winter Games -- and have written reports (as a Paralympic reporter for the U.S. Paralympics, a division of the United States Olympic Committee). But this time it's different. This time I am to speak in the company of those I revere and want to be a part of (members of the International Paralympic Committee -- IPC) -- standing on the shoulders of giants as it's said.
And, at last (although with some mild trepidation), my quixotic journey brings me to Girona where I would speak at the 2015 VISTA Conference.
My long-time goal has been to become recognized as a part of the IPC team, which is the organization that sets the access standards and vision for competing para-athletes. When I attended my first Paralympic event in Beijing I knew that the time and energy I dedicated since founding my firm had some meaning. Disabled individuals not only need to be seen and heard, but they need to succeed on the world stage. Sitting in the bleachers, tears rolled down my cheeks, and as the Paralympians from the various countries paraded into the large stadium, I felt truly alive. And so, my goal formed -- loud and clear -- and I became determined to become part of the IPC.
As is usually the case, however, no matter how important the goal to one personally, it is always harder to reach that goal than imagined. To me, desiring to be part of the IPC access team feels like running down a road marked with innumerable detours and daunting signs that signal "do not enter". A seemingly endless pursuit that leaves me standing outside looking in.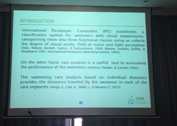 So when my abstract was accepted to give a speech at the IPC Vista Conference this became my emotional theater. The Vista Conference is where all the leaders in the Paralympic movement would be in attendance including Paralympic judges, para-athletes who use this annual forum to meet and share their visions and goals. Certainly, this was to be a new experience and I was uncertain, yet determined to meet new friends and share my perspective of access. My speech was finely honed and focused on the need to provide wayfinding for all types of disabilities.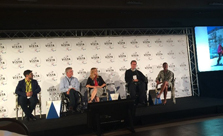 Wayfinding is an extremely important concept -- previously tested at many Olympic/Paralympic events and requires thoughtful commitment and thorough understanding. Endless practice of my presentation did little to quell the unsettling sensation of feeling ill at ease. This was new territory to conquer, and a big step towards achieving my goal. So why did I keep questioning why I put myself into such a stressful situation. Why?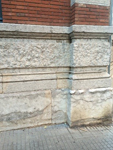 Luckily, and just in the nick of time, I remembered a great architect who presented at a conference last year in Australia. On stage he simply wooed the audience.And so, as if on cue, I acted out my speech, walked about the stage easily as I talked -- emulating the traits of other remarkable speakers and shared my passion about why it is so important to define a clear wayfinding path that would assist everyone, disabled or not. It felt like a great accomplishment to complete the presentation and, even more so, when other presenters and participants came up to me -- catching my breath as I settled in a chair-to share what they learned. Success!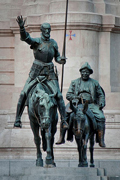 Miguel de Cervantes' classic, Don Quixote, turned 400 this year. And, its message remains relevant and its hero's passion still burns brightly in the heart of every dreamer no matter one's age, no matter the obstacles. While I am still not a member of the IPC, I will keep on following my dream.
Next summer I'll report on Universal Design/Wayfinding for the USOC from the 2016 Rio de Janeiro, Brazil Olympic/Paralympic Summer Games.
Wishing you happy holidays!