Four years after its most recent bombings, Bali is still reeling from the aftershocks. How could such a peaceful people be the victims of such violence?
The idea was to find a quick getaway for a little R&R after my husband did business in Singapore (that's what one does there, other than shop the malls and eat.) We chose Bali, dismissing our friends' fears that the Indonesian paradise remained a "soft target" since the restaurant bombings of 2005.
After the hustle and bustle of Singapore, the change of pace was palpable from the minute we landed. No sleek modern airport in Denpasar. Little's been modernized since my first visit 25 years ago. I thought this was a good thing.
A slight buzz kill when our driver Henry approached Nusa Dua. The hotel zone had been the locale for just one resort in the '80s. Not only is it designated a zone because of the many luxury properties now there, but it is secured with checkpoints manned by armed guards who searched the car, trunk, and our faces for signs of trouble. Another inspection before we were allowed to enter the hotel driveway, and then we're in.
Within the expansive property we saw the occasional armed policeman, certainly incongruous on the steamy beach, but the spectacular scenery is plenty distracting.
The more time we spent in Bali, particularly outside Nusa Dua, the more we realized how Balisians continue to be traumatized by their 9/11. And they wanted to talk about it.
Every discussion seemed to somehow reference the bombings... and the tone of the otherwise pleasant chit chat changed on a rupiah. Business of course has been negatively affected, particularly tourism. But it's also a sense of shame that accompanies the painful memories of these gentle people.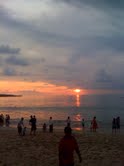 We spent Chinese New Year's Eve on Jimbaran Bay. Note the picture perfect sunset that attracts hordes of Asian tourists to this stretch of beach lined with warungs (restaurants) serving up grilled seafood caught just hours before. Add a few Bintangs (the local beer) and life is a beach. It is easy to see why this spot is so popular with tourists.
But as soon as our waiter Wayan took time to talk more than serve, the memories came flooding back. We had no idea we were having dinner at the very site of one of the two bombings. He remembers it like it was yesterday. Word quickly spread of the carnage in Kuta, at a bar a few miles away, when just 10- minutes later Wayan heard another boom, then screams. In a flash this tranquil beach was transformed into a war zone. 20 dead, mostly Indonesians. Many more Australian tourists were wounded. Businesses and livelihoods destroyed in what would later be explained as an act of terrorism linked to al Qaida. In 2002 a similar suicide bombing in a Kuta nightclub had claimed hundreds of Australian souls.
In 2010 we're painfully aware of how out of place we were as Americans in Bali. The recession's not helping, but it's the perceived threat that continues to terrorize the tourist industry here. We met one other couple from Colorado who ignored the warnings and chose to vacation on this beautiful island. We fell in love with the people of Bali. It's a magical place. A place where Muslims blissfully coexist with Hindis and Christians. A place where everyone is made to feel welcomed.
As we bid farewell to our driver at the Denpasar Airport, we promise to return. Henry says it would be "his honor." A soft target indeed.