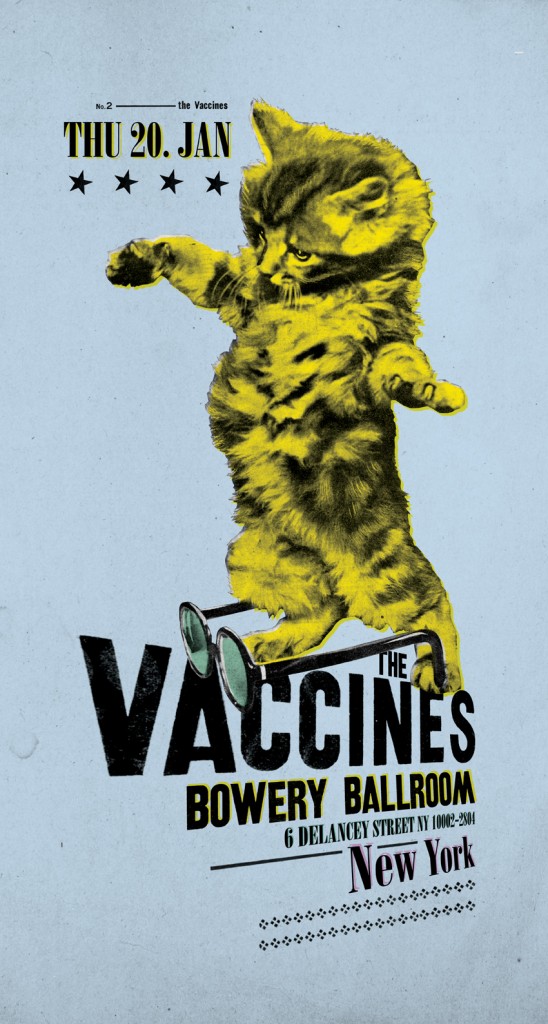 No album, no EPs, no singles, all buzz and they managed to sell out Bowery Ballroom on their US debut. Not only that, they have been together for less than a year, London's biggest buzz band, The Vaccines arrived in the US with the fan fair of a platinum selling artist. The much hyped and praised British band took the stage for the first time in New York City and wowed the audience in a short but extremely sweet set and New York embraced the new band by begging for more.
In the stage that kick started the careers of Kings of Leon, The Cribs, Glasvegas, The Libertines and The Strokes, The Vaccines are the next big band to add to the list of the now infamous Bowery Ballroom showcase of talent that have graced that stage to begin their dreams. Arriving on stage at 10:30, singer Justin Young grabbed the mic and said "New York, wow! This is great, we are very happy to be here! This song is called Ra Ra Ra!" the band immediately jolted into the 1:23 length song "Wrecking Ball (Ra, Ra, Ra)" with the crowd chanting back and screaming the chorus as if it was an English Premiere Football match.
The bands sound is cross between melodies of The Smiths meets the punching delivery of Gang of Four, no wonder they are all the rage back home, however, New York has been the biggest and most successful crowd they have ever played to. Those that were in attendance were in shock and awe and realized that this band not only lived up to hype, they exceeded it. England is about to give the world a new great garage rock band with The Vaccines. The tour de force set that included the songs "Post Break Up Sex," "If You Wanna" and "Blow it Up," had the crowd going nuts and the band fed off the energy.
As they retreated to the wings for a very brief break before arriving back for an encore, Young said "thanks again for this, this is a song from The Standells but we really love the Minor Threat version, so here is our take!," then kicking into "Good Guys Don't Wear White," with fans of Minor Threat smiling from ear to ear. By 11:10 the band was done for the night, it was 40 minutes to last a lifetime. As the house lights rose to signify the end of the night, the crowd was still begging for more, in a situation most bands would beg to be in, The Vaccines are playing the situation very cool and most importantly, very good.
This Article Also Appears on Officially A Yuppie - www.officiallyayuppie.com