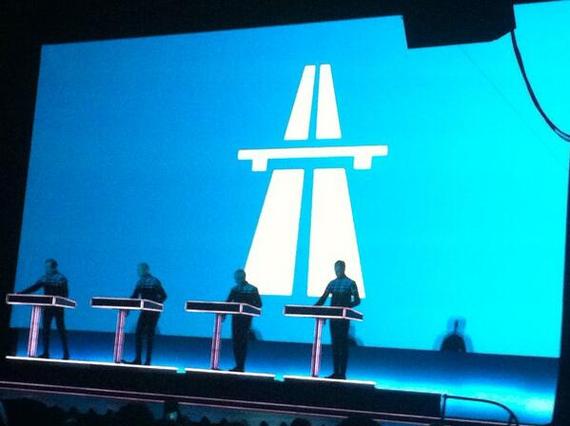 Before Daft Punk used their signature moniker of dressing up as robots, before EDM was captivating audiences around the world, before computers were a trend on stage, Kraftwerk had done it all. Forming in West Germany in 1970, Kraftwerk crafted the idea that humans can be machines and machines can be human. They pioneered electronic music and gave it life, even going so far as calling themselves robots -- sound familiar? Still active after all these years, the group are currently on tour in North America doing their The Catalogue 1 2 3 4 5 6 7 8 tour.
The tour, which they had done during a residency of Manhattan's MoMA in 2012, features the band playing one of their eight albums in full in 3D. Since 2012, they have been hitting major cities around performing these residency gigs, yet, Kraftwerk still felt the need to come to New York on their current trek, and didn't want to do what they did a couple years ago with a residency, so they opted for something different by doing a concert of hits and deep tracks from all of their albums still featuring the 3D effects. Tickets for what was supposed to be a one off New York concert, sold-out in minutes. A second date was added right away, which also sold out.
Arriving on stage just before 8 p.m. at the glorious United Palace Theater in Washington Heights, the robots came alive as the members of Kraftwerk took to their stations dressed in outfits that the cast of Tron would envy, and began taking us on a music journey inside the machine. As the crowd giggled at each other with the cardboard 3D glasses, everyone was taken to a different world right away, and suddenly, we became part of the machine as well.
Each "boing," "boom" and "tschak" was heard as the bass rumbled into the chest of those sitting in the orchestra, strapped into the seats with their heads bobbing to the magnificent sound system the United Palace has. Highlighting songs like "Autobahn," "Tour de France," "Radioactivity," "Musique Non-Stop," "Trans-European Express," it was a singles heavy set that took us back to the primitive days of what would evolve to become EDM and industrial music.
Backed by graphics that had some of their album covers come to life, they brought the audience deep into the visual 3D effects of sound waves, digital code and the minds of their robot personas. We were on-board the Trans-European Express, and orbiting the Earth in a spaceship. While the graphics were far from something out of Gravity or The Matrix, they were just as primitive as the band's music, however, it fit their aesthetic perfectly.
Had the visuals been something out of a Hollywood film, it would not have worked in the way that it did. It was almost romantic in a way, the feeling of going back in time in the digital universe and remembering how technology was evolving, and how far we have come. Kraftwerk may have a sound that is archaic for today's times, but it is a sound and style that has crafted music that will last all-time. After being on stage for over two hours, Kraftwerk received a thunderous standing ovation for not just an outstanding concert, but for all they have done and continue to do.