I had to write and finish this post this weekend. Even with a piano recital, jazz band rehearsal, a lab to finish, a lab to begin, an essay to finish, a math take home quiz, and a term paper to work on, this post was not going to burn a hole in the back of my head any longer. I felt like I was cheating you guys, leaving you hanging at Object 3. So, without further ado, let's begin with Object 4.
4. Desk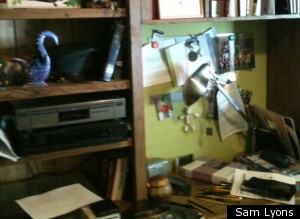 This is the first item on this list that couldn't be brought to school for a show and tell. It's also the first item from a time where I didn't have show and tell at school any more. If any object in my room represents a definite end of one part of my life and a definite beginning of another, it's this desk.
We got this desk not long after I moved out of the room I shared with my little brother, and since then I've done almost every single homework assignment I've had on it. This desk symbolizes a big step towards independence for myself; I had my own room, I didn't have to write at the family room table, and I could do whatever I wanted with this desk.
Looking at this desk, it's not only a good snapshot of what I was like around 10 years old, but it also tells a story of me getting older. On its many shelves, one can find every book I've owned from age 10 onward. The small books become large books, which then become small but dense books, which then become large and dense books. Now, the shelves are too small for some of my books, so my big textbooks live under the desk. Objects 7, 8, and 9 all find their place on my desk (see if you can find all three of them). I've etched countless designs into the soft wood from the time I thought I wanted to be an artist. This picture is actually from a moment at which my desk was very messy, so it doesn't usually look all that cluttered, but I like this picture because there's so much there. There's a painting I bought from an old hippie spiritualist in Israel, all of my piano competition certificates, old camp pictures, and the coconut piggy bank I made in Hawaii when I was little. I guess this object is like the gathering place of all my other objects. But this next object is less about the object itself, and more about the moment attached to it.
5. Piano Play's "Student of the Year" Trophy

Unlike my little brothers, who play tons of little league sports and always get participation trophies, I don't have very many trophies. I have two baseball ones (one spelled my name wrong initially -- seriously, how hard is it to spell Sam?), two basketball ones, and one soccer one. And this one.
It was the end of fifth grade, and the last piano recital of the year. I was fidgeting in my seat after playing, and waiting for the older kids to be done. The kid next to me had a program, so I was reading over his shoulder. He was on the page with all of the yearly awards, like Honors students, Most Improved, and Student of the Year. Suddenly, I thought I saw my name on that page under Student of the Year. But he quickly turned the page and I passed it off as me just seeing things.
However, the woman in charge of my piano school was making announcements at the end of the recital, and called me up as Student of the Year. I could not believe my ears. It was me, not one of the big kids -- no, I was one of the big kids. Now, every time I doubt myself, when the work seems too tough, the recital seems too near, I always see that trophy on my wall, and it assures me that I can do this.
6. Fender Cyclone Guitar

This is as much about my dad as it is about me. In fact, this is my dad's guitar. It just stays in my room and it's pretty much the only guitar I play.
A little history on the guitar. Fender Guitars released two new models in 1997, the Cyclone and the Toronado, hoping that a few changes in the designs of popular models like the Mustang or the Jazzmaster would bring in new customers. Unfortunately they did not, and the Cyclone and Toronado sold poorly until they both were discontinued in 2006. I think my dad got this guitar on Craigslist or Ebay. For a while, it was his main guitar for gigs, but now he only occasionally plays it.
A little history on me and guitar. Until seventh grade, even though I played piano and saxophone, I was pretty ignorant musically. I played a little jazz, but I didn't go out of my way to find cool musicians. I mostly played classical, and my modern musical interests were limited to whatever my mom had on her iPod (great songs, but sugary sweet). But I planned to change that. I got up early one summer morning, and taught myself chords on the our old Ibanez guitar, singing along to "Country Roads," "That Thing You Do!," and "Big Me." I played guitar until my blisters had blisters. Then one day, my dad came into my room and handed me his Cyclone, and it's on that guitar that I've really come into my own as a player, and learned a lot about music itself.
Sorry I couldn't fit in Object 7, but it will be featured in the final installment, which will be up as soon as my workload disperses.
-Sam