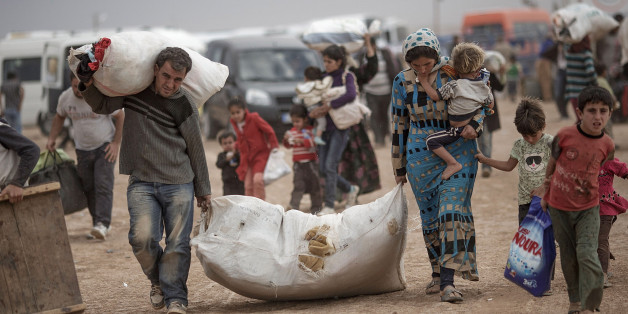 Fifty-one million!! As we thankfully count our blessings and approach year-end celebrations, we cannot ignore the fact that the number of people displaced by violence has never been higher since the end of the second world war, when the United Nations was established to maintain international peace and security. Fifty-one million women, men and children will go to bed tonight haunted by the violence they have been exposed to, the losses they have experienced, the disruption of their families and communities. Fifty-one million women, men and children will wake up tomorrow trying to make ends meet for the day and will seek whatever shred of hope they can collect to bring back some meaning to their lives, some reason to endure, some confidence that there might be a cessation of hostilities in their homeland.
I have been following these crises for more than 20 years since I joined Refugees International's board of directors. The Taliban insurrection in Afghanistan, Al Shabaab terrorism in Somalia and warlordism in the Congolese Kivus have kept millions on the move in large swathes of territory which are devoid of any meaningful governance. And as these crises have been left unresolved, new dramas have erupted: the Syrian conflict, this mother of all humanitarian crises, which displaces one family every minute; in Southern Sudan, the newest country in the world, whose irresponsible leaders have led their respective communities into deadly sectarian violence. In the Central African Republic, poor governance and poverty have ignited a conflict that has a religious dimension which will make it more difficult to resolve. In Myanmar the authorities have yielded to Buddhist bigotry, responsible for abject discrimination against a Muslim minority population, many of whom are now trapped in ghettos which they are not allowed to leave. And in Mexico, hundreds of thousands have been displaced by gang violence without receiving any assistance nor legal protection from their government.
In other words, as new conflicts spread and become chronic, the old ones are not edging towards any kind of resolution. Large new waves of displacement are not matched by the return of displaced people to their countries and communities of origin. The UN and non-governmental agencies that provide protection and assistance to uprooted populations are overwhelmed, having reached their limits in the mobilization of resources and the availability of trained and experienced professionals.
Some authoritative voices have declared the whole humanitarian system to be broken. And broken it is. Because notwithstanding the large amounts of humanitarian funds allocated by western governments, financial appeals fall far too short of the needs, obliging humanitarians to make some very difficult choices as to where they should spend their money. Broken because most refugees and displaced populations are today dispersed amongst local communities, and not huddled together in camps. Broken because our ability to help hosting communities is so minimal as to be meaningless. Broken because wealthy states are not prepared to correspond to the generosity of front-line states in opening their borders and admit at least some of the most vulnerable among those fleeing violence and persecution. Broken also in our ability to bring about political solutions to many of these conflicts, largely due to the insensitivity of those who have instigated these conflicts.
There is little reason to believe that the causes of the high levels of displacement that we see around the world will be addressed in the short term. But we owe it to those victims of these conflicts to do better in responding to their needs and giving them some hope. As the UN moves to organize a World Humanitarian Summit in 2016, it must be encouraged to make this the opportunity a true international venture by integrating emerging donors into what remains essentially, and is unhelpfully perceived to be, a western initiative. Development agencies, both bilateral aid and development banks (who muster much larger resources than humanitarian funding pockets) must also address displacement as a matter of policy. And wealthy states around the world must more generously share the burden in admitting, temporarily or indefinitely, a proportion of those who have been displaced.
The crisis is vast and growing. There is no way and no point in trying to make it look smaller than it is. Moral imperatives aside (supposing they can be put aside) there is no kind of denial, no turning away, that can keep the consequences of this crisis-on-the-loose away from the doorsteps of the 'safe' world. And there is no quick fix. But WE CAN DO SO MUCH BETTER! The world has the means. Every one of us, though we can't do everything, we can do something. A little can make all the difference for people living on the brink. So on this Giving Tuesday, where charity is a priority for all of us who have shelter, health and peace, we all must act on behalf of the 51 million. I hope you will join me in supporting the work of Refugees International. There is no time to lose.
Oscar-nominated actor Sam Waterston has been a member of the board of directors of Refugees International since 1986. He currently stars in HBO's The Newsroom.