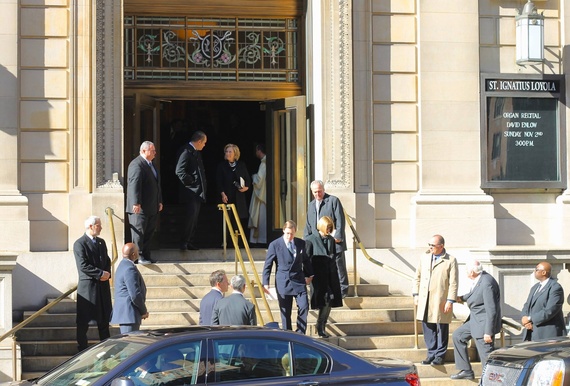 (Hillary Clinton, Anna Wintour and the family (on the car) leaving the ceremony in Manhattan. /Samy Nemir Olivares)
A woman tried to deliver a massive white-lilies funeral arrangement at the Church of St. Ignatius Loyola around 11 a.m. only to find out it was too late.
At that moment all doors were closed under strict security since the celeb-packed private funeral of Dominican-born designer Oscar de la Renta had started.
Luminaries of fashion, politics and entertainment attended the mass to honor the life of one of the greatest fashion stars of 20th century. Among them figured designers Tommy Hilfilger, Valentino, Michael Kors, Dianve von Furstenberg, Vera Wang, Ralph Lauren and Donna Karan.
The two-hour funeral included readings from Former U.S. Secretaries Hillary R. Clinton (1 Corinthians) and Henry Kissinger (Wisdom of Solomon). The former New York Mayor Michael R. Bloomberg recited the general intersession. Vogue magazine editor Anna Wintour, whose 65th birthday was that day, also delivered the post-communion; David Harkins' poem "He is Gone."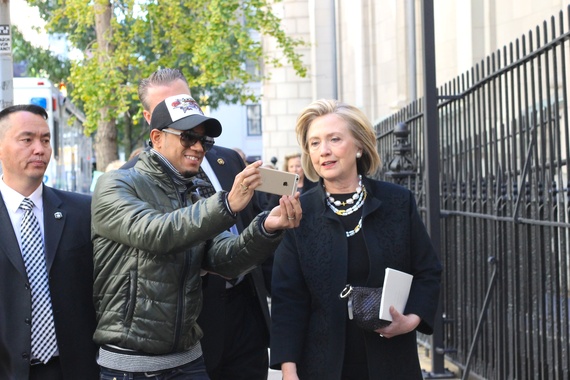 (A man asked Hillary to take a selfie while she was leaving the mass. /Samy Nemir Olivares)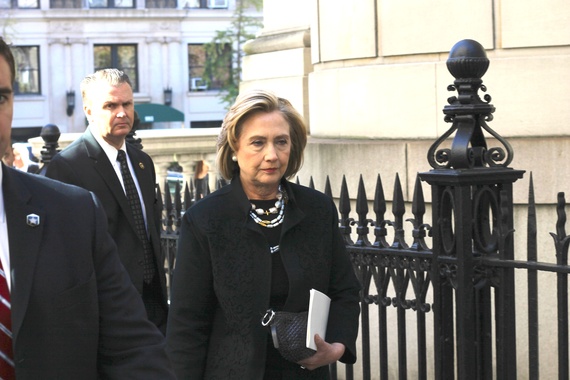 Also attending the funeral was Clinton's only child Chelsea. The former first family, fan and friend of de la Renta, was a well known regular at designer's resort in Dominican Republic. Hillary wore several times his designs including the famous golden gown at Bill Clinton's inaugural in 1997. He was the one who convinced Mrs. Wintour to place Hillary on the cover of Vogue in 1998.
The actor Hugh Jackman, Mikhail Baryshnikov, newswoman Barbara Walters, photographer Annie Leibovitz were also at the ceremony. Music could not be absent at de la Renta's farewell, a live orchestra and full choir played compositions of Bach, Mozart and Beethoven's Ode to Joy.

Besides Moises the entourage of the honorary ushers was comprised by Julio Iglesias and the company's Chief Executive Officer Alex Bolen, husband of Eliza Reed, daughter of Annette.
De la Renta, passed away last month at 82 after a eight-year battle with cancer, leaving a huge sense of emptiness for the fashion world as well to Dominicans and Latino community. He became for the Latino community an admirable and respectable figure because of his accomplishments, humanity and philanthropic work.
De la Renta began his career in Europe, where he worked for Balenciaga, Balmain and Lanvin. Eventually, he would launched his own label becoming one of the fashion's world-wide leaders overseeing an empire worth over $200 million. His fame rose prominently in the '60s when he designed dresses for the iconic first lady Jackie Kennedy.
His sophisticated and glamorous gowns -- favored by Hollywood stars and socialites -- were worn by celebrities such as Sarah Jessica Parker, Oprah Winfrey, Cameron Diaz and first ladies Nancy Reagan and Laura Bush. One of Oscar's latest pieces was a lace-ensemble wedding gown of the lawyer Amal Alamuddin, who recently married actor George Clooney.
The Dominican reporters said they were satisfied to see among the guests the people and employees that worked for the fashion legend.
The first lady of Dominican Republic, Candida Montilla, crossed the street to talk to the press and expressed the first family's condolences. Meanwhile, the Police removed some of the reporters and cameramen for being on the sidewalk.
The president Danilo Medina declared national mourning and the country has expressed their lost from memorials to street murals. Back in Dominican Republic, the creative genius had a home, a farm, and developed social charities such as La Casa del Niño, aimed at disadvantaged children. He even sent talented children to study abroad or help their families. Even his son Moises, as the biblical child, was adopted back in his country after being found abandoned.
Among the guest was also former governor of Puerto Rico and philantrophist, Sila María Calderón. A not well-known part of the designer's life is that he also had many ties with the neighbor island.
His father was a Puerto Rican entrepreneur Oscar Avelino Renta, and his great-great grandfather was José Ortiz de la Renta, the first mayor of Ponce -elected by popular vote in 1812- one of the island's most main cities.
There he had great clients and friends, such as attorney María G. Chévere, who the designer was the father-in-God of her son Solomón. She also brought the designer to the Island, where he presented on a benefit gala his resort collection, according to the Puerto Rican outlet Magacin.
The Paris-based and Puerto Rican designer Reinaldo Alvarez also worked for him in the 80's and said he "remember him by his humbleness and pride of his Dominican and Puerto Rican roots", reported the magazine.
The fashion and celebrity make up artist, Karlo Karlo, who worked with him and interviewed him twice, described the designer as a "truly gentleman".
"In the way he picked up a cup, or talked to you; elegant, always with a smile. In his presence, you were always the center of attention. A peculiar perspective on life, a joie de vivre which imbued his persona and everything he touched," Karlo said.
Definetely, De la Renta was not only successful and praised by his talent and fine manners, but his legacy also can be found on the love and devotion he aimed to his family, friends and the underprivileged.
After the ceremony was over, two things remained: a missing womens' black leather glove and a long time friend of De la Renta, who stood for a while solemnly at the bottom of the church's main stairs. The white-lilies never arrived.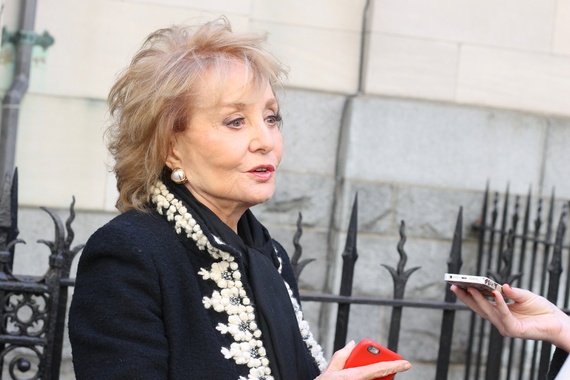 (Barbara Walters talking to the press. /Samy Nemir Olivares)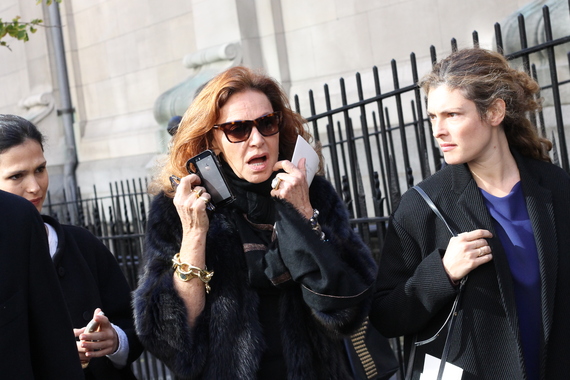 (Designer Diane von Fursternberg after the mass. /Samy Nemir Olivares)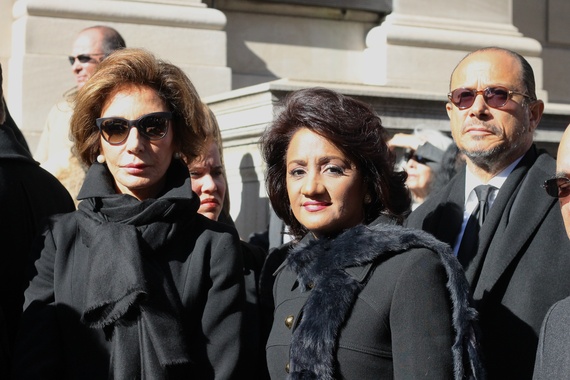 (The Dominican First Lady, Candida Montilla, and the Minister of Culture, José A. Rodríguez. /Samy Nemir Olivares)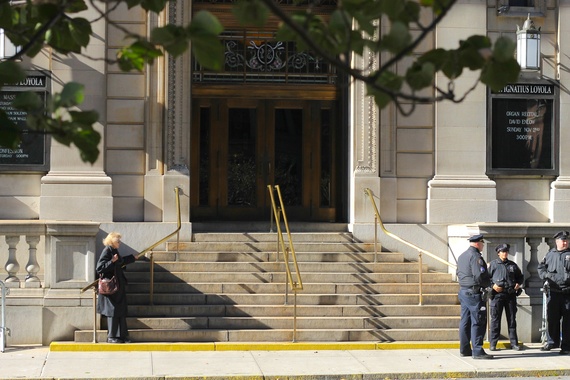 (A long time friend of the designer and the last person to leave standing out of the church. /Samy Nemir Olivares)