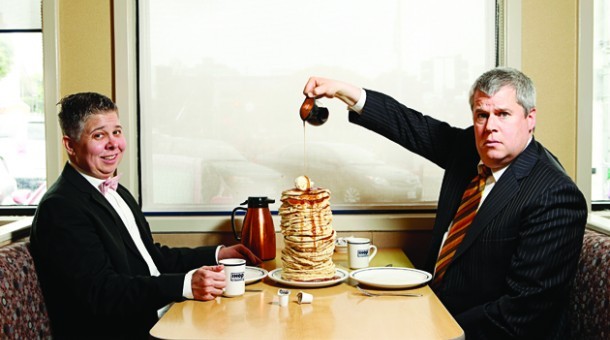 Handler and Liebegott on Funny Face Pancakes and writing in San Francisco.
We nearly drive right by the place because they've changed the sign. "It's been almost 20 years," Ali Liebegott tells me. "I haven't been to this IHOP since I had a PMS tantrum and a jerky boss, and I threw my apron off and walked out. I'm having body memories. Can you believe this place has its own parking lot? Prime San Francisco real estate, and it's an IHOP."
There is, indeed, an International House of Pancakes in food-fetishizing, chain restaurant-resistant San Francisco, right on Lombard and Pierce streets. In many ways, Ali Liebegott is equally improbable. A poet and novelist, she writes books as difficult to describe as they are easy to love. The rare times that I see her work discussed or reviewed, it's labeled as brave gay literature. Indeed, she frequently tours with Sister Spit, a revolving cast of queer performers who put on brash, loopy shows that are a hoot and a half.
But Liebegott's work is gentler than that. Even at its most biting or hilarious, her work is amiable, approachable, and endlessly human. She notices things. She has respect and admiration for everyone--as long as they don't annoy the hell out of her. In Liebegott's hands, some of the most prickly and possibly cringe-worthy topics--addiction, depression, feeding ducks after 9/11--become endlessly readable. Cha-Ching!, her latest novel, is one of those books that cause you to look up, blinking, realizing that you've read 75 pages and your coffee is cold. It's a rush of offtrack betting, impulsive road trips, liquor-fueled make-out sessions, and the sort of low-end jobs that are invisible in most fiction but everywhere in Liebegott's work.
One of her earlier books is The IHOP Papers, which explains why we're sitting at her former place of employment, in a booth less sticky than I thought it would be. "I moved here," she remembers, "and was living with some people in Pacific Heights. I walked up and down the street putting in job applications at every business, and IHOP was the only job I could get. I started out as a hostess and then took a promotion, against my will, to waitress. I got an apartment on Geary and Larkin, $395 a month. This was 1992--people were dropping dead from AIDS. All of the men who worked with me here then are dead, practically. I bought a word processor at a place on Van Ness, like a portable typewriter except that you could put floppy disks in it, and I would go to the bank and deposit all my tips, even the change, so I couldn't spend anything, saving, like, $2 for cigarettes, and I'd go home and smoke and write poems that turned into a novel."
She pauses and peruses the menu. "I want the Funny Face Pancake, but you're not supposed to be able to get them if you're over 12...
Click here to continue reading on sanfranmag.com