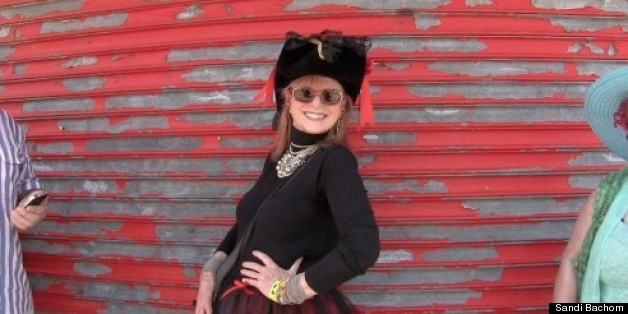 It was midnight before my very first (and the 30th Annual) Coney Island Mermaid Parade when I discovered I was going to have to wear a costume if I intended to film it. "You can't look normal," a friend said. "Be a pirate!"
That's all well and good, but where was I going to find a pirate costume at midnight in New York City? And that's when I had the idea: I went down to Greenwich Village where the 24-hour XXX sex shops are. I figured that certainly, a pirate outfit might be a part of someone's fantasy sex play... and I was right. Although I'd seen the brightly-lit store for decades, I'd never been inside, not even for a gag gift.
But desperate times call for desperate measures.
I prayed nobody would see me, but was pleasantly surprised once inside the brightly-lit palace of pleasure. There was a jovial atmosphere. I told the pierced and tatted saleswoman/man (not sure which) my dilemma. Did they have anything I could use as a pirate costume? The walls were covered with all manner of sex toys, lubricants and edible underwear.There was a black dildo on the floor, but when I pointed it out, I was told, "That's our doorstop." I was told they had a pirate hat downstairs as I examined a crinoline petticoat on the wall.
$70 later, I left with my pirate hat and red and black tutu... my ensemble pulled together by my favorite red and black cowboy boots. I was ready for mermaid mayhem!
The hardest part is leaving your apartment in full drag. I abandoned all sel- respect the first year I did SantaCon (Santa Clause Convention). And the weird thing is, after the initial cringing, thinking everyone is looking at you, it's the folks NOT dressed up who look odd.
What's funny is that not a soul in New York City looks at you... until I got to Union Square, where I was meeting my friend Paul, an old hand at costuming. These guys went by covered in nipple rings and spiky mohawks..."I like your hat!" they said.
We took the Q train to Coney Island and met a couple of mermaids from New Orleans on the train. All the tourists were taking pictures of US. All day long, people asked to take my picture... they loved the costume, and I'd tell then, "I got it at the porn store!" One guy on the boardwalk said, "You never know how you made my day when you said that." He said it sincerely.
The 30th year of the parade almost didn't happen because of the destruction of Hurricane Sandy, but thanks to a Kickstarter campaign, they raised $100,000!
I can't remember when I've had so much fun and felt such total acceptance. There were marching bands, elaborate costumes, scantily-clad and topless mermaids, lots of gauze and glitter and plenty of drag queens and androgyny. It was good-natured decadence, though there were the perfunctory guys with "REPENT Jesus Saves" signs and of course, two lesbians passionately kissing in front of them. I felt like a total rock star with everybody asking to take my picture and saying that they loved my costume, and I continued to tell everyone, "I got it at the porn shop"
It was non-stop laughter and I'd highly recommended it if you've got the blues. From the carousel I took pictures of myself with my iPhone, then followed the route with the Hungry March band, snaking down the main street in front of Nathan's, past the Cyclone and up the boardwalk, lined with thousands of people cheering us on and snapping pictures.
Then the band marched right off the boardwalk onto the beach, like in a Fellini movie! The pied-pipers of the deep gathered steam and by the time they made it into the water, there were thousands of beach-goers laughing and taking our pictures. By now, the mermaids were taking their tops off and a bawdy good time was had by all. It was fairly G-rated debauchery, although one little girl asked why they were bare -breasted.
My only regret was not meeting Judah Friedlander. We used him in a Yoo Hoo commercial 13 years ago... before he was to become King Neptune.