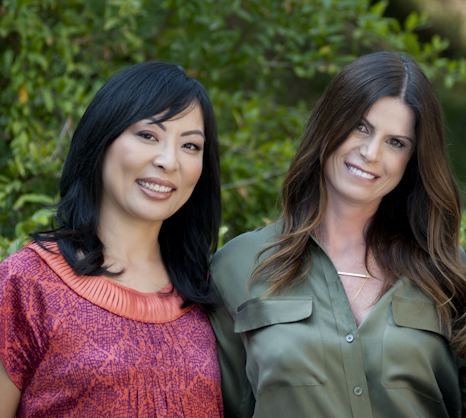 Luciana Brafman and business partner Julia Tai joined the juice and smoothie craze in 2013, by starting their own line called omgblends.
Luciana knew this journey might be daunting, but says "All journeys begin with that first step but like many first steps, it can be terrifying. But you can't run until you learn how to walk." In 2012, she was ready to begin taking baby steps in order to make her dream a reality.
Born and raised in Rio de Janeiro, Brazil, Luciana had been making her own smoothies for twenty years. "When I ran marathons, I would blend my drinks before heading to the start line. I needed a quick nutritious boost but blending eventually evolved into a lifestyle and I found myself making smoothies every day for breakfast. Once my son was born in 2006, I realized how limited my time was and so my lifestyle morphed again, but instead of exercise and eating right, I felt like I was always on the go and had little time to breathe. I wanted to take care of myself but with a newborn, it became increasingly more difficult and I found myself time challenged."
Serendipity came when Luciana was with her friend, Julia who had just finished a smoothie cleanse and she lamented that it would be great if she could just buy the smoothies as opposed to making them. Luciana says "Julia bemoaned the fact that sometimes you don't have time to pick up fresh ingredients, blend them or quite frankly, clean up the blender. There had to be another way to have a delicious smoothie, one that had all the nutritious value of a balanced meal, but without all the work that went into making one. I told Julia I agreed with her and I was looking into starting a business that would rectify that."
Luciana says:
"Two friends. One philosophy. If I was going to go through the insanity of starting a new business, I wanted to do it with someone I liked and trusted. Julia and I felt we could go back to work and control our own schedules. Both of us had children in elementary school, which meant there were only so many gym workouts, lunches, shopping trips, and school functions one could do. Being two professional women, we needed to do something productive and yet we needed to be passionate about it. Omgblends was born."
Luciana and Julia saw the need for ready-to-drink protein meal replacement smoothies that were organic, fresh, dairy free, gluten free, soy free and vegan. Luciana says
"The idea was to create a meal in a bottle that you could just grab and go. In March 2012 I started seeing more and more ready-to-drink juices in the marketplace but I couldn't find a ready-to-drink protein smoothie that was natural, fresh, organic, and soy or dairy free. Juices can have a lot of sugars and they don't have any fiber or protein, making it a poor meal replacement so I thought there has to be an alternative to this."
Julia says "Our mission was to provide fresh and organic meal replacement smoothies for busy people with active lifestyles. We started by creating delicious smoothies for our friends and family and slowly turned their enthusiasm into a thriving business. It's a true passion for us and we are so excited about the support we've received."
Luciana describes how two friends found a recipe for success:
"Julia had a financial background and could help steer the rough financial waters that all new companies face. Prior to being a mom, Julia worked at Deloitte and Touch and other accounting firms. We went through a million ideas on how to start the business. We wrote down lists of idea and concepts, nothing was too crazy, and gave ourselves a platform to start from: How many people do we hire? What about trucks and retail outlets? Recipes for drinks? How do we know we are making something with the nutritional value of a full meal? After some soul searching, we felt selling retail would be too expensive at first and we couldn't find the perfect location so we decided to launch a website. But we wanted to give ourselves some sort of competitive advantage. We knew our smoothies would be amazing, but what would separate us from the pack in a crowded smoothie world? The first thing we had to do was create recipes with nutritional benchmarks that we had never seen before."
"Julia loves to cook and at the time she was making her own almond milk at home so we decided to sprout the almonds and make organic raw sprouted unsweetened almond milk, which was going to be the base of all our drinks. After coming up with all the recipes in our kitchens, we hired an expert - a well known registered dietician - to go over our smoothies and make sure they were a well-balanced meal. We wanted to find the perfect combination of good fats, good carbs, fiber and protein. For instance, we wanted our smoothies to have between 20-27 grams of protein so to do that, we added organic sprouted brown rice protein. And because we sprout our own almonds, all of our drinks are rich in enzymes, which is fundamental to one's digestive system. We launched our smoothie cleanse which has two meal replacement smoothies and one almond milk a day plus a solid meal. This was different than a juice cleanse where you're not really consuming any protein or fiber and your body metabolizes the sugar so fast that you get sugar spikes, something that can cause fainting. When you blend, you keep the fiber intact which makes your body metabolize the sugar slower avoiding sugar spikes."
Now that we had our drinks, we had to figure out how to bring them to the marketplace. Omgblends was founded because people's lives were so active, they may be too busy to make their own meal replacement smoothies, so how could we expect someone to go out and buy one? Why not bring our product to a customers home or office instead? We started home and office delivery and figured once we established a customer base, we could expand into wholesale distribution.
Did you have experience in the food or beverage industry?
Luciana says "When I was 18, I was a cocktail waitress at a club in Soho. I had weird guys hitting on me and I had to smile and keep serving drinks. I quit the same evening, my waitress job lasted forty five minutes. That was my brush with greatness in the beverage industry!"
Luciana's Journey from Wall Street to Smoothie Blender:
"From my early 20's to early 30's, I was a Project Finance Attorney on Wall Street. It was intense work. There were many late hours, weekends and overnights. However, we all come to certain crossroads at various stages of our lives and my first major one came at the age of thirty one when I was helping a French photographer who was in her seventies publish her photography book. It was a fulfilling project. She was creative and bold and glowing with ideas. I loved the times I spent with her but it was always hard to get a hold of her because she always wanted to meet at either 5am or 8pm. Her reason was simple and yet eye opening. 'Whenever it's light out, whenever the sun is overhead, whenever the city is awake or I am surrounded by life, I want to be outside because I want to take as many pictures as I can, as long as I am on this Earth.'
"One day after hanging up the phone with her, I looked through the sealed windows of my law office and I felt suffocated. Here was this amazing seventy nine year old woman, living her dream and her art, and I was stuck in a fish bowl, structuring boilerplate financing contracts with no room for creativity. I saw an intersection and stared down the barrel of the unknown. I wanted more to my life. I quit my job that day; I needed a career change."
"Many of my friends were in the theatre business and I ended up co-creating and producing an off Broadway play. After producing a few productions, I wanted to climb the entertainment ladder and tried my hand at a couple of independent movies. I moved back home to Brazil and started my own production company when I was hired to produce "Survivor," the long running CBS reality series, in the Amazon. I ended up meeting my husband who is also a TV producer and we went back to Los Angeles and continued to produce "Survivor" and then "The Apprentice." I followed this path until my son was born and at that point, I stopped working. Seven years later, I felt I needed more. What would the next phase of my life entail? I was sowing the seeds of Omgblends."
What most surprised you about launching a food/health product?
"Even though Julia and I had no experience in the food business, we are both self-starters and when you believe in something and are determined to make it happen, it will. Julia and I had no idea what were getting into. There were so many certifications, inspections and permits. We were clueless. Looking back, this may have been a positive. Had we realized how much we needed to learn, we may not have gone into business. Whoever said 'ignorance is bliss' must have been a small business owner. From sourcing your products, price fluctuations, all the financial accounting, costs reports, etc, the amount of details is endless. Oh yeah, and the drinks have to taste good, too."

When you began, were you bootstrapping or did you have a nest egg investment?
"Julia and I started Omgblends with a tireless supply of sweat equity. We are very determined people. When we decide to do something, we will do it and we will succeed one way or the other. It just requires focus, hard work and determination. We rolled up our sleeves and just began. We learned how to stretch a penny into a nickel. We learned the science and chemistry of nutrition. We worked out of our homes, burned the midnight oil, and just went for it. We used our own money. We wanted to bet on ourselves to make this company succeed. We eventually moved into an office and currently employ three full-time and six part-time employees but as Omgblends matures, there comes a point when you do need an influx of cash to help build a bigger infrastructure to help support the growth of the company. This is the stage we are in now."
How was your first big trade show this month?
"Exhibiting at a huge industry trade show was completely nerve-racking. We were the small fish in a large and crowded pond at the Expo West show. We were standing alongside some very respected and well-established brands. But Julia and I knew the importance of it. We needed to get feedback from the industry, which would let us know if we were on the right path to grow our business. It was very stressful for us. What if everyone said we were crazy? We had spent five months cultivating a small, but devout customer base but the Expo was our way of saying, "We're here" and in many ways, it felt like the official launch of our brand. And we did this in a forum that allowed us to meet with various buyers, retailers, brokers, distributors, investors and press."
How do you deal with the difficult days of doubt?
"When the days run long and the money grows tight and I question the entire venture and ask myself 'How are we going to do this?' Julia always puts it in perspective. We take care of one another, support each other, and believe in ourselves and the business. I couldn't have done this without her. I learn every day from her."

Luciana's Advice to Other First Time Entreps:
"There's a reason the self-help book industry is so popular and successful. Many of the same mantras are repeated again and again, but you know what? They're right."
Follow your dream.
Create your own opportunities.
Focus, work hard and don't lose prospective.
Visualize what you want to create and go for it.
You can make it happen but remember to always be flexible since adaptability is the key to success.
Do not get overwhelmed by problems and daily obstacles, it comes with the territory.
There are no problems, just solutions we haven't thought of yet.
"These thoughts may seem so pedestrian but trust me, speaking on behalf of two women who work fifteen hours every day, only to burn through cash as we push the boundaries of what we are able to accomplish, while trying to expand our customers, growing and building on a product we firmly believe in, going home every night exhausted and yet empowered to get up the next day and do it again and again, all in the belief that this will work, it just has to work, then they are more than just words."
Luciana adds, "Also, you need to know when to zig and when to zag and when to cut your losses. When we first began, we also had a line of vegan organic blended soups. Customers loved them, they were delicious and healthy and we thought they were a great complement to our meal replacement smoothies. However, we realized we were too ambitious to launch three different products at the same time - a line of almond milks, meal replacement smoothies and soups - so we decided to stop making them. Instead, we decided to devote the time and resources to focus on the beverage category. We would love to bring the soups back one day but at this point in time, they aren't fitting into our business plan."
Luciana and Julia have once again proven that when you solve your own problem, you're likely finding a solution for many others as well. In this case, they've blended friendship and almond milk into a successful business.