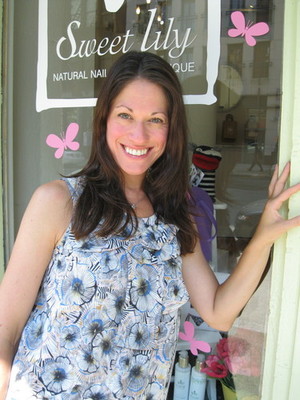 After three years of diligent research and saving money, Donna Perillo made the move from celebrity music manager to owner of a nail spa in NYC. She recalls the sacrifices she made leading up to this big career move: "I was living on peanut butter and jelly sandwiches, rolling loose change and not taking any vacations, not to mention the emotional toll of leaving my established job that I had worked hard to achieve and was doing so to take a chance with no salary and no backup plan. It was a very scary prospect."
In 2002, Donna made her mark on the nail industry by opening the kind of location that she had been in search of for years, Sweet Lily Natural Nail Spa. Sweet Lily came about because Donna and her best friend "always loved getting our nails done on a weekly basis, but when she became pregnant, we started to notice all the chemicals and unsanitary things going on in the average nail salon. So we upgraded to the big day spa in hopes that things would get better. Not so, and on top of it we were often shushed for talking. I thought it was just a New York scenario until I went to LA and Milan and it was the same situation everywhere."
Most people can't imagine making the leap into a completely different career, but Donna moved past this fear of leaving the established world she knew for the unpredictable life of an entrepreneur by taking her experience in the music biz and applying it to her new venture. The main lessons she learned while managing musicians was that:
In the music biz, nothing is predictable and there are answers for everything. For example, one client would want to throw a massive benefit concert one day and then have a real lion on stage the next. I would have to figure out how to make things happen quickly. It was definitely a 'learn as you go' type job. When I decided to open Sweet Lily, I took that same approach to problem solving... keep looking until you find the answer.
After about six years of learning on the job, things were running smoothly and Donna had a nice support system in place -- until she decided to start a family. She had a baby in 2008 and once again found herself in the position of having to learn something new while working on another full-time gig. Donna says:
My shop is definitely a labor of love and my 'first child,' but having my son put everything into perspective for me. I've learned to take things slower and enjoy time off as much as time at the spa. My staff says I'm more easy-going since I've become a mother. I think you have to be, in order to juggle the two worlds successfully. I'm still very particular and I pride myself on my attention to detail, but when things don't work out perfectly I just move on and move forward. About six weeks after I had my son, I hired a full-time babysitter and geared up to go back to work full-time. A few months passed and I felt like I was watching this tiny baby grow up fast and I was missing it all. I decided to ask my then part-time manager if she wanted a full-time job. She came on board and I was then able to float back and forth between the spa and home at my discretion. This definitely came with a price tag because I had to compensate both my sitter and my manager, but time with my son is invaluable."
People think of spas and salons as tranquil and relaxing, but the biz side is like most businesses: a bit chaotic and stressful behind the scenes. Donna explains "That's the trick. If people see the nail spa as relaxing, stress-free and all smooth sailing, then we're doing a good job. Clients see just one aspect of it, but really there are so many facets to running the business. It's not just about polishing nails."
Donna's Tips For Building Customer Loyalty:
The customer is always right.
Listen to customer feedback and reccomendations and try to provide what people request.
Word of mouth is the best form of advertising, so put your dollars into niceties for clients. In our case, we serve complimentary wine with cupcakes on holidays, offer specials to our VIP's and regularly support clients' schools and charities.
Donna's Suggestions For Starting A New Biz:
Make sure you have at least six months of float financially. It takes time before even a great idea starts to make money. Surround yourself with good people: i.e. accountants, lawyers, etc. For the first year or so, expect to work seven days a week. Any less and you will be disappointed with the long-term results. Have a very clear vision of your business model before you begin and don't let outside opinions change that.
Now as a Mompreneur, Donna truly appreciates any day that she feels like she has succeeded in balancing home and biz life. Her favorite indulgence to de-stress is "a good foot reflexology massage, followed by a nap." That sounds like a plan.